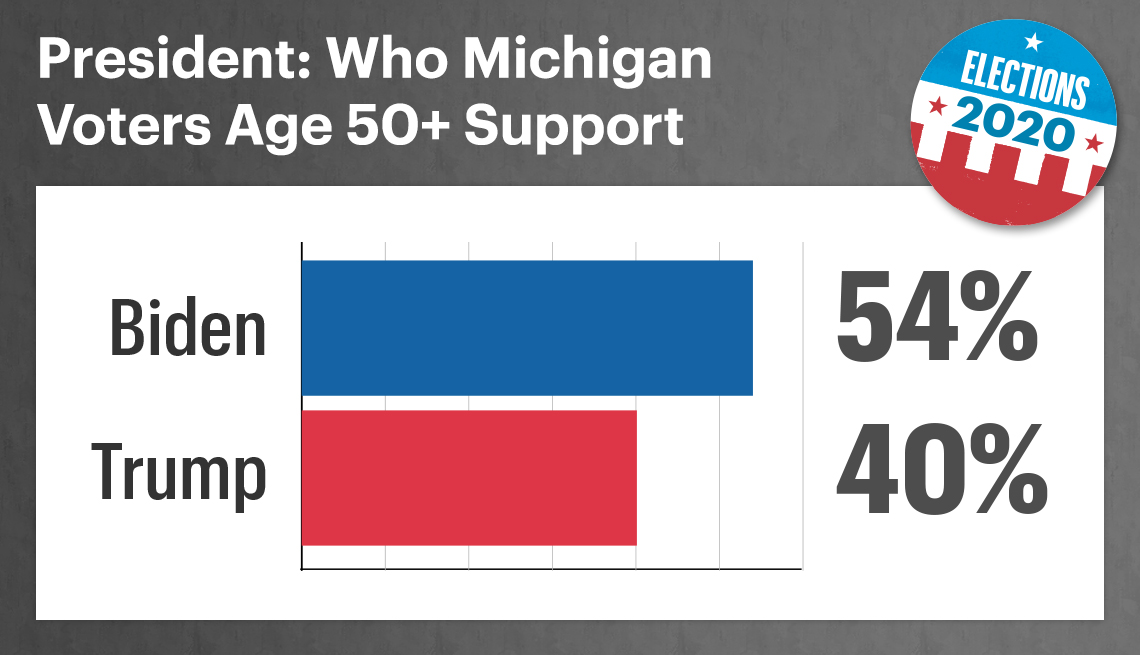 More than half (58 percent) of Michigan voters age 50 and older are worried about getting the coronavirus, and almost half (49 percent) are concerned they won't be able to afford the health care that they or their family need, according to a new AARP poll that finds older voters could decide the 2020 elections.

The poll also shows that 87 percent of older Michiganders are more likely to vote for candidates who support protecting Social Security from benefit cuts, and 87 percent are more likely to favor candidates who support allowing Medicare to negotiate with pharmaceutical companies for lower prescription drug prices.

These results show that, despite the strong partisan divisions in the country, "there are some foundational programs that cut across these divisions — notably Social Security and Medicare," says John Hishta, AARP senior vice president for campaigns. "These are areas that 50-plus voters care deeply about, no matter where they stand. And it shows that the candidates should be addressing those issues with these voters."

The full results of the public opinion survey, released Tuesday, also found that 88 percent of those polled are worried that Congress won't deal with the problems they face, and 90 percent are concerned that America is becoming even more divided.

Other key findings in the poll:


76 percent of 50-plus Michigan voters are worried there will be cuts to Social Security to pay for new spending and the budget crisis.
86 percent said they would be more likely to vote for a candidate who supports strengthening Medicare.
81 percent will support candidates who favor increasing protections on nursing home residents during the coronavirus pandemic.
83 percent also favor elected officials who will support making available quality, affordable long-term care options, including for home care and nursing homes.
In the presidential race, former Vice President Joe Biden is leading President Donald Trump 50 percent to 43 percent among likely Michigan voters and 54 percent to 40 percent among voters age 50 and older, a new AARP public opinion survey finds. The poll also shows that Democratic Sen. Gary Peters has a small lead over Republican John James in the U.S. Senate race.

Michigan is among a group of competitive battleground states where this fall's results could be key to who wins the presidency and to whether the GOP retains control of the U.S. Senate or the Democrats gain the majority.

In the U.S. Senate race, Peters, who is seeking a second six-year term, was favored by 45 percent of likely voters while James, a businessman, was supported by 41 percent of those polled.

"We believe 50-plus voters are going to play a critical role in this year's election," said Nancy LeaMond, AARP's executive vice president and chief advocacy and engagement officer. She pointed out that while Americans age 50 and over comprise 45 percent of the voting population, they accounted for 56 percent of the ballots cast in 2016. "They punch above their weight," she added.

The AARP survey also found that a majority of Michigan voters age 50 and over do not like the way Trump has managed the coronavirus pandemic. Among older voters polled, 41 percent support the president's handling of the crisis while 59 percent oppose it.

In addition, fewer than half of Michigan's 50-plus electorate (43 percent) say they would get a COVID-19 vaccine, but 28 percent of those respondents say they weren't sure if they would get it.

The survey also found that a majority of Michiganders (59 percent) will cast their ballot either by mail or by voting early in person, while 35 percent said they will go to a polling place on Election Day.
AARP's Protect Voters 50+ campaign is designed to help make sure that even as America continues to deal with the coronavirus crisis, all voters get the information they need to safely cast their ballot. AARP is working in every state to educate older voters on voting options.

"One thing we know is that virtually all older voters plan to vote this year," said LeaMond. "They want to vote; they want their voices heard and they're going to find a way to do that that's safe," she said.

AARP commissioned Benenson Strategy Group and GS Strategy Group to conduct telephone surveys in six presidential battleground states, including Michigan. The pollsters interviewed 1,600 likely Michigan voters between Aug. 28 and Sept. 8. The results have a margin of error of plus or minus 2.5 percent.

Also of Interest