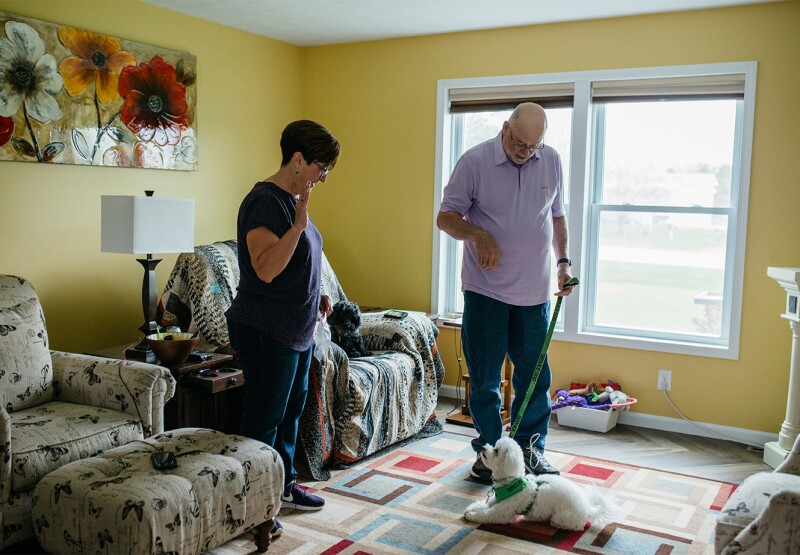 By Melissa Preddy
When Mark Roberts was diagnosed with vascular dementia at age 62, he and his family opted to remain upbeat and pool resources to help him lead the best life possible. They live in a custom-built home in Alma designed to make caregiving more convenient.
Roberts, now 67, carries calling cards that explain how he may be slow to follow instructions or may need accommodations. Texting and smartphone calendars help everyone stay in sync and prompt Roberts when his memory lapses.
A new puppy, Sophie, helps out, too. She wears a GPS that sends signals to family members' phones and that can summon assistance if needed. Sophie also ferries blood-testing equipment and medication around for Roberts' daily diabetes care.
"Sophie helps me stay independent," Roberts said. "I don't feel I have to hide being a person with dementia. Technology has opened a lot of doors, too."
On a larger scale, a group of advocates—the Michigan Dementia Coalition (MDC), cofounded by AARP Michigan—wants to achieve the same "dementia capable" status for the entire state.
From memory cafes that provide safe social spaces to heightened public awareness to more brain-health training for medical workers, the coalition is identifying practical resources and working to extend them statewide.
Adapt and overcome
"AARP has brought together 60 organizations and over 100 people into a working group to tackle these and many more issues," said Lisa Dedden Cooper, AARP Michigan manager of advocacy and MDC cochair.
Members range from health care providers to elder-law experts to researchers to advocacy group officials. Shortly after forming in 2017, the coalition surveyed state residents coping with dementia and their caregivers, who replied that their top needs are affordable care, help accessing services and benefits, and in-home personal care.
Last month the coalition debuted its "2019-2022 Roadmap for Creating a Dementia Capable Michigan" and laid out goals for future working groups.
According to the report, only 44 percent of those over 65 have been asked about their cognition during medical checkups, even though there is a huge advantage to detecting dementia early.
A family caregiver for someone with dementia pays an average of $10,697 per year in out-of-pocket expenses—nearly twice the costs for those without dementia.
The coalition recommends tax credits, better coordination between providers and insurers, and more community-services funding to reduce the need for long-term care facilities.
Earlier diagnoses and more understanding of symptoms can better equip health care providers, communities, families and those with dementia to deal with an expected surge in cases as the population ages, advocates say.
Roberts noted that awareness is key. Once apprised of the special needs of people with dementia, he said, everyone from fellow churchgoers to cashiers are eager to support him.
"I'm not afraid to tell people that I can't think that well anymore," he said. "This is life. And when people know, they really want to help."
Read the MDC's "Roadmap" at midementiacoalition.org.
Melissa Preddy is a writer living in Plymouth.