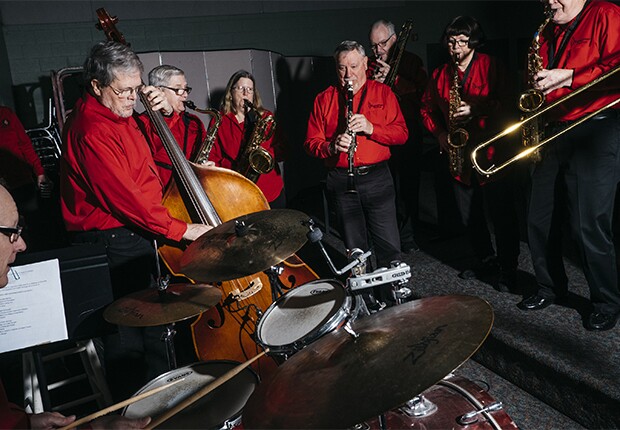 By Melissa Preddy

When Ransom Street Big Band swings into "Jumpin' at the Woodside" or "The Way You Look Tonight" at the benefit concert for the Greater Michigan chapter of the Alzheimer's Association, those in the audience thrill to beloved jazz standards.

But familiar tunes also have the power to help people with Alzheimer's disease and dementia.

For performers and listeners alike, there's a good chance that concerts are keeping their brains healthy, too. That's the idea behind "Mind. Music. Magic.," a special gathering cosponsored by AARP Michigan to entertain and educate the public about dementia.

The inaugural event, last October in Grand Rapids, featured data on music and brain health, as well as a silent auction to benefit the Alzheimer's chapter.

"We combined a little education with a lot of fun," Jennifer Feuerstein, AARP Michigan associate state director, explained.

Before the concert she showed clips from Alive Inside, a 2014 documentary about the benefits of music therapy for those with memory loss.

Fighting dementia with song

Last year, AARP marked its 60th anniversary by dedicating $60 million to the Dementia Discovery Fund.

The money will support organizations that are exploring new therapies for treating Alzheimer's and dementia.

About 180,000 Michigan residents have Alzheimer's, according to a 2018 report from the national Alzheimer's Association. Nearly 1 in 3 older Americans who die each year have some type of dementia.

A variety of studies suggest that music, especially familiar songs from people's younger years, can stimulate unravaged areas of the brain. Researchers from the University of Utah saw higher functioning on MRI scans when subjects were listening to a personalized playlist.

"Words may disappear, but the emotions never do," said Noelle Frost, West Michigan event manager for the Greater Michigan Alzheimer's chapter. She has seen firsthand the way patients respond to visiting performers and favorite recordings.

"'Mind. Music. Magic.' could be a template for events around the country," Frost suggested.

Familiar beats and lyrics can also help draw out memories, said Nancy Summers, music director for West Michigan New Horizons Ensembles, an organization that has many older musicians as members.

Ransom Street Big Band is the flagship ensemble of the group, but New Horizons welcomes people of all levels, some of whom are taking up an instrument for the first time, while others are honing rusty skills or continuing a lifelong interest.

Reaching audiences with memory loss is one of the most moving aspects of her vocation.

"I have experienced some beautiful moments," Summers shared. "A man who was nonverbal—a former barbershop-quartet member—was at one of our performances. He couldn't talk, but without hesitation he sang me a complete song from his old repertoire.

"What music can tap into is just incredible," she added.

For more about the band, visit WestMichiganNewHorizons.org.

To learn more about the latest brain-health and wellness findings, see aarp.org/brainhealth.

Melissa Preddy is a writer living in Plymouth.