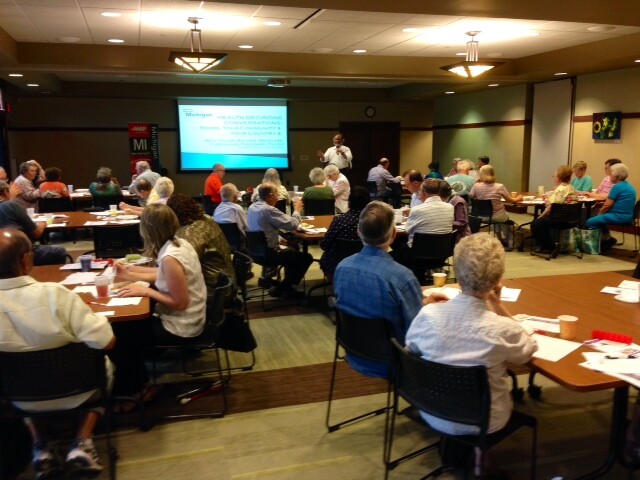 The first two stops on the AARP Michigan Health Decisions T0ur drew 132 interested health care consumers and led to lively discussion in Lansing and Grand Rapids.

The tour provides information on navigating health reform, Medicare, long-term care and caregiving issues and solutions.

The session in Lansing on May 27 attracted 57 people, and the event in Grand Rapids on June 16 drew 75.

Following are written comments from attendees at the Lansing area session:

"I would have stayed all night. Thank you for fact-checking resources and for long-term support/services. [I will] discuss what I learned with many others. We need more programs and dialogue."

"I will go on the Internet and learn what the [ACA] Law is."

"I have a better understanding of how [the] different parts work together."

"I will study health plans in my future [enrollment]."

"I don't think Republicans or Democrats care at all about what's happening in our lives."

"I'm glad to have attended [though] 6:00 p.m. was still a stretch – still employed."

"I need to discuss long-term care with my family."

"I need to research more answers on health coverage."

"[I will] contact lawmakers."

"[I] would like other topics discussed."

"[I will] vote differently."

"Very well done, but so little time."

"[I will] check the sources of what I read."

"I will visit some nursing homes."

"[I] appreciate the ACA more."

"[I learned about] Medicare's financing through Trust Funds."

"This could easily be a day seminar."

"[I will] become" overall more active and informed."

"Most of us feel health issues have been made political…concerned about how long Medicare will be around and at what cost."

"I will do more research. [I will] fact check info I hear on TV or read in newspapers…research political candidates and find out what they really stand for."

"Shorten the Intro. – take off the training wheels."

"[I will] not be so gullible to listen to what is said, instead I look into facts first. Good info."
"[I will] get more education about Medicare."

"Appreciate [AARP's] concerns and efforts on our behalf."

"I will continue to read, listen and hopefully keep up on changes."

"Good presentation but more specificity would be helpful."

"I will become more knowledgeable about Caregiving."

"Will make sure my [LTC insurance] policy has inflation protection."

"We need training for caregivers who are not professionals on correct way to lift, transport, move people…so we can prevent injuries."

"I never heard of Medigap – thanks." "

Following are written comments from attendees in Grand Rapids:

"[I learned] Medicare and Social Security do not contribute to deficit spending…I knew that but I need to tell it to the people who don't know the facts and do not check their sources."

"The first three pages on the ACA vs Obamacare was excellent."

"I attended all of AARP's sessions on Caregiving/[+ LTSS] at the Dominican Center a few years ago. That was very valuable. This was, too."

"It's gotten so difficult to find a doctor who accepts Medicare. What's going on to address that?"

"[I learned] good web sites, the specific things [Medicare] Parts A-D cover."

"I learned the facts on [Medicare's] expenditures and resources."

"I will check the resources that will help me make personal choices."

"Wish I had attended before this date." "I need to do more research on my possible needs…study benefits, costs. Good job. Thanks."

"Update my Durable Power of Attorney." "Very informative, some information I was not aware of. Thank you for the packet on Health Decisions."
"[I learned] Medicare and Social Security are not "entitlement" programs."
"Do your own investigation of facts vs fiction."

There will be five more stops on the tour. Details are here:

Traverse City – West Bay Beach Holiday Inn, 615 E. Front St., Old Mission Room on July 23 from 6-7:30 p.m. Registration will open May 19.

Detroit – Northeast Guidance Center, 2900 Connor, on July 14 from 6-7:30 p.m. Registration will open May 19.

Marquette – Peter White Public Library, 217 N. Front St., on August 5 from 6-7:30 p.m. Registration will open July 1.

Kalamazoo – Kalamazoo Expo Center, 2900 Lake St., Room B on September 16 from 6-7:30 p.m. Registration will open August 1.

Jackson – Gene Davis and Sons, 3575 Francis St., on Sept. 29 from 6-7:30 p.m. Registration will open August 1.