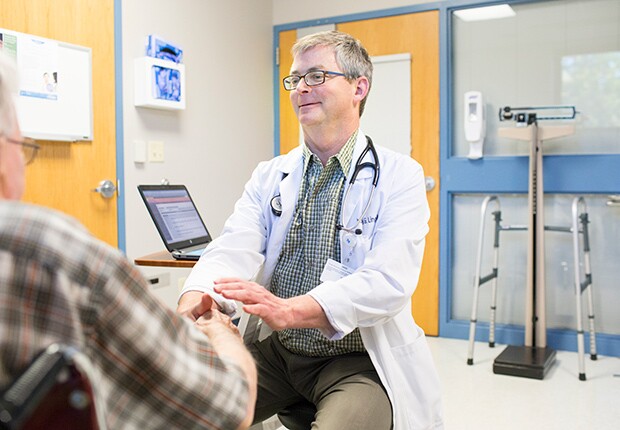 By Melissa Preddy

Healthy Michigan, hailed as one of the nation's most innovative efforts to expand Medicaid, is proving to be a lifeline for lower-income workers while improving the economy, according to state officials and researchers.

Designed by lawmakers, industry leaders and consumer advocates, Healthy Michigan is paid for by Medicaid funds under the Affordable Care Act. Michigan is one of 31 states that accepted federal funds to provide lower-income residents with health care. AARP Michigan strongly backed the decision.

Implementation began in 2014, and about 650,000 residents are now enrolled in the program, which covers preventive exams, management of chronic diseases, medications and other services. That includes roughly 170,000 adults ages 50 to 64.

"It's literally been a lifesaver," said Angela Minicuci, spokeswoman for the state Department of Health and Human Services, which runs the program. She cited the case of a woman, 51, without coverage who enrolled.

A screening turned up a cancerous tumor, she underwent treatment and is now cancer-free.

This year, single people making $16,040 or less are eligible to participate, as are two-person households with an income of $21,600 or less. Participants contribute on a sliding scale; a single person earning at the top of the range, for example, would pay $26 a month for coverage.

"Part of the intent of Healthy Michigan was to include the working poor," said Laura Wotruba, director of public affairs at the Michigan Health & Hospital Association. "From what we are hearing, that's happening."

Emily Schwarzkopf, an analyst at the nonprofit Michigan League for Public Policy in Lansing, attributes the plan's success to its bipartisan support among lawmakers and to input from business groups, Planned Parenthood and health care trade associations.

"Everyone knew there was a gap in coverage—childless adults were a wide swath of people not being helped," she said. "This plan fills that gap and those people don't have to wait until the last minute or use the hospital for primary care."

Initially, federal dollars covered the program's expense, which was $3.6 billion in 2016. This year, the state is expected to cover 5 percent, or about $225 million. But that's expected to be offset by savings in the budget, such as on mental health care not funded by Medicaid, for a net gain to the state of $182 million.

The state's share is scheduled to grow to 10 percent by 2020 and thereafter.

Fewer uninsured patients
Several studies indicate that Healthy Michigan has been a boon for hospitals and the state's economy. In 2013, 88 hospitals had to absorb $627 million in costs for uninsured patients. That dropped to $327 million by 2015, according to a University of Michigan survey.

Some 30,000 jobs can be attributed to the Medicaid expansion, in the health care sector and elsewhere. Another report said low-income households may spend more on housing, transportation and food if less of their income goes to health needs, thus boosting income and sales taxes paid to the state.

"It's a cascading effect," said Lyn Jenks, a health care industry consultant and former CEO of Munson Healthcare Charlevoix Hospital. Medicaid expansion, she said, has helped stabilize smaller hospitals that had been writing off as much as 10 percent of the care they provided.

"People often forget that, particularly in rural areas, the hospital is the largest employer in the county," Jenks said. "Not only are we taking care of people, we are a major economic driver as well."

For more on Healthy Michigan, go to michigan.gov/mdhhs.

Melissa Preddy is a writer living in Plymouth, Mich.