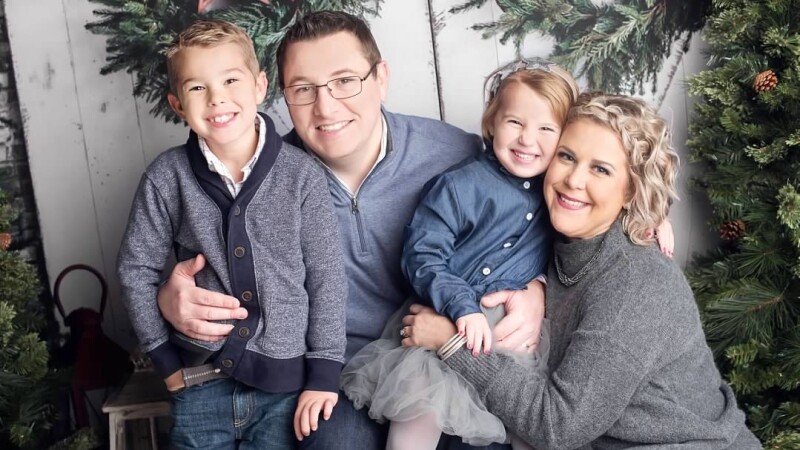 Following is a tale of pandemic quarantine survival from a DeWitt mother of two. She has lessons to share that can be applied to your situation, whether you're a mom with younger kids or a grandparent thrust into a situation where you're trying to keep up with crazy-active grandkids whose school or day care are shut down and their parents are at work.

By Melissa Seifert, Associate State Director, AARP Michigan

My name is Melissa, and I am an extrovert. I have been mandated to work from home and spend an infinite amount of quality time with my family of three. My husband also works fulltime in an office and has taken up residence in the basement of our sequestered compound.

We are also parents to Jackson, who is a 7-year-old boy, ALL BOY, who is loving and smart and full of energy. Lizzy is my 4-year-old Mini-Me. She is sweet and inquisitive and has an incredible imagination. Oh, and to add one more cherry on top, we have a 9-month-old Jack Russell Terrier, Mr. Bojangles, who might be the most hyper animal on this planet. Here we sit, all together, in our house, 24/7. It's been two weeks since the start of our mandated captivity and I have learned a few things that may help you out in a similar COVID-forced all-day child care role.

1. Make a schedule and stick to it (HaHaHaHa!) The real pro tip: divide and conquer

When this all started I got on Pinterest and teacher blogs to find out what I should do. I saw pictures of other moms who recreated classroom work stations and had planned PE activities and creative snacks. I, like those moms, did something similar. I created a "school schedule" and stuck to it for a solid 48 hours. Impressive, I know! Now the sad, little schedule hangs on the refrigerator reminding me of a more naive time. Our new house solution: Divide and Conquer. My husband and I go through our work schedules every evening and come up with a plan about how we each will grab precious moments alone, when we are able to help the kids with school work, and how we can spend time as family. Yes, screen times are WAY up, but so is my sanity! I am unapologetic.

2. Connect with the outside world

First, I want to encourage you all to block your mother-in-law from sending you uplifting emails and crazy, impossible craft ideas… I am trying to get us out of this alive and don't need that added pressure! We have done our best to connect with cousins virtually, we FaceTime the grandparents, and have been making cards for those in nursing homes. I bought a glow-in-the-dark paint kit so the kids can paint rocks and leave them at their friends' houses to find. Friends of ours had their kids write messages on our driveway. They were so sweet! There are many ways to engage with the outside world. Remember: small gestures go a long way.

3. Make sure to go outdoors

Number one goal in all of this is to make sure your kids are tired… like they want to crawl into bed at 7 p.m. and sack out tired. We go for daily walks and bike rides with Mr. Bojangles, we play basketball, soccer, and other outdoor games that I may have adapted from college party games. Quarters, er, I mean trying to get the ping pong ball in the No. 5 cup. Another pro tip: avoid outdoor playgrounds. Even before the pandemic I swear I could hear the germs crawling all over the metal gym equipment, and now I can see them, like the Mucinex germ on the TV ad. Anyway, I learned the hard way after telling my kids they couldn't play on the playground equipment, and both my kids turned into hot, inconsolable messes.
Anyway, get outside, play, and make up games. GET THEM TIRED!!

4. Little House on the Prairie style

Perhaps, like most of you reading this blog, you also enjoyed a lovely tale about a family living in a one-bedroom house with no electricity, no running water, no grocery stores, no pizza deliveries or any comforts we have grown dependent on. I am implementing a few of the pioneer basics into our family life. The other day I baked cookies from scratch and my son said, "What is going on with our lives?" Both the kids are going to really get thrown for a loop when I make them plant a garden next month! All this got me thinking about how fast paced I have been living my life. It has felt like I am trying to get through the day, the week, the month and not pausing to appreciate all that is around me. Take a tip from Ma and Pa Ingalls: slow down, get back to the basics, and once a day look around and appreciate what you have!

5. Never forget: You're in survival mode!

I am doing the best that I can and I know you all you are, too! Last week I put dinner on the table after a full day of conference calls and laundry and homeschool and my son says, "That was the best you could do, disappointing." OUCH! Here are some truths. My husband doesn't have any sports to watch, I have never been with my entire family and children for two straight weeks around the clock, and, we are all still alive!! My standards have changed a bit, my daughter dresses like a younger version of Madonna from the '80s, complete with makeup, bright blue eyeshadow and very dark asymmetrical eyebrows. My son asks me every day if he can watch youtube so he can see other kids play video games.Seriously, this is a thing! Two weeks ago I wouldn't let Lizzy look like Mimi from the Drew Carey Show, or let Jack explore youtube, but now I am. Keep your kids safe but remember sanity sometimes requires compromises.

Also, take care of you, because the people around you are depending on it. Charlie Chaplin once said, "A day without laughter is a day wasted."So true. I have always advocated slipping Prozac into the water, but until that happens YOU DO YOU and stay happy, healthy, safe and SANE!