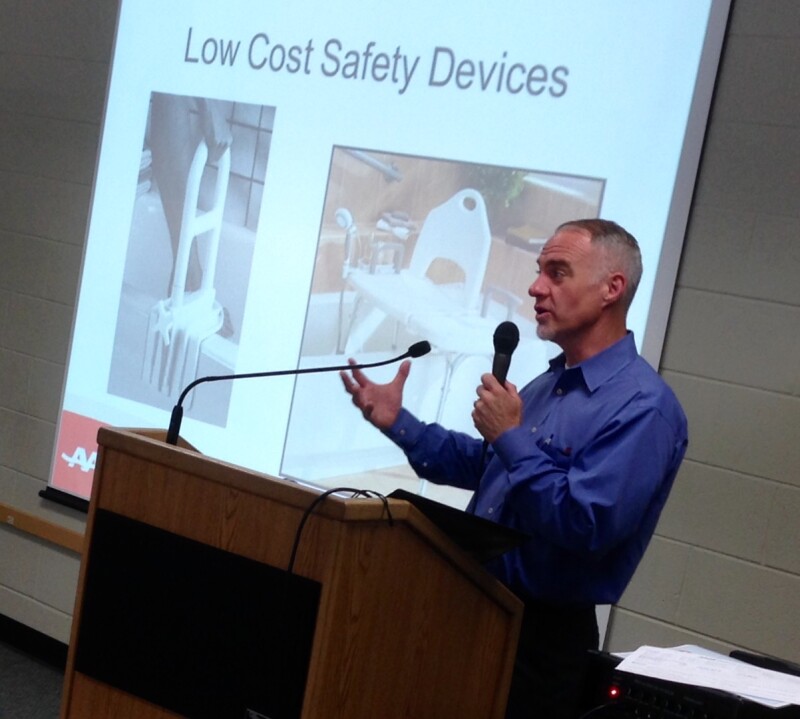 Occupational Therapist Michael O'Connor opened his HomeFit workshop with a picture slide of Dorothy's ruby slippers, heels clicking together, from The Wizard of Oz.

"There's no place like home, right?"

Right.

And for those who want their home to remain suitable as they age, O'Connor has a load of advice.

He led an AARP Michigan HomeFit session on June 9 at Meridian Senior Center in Okemos. The slide-aided 90-minute program drew an audience of 40, several in wheelchairs. He focused on "smart solutions for making your home comfortable, safe and a great fit," as the HomeFit Guide indicates.

Recommendations included:

Install grab bars everywhere you need them -- on doors, in showers, near toilets and even next to your favorite chair.
Grade sidewalks and garage floors up to entrances so no steps are needed.
Get temporary ramps when returning home from the hospital after major surgery, such as joint replacements.
Place hand rails on both sides of stairways, and make sure the area is well lit and steps have a non-slip surface.
Use hand-held shower wands.
Don't use soap dishes and towel racks as grab bars. They're not.
Elevate toilets for easy on, easy off. This can be done with safety frames, base risers or replace a toilet with a taller model. Two to three inches can make a big difference.
Make sure sinks and mirrors can accommodate someone in a wheelchair.
Install pull-out kitchen counters for increased accessibility.
Place the microwave on a counter top or on a drawer mount so it can be used while seated.
Get an inexpensive oven rack puller for safer and easier cooking and baking.
Move the laundry from the basement to the ground floor and use stackable, front-loading washers and dryers.
Increase access to leisure activities, such as woodworking, sewing or working with a computer by installing grab bars and creating work space on the ground floor.
Install windows that are easy to open and at a comfortable height.
Buy a generator so furnaces, refrigerators and other life necessities can operate during power outages.
Clearly mark your house address so it's visible to emergency vehicle drivers.
Finally, O'Connor stressed that it's important to carry a communications device at all times -- cell phone, life line, etc. -- because you never know when you'll need it.

"I know of a retired nurse who was carrying Christmas decorations up the stairs and she fell. She had no cell phone and she wasn't found for more than 30 hours," he said.

The event was coordinated by Karen Kafantaris, AARP Michigan Associate State Director for Livable Communities.

For more information, visit www.aarp.org/homefit or www.aarp.org/livable

Return to aarp.org/mi for details about future HomeFit workshops.