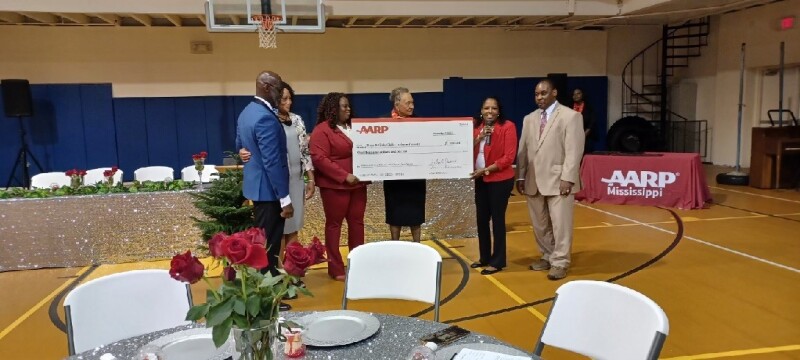 (Jackson, MS) – Pastor Larry G. Hawkins, Sr., of Pascagoula, has been selected by AARP, the nonprofit organization for people 50 and older, to receive the 2022 AARP Mississippi Andrus Award for Community Service, the Association's most prestigious and visible state volunteer award for community service.

AARP Mississippi selected Pastor Hawkins for his remarkable service, which has greatly benefited his community, reflected AARP's vision and mission, and inspired other volunteers. Hawkins is the Pastor of Union Baptist Church of Pascagoula, where he has served for 34 years.

In addition to his ministry, Hawkins is widely known for his commitment to education. He has implemented scholarship programs that have awarded students over $100,000 to further their education after high school. He is the founder of Operation Excellence Tutorial Program, which provides free tutoring to K – 12th grade students in the area.

He implemented the Bowtie Club to promote positive images among young men. He and his wife, Carol, established the "Girls of Pearls" to promote positive images among young women.

In the aftermath of Hurricane Katrina, Pastor Hawkins and Union Baptist Church played a pivotal role in the recovery of parishioners and the entire Gulf Coast community. The sanctuary was gutted, but while being renovated, it served as a warehouse to store appliances that were distributed to those in need along the Gulf Coast.

His passion is: "empowering others to maximize their God giving potential to make a difference in the world."

His civic affiliations include: Past President of the Board of Directors of Boys and Girls Club of Jackson County; Board member United Way for George & Jackson Counties, Board member of Gulf Coast Women's Center for Nonviolence; Former President of Mississippi Coast Inter Faith Disaster Task Force; Former member of Salvation Army Advisory of Jackson Count; Former member Board of Directors Jackson County Chamber of Commerce; and Executive Director of Total Man Ministries.

The award was formally presented to Pastor Hawkins at a ceremony on Monday, November 7 at Union Baptist Church in Pascagoula. He received a $1,000 check for the non-profit of his choice, the Boys and Girls Club of Jackson County.

"This award acts as a symbol to the public that we can all work together for positive social change," says AARP Mississippi State Director Kimberly L. Campbell, Esq. "AARP has long valued the spirit of volunteerism and the important contributions volunteers make to their communities, neighbors, and the programs they serve."

Recipients across the nation were chosen for their ability to enhance the lives of AARP members and prospective members, improve the community in or for which the work was performed, and inspire others to volunteer.