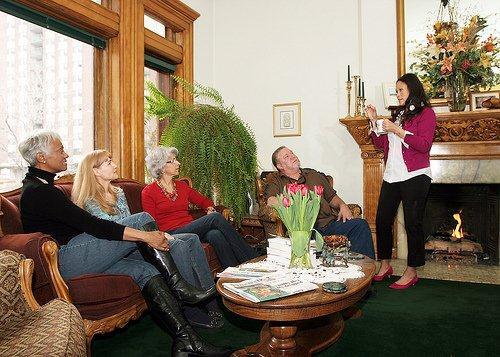 By Margie Culbertson
AARP Volunteer and Writer
Baby Boomers have always made an impressive mark on society throughout the years. Now that boomers are retiring, the impact is being felt. It has been reported that 75 million people will turn 65 prior to the year 2033 — that's about 10,000 a day. The term "retirement readiness" is a new concept in the retirement community. It encompasses: financial, social, family, emotional, and physical planning.
When putting together your financial retirement plan, there are many models to follow. The key is to find yourself financially secure, once you go into retirement — with enough income coming in, and very little debt. Be sure to take a look at the AARP Retirement Calculator. The introduction of this tool states that it can give you a "personalized snapshot of what your financial future might look like."

But financial planning isn't the only aspect of retirement readiness to consider. Social and family relationships can play a big part in whether your retirement is satisfying or not. It's vital to set up your social support groups (faith-based groups, hobby groups, travel companions, exercise buddies) while you are still working. These social contacts will be there for when you've made your transition to retirement. You don't want to find out too late that you've isolated yourself beyond your workgroup friends. Your emotional well-being depends upon it.

In planning for the ever-important, non-financial, aspects of retirement living, consider what will fulfill you, what you've always wanted to try but never had the time (or the nerve) to do. Take a part-time job, line up potential volunteer activities, investigate courses to take. Many colleges offer lifelong learning classes, often at little or no cost, and some are even developing communities based on elder campuses across the country. Learn a new language or how to understand digital photography. Become a tutor, mentor, part-time lecturer, or docent. Get involved. Avoid, at all costs, a suddenly sedentary lifestyle.

Perhaps you were or are dreading your retirement years, but you may just surprise yourself. As one recent retiree said, "When I thought of retirement when I was young, I thought it'd be boring…just a horribly-slow hobble toward the grave. But, now I'm so busy with new activities every week that my calendar and list of friends grows sometimes quicker than I can keep up. My days have variety and passion like I never had before when I was working."

Above all, when creating your next lifestyle living plan, look for things you can do that bring you joy and add structure to your life. Just remember - the key to gaining joy in retirement is to uncover your next-phase-of-life true purpose — a renewed, vital identity. You then will start each day, ever-young, with excitement with each new morning!

Margie's Note: Watch for upcoming articles on: how boomers' wisdom is changing the face of the volunteer world; how to stay vibrant and healthy in retirement; finding a volunteer or part-time opportunity that fits you like a glove; creative places to recruit new volunteers and how to keep 'em once you've gotten 'em!