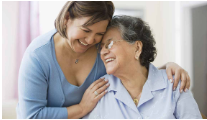 The state's 470,000 family caregivers are an unpaid lifeline for the loved ones they assist.

AARP Mississippi wants caregivers to know that their stories matter. The state office is asking them to share their experiences through AARP's I Heart Care- givers, a website that offers recognition of, and inspiration to, caregivers balancing their responsibilities with the needs of loved ones.

Share your caregiver story at aarp.org/iheartcaregivers.

More than three-fourths of people 50 and older want to age in their communities, according to an AARP survey, and many depend on family caregivers.

Caregivers can benefit from AARP's Prepare to Care guide, which covers topics ranging from financial planning to focusing on personal well-being. Get the guide at aarp.org/preparetocare.