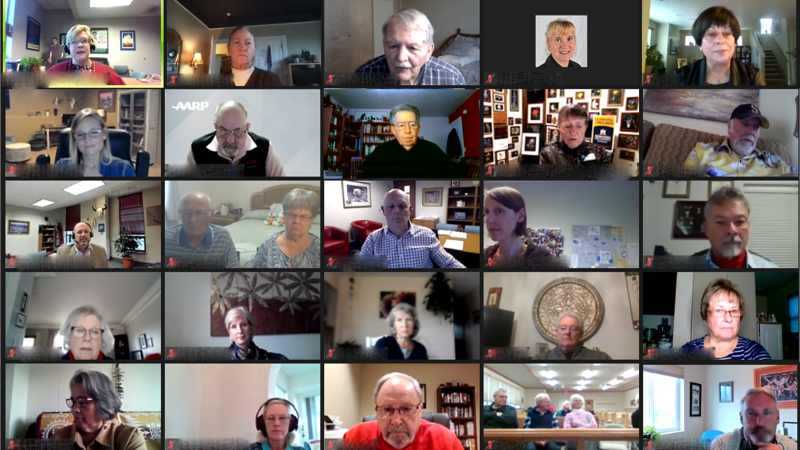 Cheryl Bartholomew of Bozeman selected as recipient of 2021 Andrus Award for Community Service

AARP Montana announced that Cheryl Bartholomew of Bozeman was selected to receive the 2021 Andrus Award for Community Service, the Association's most prestigious volunteer award. Each year AARP honors the legacy of AARP founder, Dr. Ethel Percy Andrus, with the AARP Andrus Award for Community Service. This award is a symbol of the power of individuals to make a difference in the lives of others. The award was formally presented to Cheryl during a recent online ceremony.

In congratulating Cheryl, Montana State Director Tim Summers said "Cheryl Bartholomew has always recognized the important role volunteers play in making things better for society. It's a pleasure to present this honor to Cheryl, a person who has given of herself to make an important difference in the lives of others."

Cheryl Bartholomew has been the champion of Age-Friendly work in Bozeman since the City joined the AARP Network of Age-Friendly Communities in 2018. She is a tireless and enthusiastic advocate helping Bozeman become a community that is livable for people of all ages, and she has been a key player keeping the Bozeman Age-Friendly program moving forward.

Cheryl had a vison of creating an intergenerational community center in Bozeman and she has moved that project forward by coordinating with the Montana State University Architecture Department. Students created six Community Center models that will be displayed at City Hall for citizen consideration. Her vision is becoming a reality.

The Bozeman Age-Friendly effort began with two concerned citizens and she has led the group from the beginning. Cheryl brought committees together to focus on Housing, Transportation, and Health. She always has a positive outlook and her energy and enthusiasm seem endless. Cheryl's passion for Bozeman is contagious as she works to make her city a place where people of all ages and abilities can live safely, comfortably and thrive.

"Cheryl is an inspiration to others. On behalf of AARP Montana, we are honored to present Cheryl Bartholomew with the AARP Andrus Award for Community Service – she embodies the legacy of Ethel Percy Andrus' motto – 'to serve and not to be served'." said Summers.

As part of the award, AARP Montana has donated $2500 in Cheryl Bartholomew's name to the non-profit of her choice. Cheryl selected the Alzheimer's Research Center for the donation on her behalf.

Also at the event, special awards were presented to the following individuals and organizations:

Lee Montana Newspapers – 2021 Excellence in Public Service Communications
Lee Montana news organizations created a "Stories of Honor" series that features Veterans from across the state to inform readers about the service and bravery of the heroes who have served our country. Some of the most powerful stories come from those who have served in the U.S. Military. Across the state, more than 94,000 veterans live in Montana – that's a huge population of local heroes worth honoring.

From Memorial Day to Veterans Day a different veteran story was featured each week – in the markets of Billings, Missoula, Butte and Helena – more than 100 different veterans were featured this year. Curt Synness with the Helena Independent Record and Duncan Adams with The Montana Standard led the efforts to research and write the profiles. AARP Montana was grateful to partner with Lee Montana Newspapers to bring these important stories to readers across the state.

Lee Montana Newspapers is delivering a great community service by bringing these stories to Montanans. Not only that, these stories will live on in the Lee archives which develops the historic record of these incredible stories of bravery that might have otherwise been lost to time.

AARP Montana is pleased to name Lee Montana Newspapers as the winner of the 2021 Excellence in Public Service Communications Award for the Stories of Honor Series.

Mountain Pacific Quality Health – 2021 Outstanding Community Partner Organization
Mountain Pacific has been an outstanding partner with AARP Montana for many years, but during the pandemic they have become pivotal in our outreach to the community about Covid-19. Sara Medley, Chief Executive Officer of Mountain-Pacific Quality Health, Dr. Douglas Kuntzweiler, Chief Medical Officer and Tony King, Director of Pharmacy Programs were our expert guests for six telephone town halls during 2020 and 2021 providing factual information and answering caller questions about the Covid-19 virus and vaccines. Additionally, Mountain Pacific has featured AARP Montana on their Healthy Living for Life television program and collaborated with AARP Montana on several community workgroups and coalitions and they have helped raise the visibility of upcoming AARP Montana events AARP caregiving information and resources for family caregivers.

Montana Area Agencies on Aging – 2021 Outstanding Community Partner Organization
The Area Agencies on Aging have become a powerful voice for older Montanans in the legislature. Their advocacy influence and policy breadth has improved the health and financial wellbeing of Montanans 50 and older. They have also secured several financial awards which has greatly improved their client services throughout the state. AARP is thankful to be able to partner with M4A on advocacy work and we especially appreciate the strategic and thoughtful approach of Association Director, Adrianne Cotton. We thank the area Directors and employees for the all the great work you do for older Montanans and their families!

Marsha Goetting – 2021 Outstanding Individual Community Partner
Marsha A. Goetting is a Professor and Extension Family Economics Specialist at Montana State University in Bozeman. During 2021 as people across the country were social distancing in response to the Covid pandemic, Marsha collaborated with AARP Montana to offer a 4-part virtual webinar series on Estate Planning to people across the state. These webinars were very popular, and we reached more than 1,400 Montanans with this useful information. We are currently collaborating with Dr. Goetting to present a 4-part series of telephone town halls to Montanans which will help to reach people in rural areas and those without an online presence. Marsha has done an outstanding job of creating presentations that distill these often-complicated issues into useful information for the average person.

During the past seven years Dr. Goetting has presented over 500 educational sessions reaching more than 15,000 Montanans with financial and estate planning information. She has received state, regional and national awards for her programs. She is also well known for her authorship of 47 MontGuides fact sheets in the estate planning area. Dr. Goetting received her Bachelors' and Masters' degrees in Family Economics and Adult Education from Kansas State University and a PhD from Iowa State University. Marsha has been a pleasure to work with and AARP Montana truly appreciates her partnership.

Peggy Aquino-2021 American Indian Partner Award
Peggy Aquino has been our partner from Stone Child College on the Rocky Boy Reservation since about 2004. She was the first Grandparent Raising Grandchildren support group leader at Stone Child College. We worked with her in that capacity for several years and she was always a touchstone for our other efforts at Rocky Boy. We were working with the Social Security Administration and the SHIP program to do public benefit outreach training and conducted several at Rocky Boy. Peggy kept informed of other opportunities to partner with Stone Child College when they were having programs that our topics fit. Finally, she has been our go-to person (as financial aid director for Stone Child) for our Honor Your Elder Scholarships. She was involved for the three years that we gave scholarships to the Stone Child Students (2019, 2020 and 2021). Peggy has retired and has help transition us to a new contact person for 2022. Peggy has been a great partner to deal with and has stayed heavily involved with AARP for at least 17 years. Thank you Peggy for being such a great partner to AARP Montana!

Kate Humphrey – 2021 AARP Montana Community Engagement Award
After a chance meeting at the Bozeman Home Show, just weeks before the pandemic hit, Kate has become a valuable, contributing volunteer for AARP Montana. As a licensed physical therapist and Certified Aging in Place Specialist, Kate has been a big part of our virtual outreach sharing our HomeFit information regularly during 2020 and 2021. She mastered the original presentation and then easily transitioned to the updated version. Thanks to Kate, Montana was the first in the nation to actually offer the revised HomeFit presentation to a public audience. Kate is always willing to share the great HomeFit material even though she works full-time in a demanding job that requires extensive travel. Many thanks to Kate for her volunteer contributions and can-do approach.

Fran Schisler – 2021 Outstanding Retired Educator
Fran has received many awards and honors as well as making significant volunteer contributions throughout Montana and in her local community of Dillon. She was awarded the UMW Outstanding Teacher of the Year and was the first MREA Walters' Rural Teacher of the Year. She's been a lifelong supporter and advocate for youth, a 4-H leader and judge and is active in her church choir. Fran spearheads the Southwestern Montana Retired Educators Association's donations to the Beaverhead County Food Bank and to area schools. A long-time Bannack Board member and Alpha Delta Kappa member, Fran's volunteer contributions are too numerous to list them all. Thanks for all you do Fran!

Thom Ainsworth – 2021 Outstanding Driver Safety Award
Thom has shown outstanding leadership as the Montana Driver Safety Coordinator for many years. Thom leads a large team of Montana DSP volunteers who are frequently the face of AARP in communities large and small throughout the state. The pandemic has presented many challenges for this in-person, classroom style program and yet Thom has kept his volunteer team updated and engaged and they are poised to return to their in-person instruction in 2022.

Galen Hronek – 2021 Outstanding Tax-Aide Award
We will be saying goodbye to Galen Hronek as he moves on to new challenges in 2022. Galen has coordinated the AARP Foundation's Tax-Aide Program for many years and led his amazing team of volunteers that provides valuable tax assistance to Montanans. The Tax-Aide program has also been severely impacted by the pandemic, but we know that this resilient team of volunteers will be ready to resume their important work as soon as AARP determines that in-person activities are safe for volunteers and community members.

Dr. Richard Blank – 2021 Montana Outstanding Community Service Volunteer and Andrus Finalist
Dr. Blank is a long-time RSVP Volunteer in Missoula County. With hands-on experience as a family caregiver for a loved one with Alzheimer's, Dr. Blank continued advocating for families dealing with Alzheimer's even after his wife, Pat, passed. He joined the Dementia Friendly Missoula movement and has shared his experience and expertise widely throughout the community, with support groups and with the Montana Legislature. He also participated in the MAS Kitchen Table Conversations to educate people on end-of-life care for many years. He volunteers with Meals on Wheels and frequently connects with clients. Dr. Blank has made a difference in the Missoula community and has touched many lives. Thank you for your volunteer service!

Beth Hagan – 2021 Empty Bowl Award and Andrus Finalist
Seniors on the Blackfeet Reservation were hit hard by Covid and they experienced an extended lock down during the pandemic. The "We Are Eating" Food Pantry now serves more than 1,900 people per month and Beth has volunteered with the mobile food pantry program since it began in January of 2021. As the community lead, Beth receives bulk delivery of food boxes each week and she is in regular contact with the recipients to determine who needs food for each weekly delivery. Beth has also served as the photographer and videographer and has provided video footage to the Great Falls news stations to publicize the program. Beth, you have made a significant difference in your community during a time of great need. AARP Montana appreciates all that you've done.

Lew Savik –Andrus Finalist
As a model volunteer for the Red Cross of Montana and many other organizations in the Kalispell community, Lew is constantly willing to step up when needed. He's ready to lend a hand in local disaster response, has been deployed nationally. Lew regularly represents the work of the Red Cross with community stakeholders. Since 2015, Lew and his team have supported more than 200 disaster clients after more than 70 local disasters. Lew has empowered countless individuals to support the work of the Red Cross in their community. His contributions don't stop there, Lew and his team of volunteers conduct in-home fire prevention activities including the installation of smoke alarms. He also supports his local church, delivers meals to Habitat for Humanity building sites and supports youth track and field. Lew's volunteer contributions have touched many community members and have made the Kalispell community a better place to live. Thank you Lew for all you've done.

Rebecca Johnson – Andrus Finalist
Rebecca has been coordinating voter registration efforts in Montana since 2016. She's recruited and trained more than 40 volunteers in the Helena-area. Rebecca also plans, coordinates, and implements voter registration events. She identifies areas with low voter turnout and conducts voter education events to raise awareness and register community members so they can vote. Truly engaged in the civic process, Rebecca and her team distribute voter guides and she has facilitated group brainstorming sessions to expand voter registration efforts in the Helena-area. As an active member of the League of Women Voters and Montana Women Votes, she has also been active in supporting voting rights. She believes that easy access to voter registration and voting helps encourage people to be civically engaged. Thanks Rebecca …. you have made a difference in your community and in Montana.

"AARP has long valued the spirit of volunteerism and the important contributions AARP volunteers make to their communities, neighbors, and the programs they serve. It's a pleasure to present these awards to so many wonderful volunteers who have made an important difference in the lives of others," concluded Summers.

AARP's commitment to volunteer service can be traced back to the life and vision of founder Dr. Ethel Percy Andrus. From the beginning, her motto, "To serve, not to be served," has shaped AARP's community service efforts at the national, state and local levels. Andrus Award winners are nominated by their peers and the award recipient is chosen by a special committee of AARP Montana volunteer leaders.