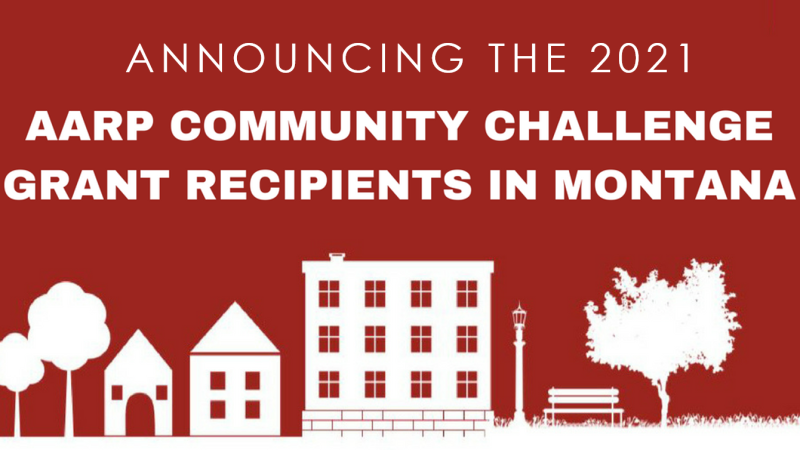 AARP Awards Nine Montana Organizations with Community Grants as Part of its Successful Nationwide Program

AARP Montana announced nine organizations will receive 2021 Community Challenge grants totaling $72,750 – part of the largest group of grantees to date with $3.2 million awarded among 244 organizations nationwide. Grantees will implement quick-action projects to promote livable communities by improving housing, transportation, public spaces, civic engagement, and connection with family, friends, and neighbors with an emphasis on the needs of the 50-plus. Many of this year's awards support revitalizing communities adversely impacted by the pandemic and include a focus on diversity, inclusion, and disparities.

"AARP received a tremendous response to the Community Challenge Grant program," said Tim Summers, AARP Montana state director. "We're thrilled that ten great proposals from Montana were selected. These projects will not only enhance the livability of their own communities, but also help shine a spotlight on what it means to be an age-friendly community. AARP Montana thanks all of the applicants and congratulates these dedicated community partners for their innovative and forward-thinking projects."

All projects are expected to be completed by the end of November 2021. Here in Montana, projects funded include:

Projects funded by AARP's national Livable Communities team:
$17,000 – Roundup: Roundup Community Partners: This project will help to ensure the future of Roundup's Main Street is accessible for all residents with the addition of benches and picnic tables. Volunteers will install benches and picnic tables along the community's Main Street, connecting community members of all ages to the groundbreaking Welcome Plaza.

$27,400 – Helena: The Myrna Loy: This community-driven project will enhance livability by enlivening an underserved neighborhood with artistic benches, lighting, planter boxes, bike racks, and public art on dumpsters and windows. Rodney Street is Helena's oldest neighborhood. Residents call it quirky, historic, beloved, and blighted. It's not quite downtown, nor on the growing edge. It attracts little public or private investment. Rodney Street's small business district is barren and careworn and longs for improvements in safety, walkability, visual enhancements, and opportunities for casual social interactions.

$5,000 – Great Falls YWCA: This project will provide educational opportunities and resources to all businesses, civic groups, and nonprofits on social equity/inclusion for the workplace, board, and clients served.

Projects funded by AARP Montana State Office:
$2,350 - Beaverhead Trails Coalition: Dillon-Walking Trail improvements

$5,000 - Prairie County Economic Development Council: Prairie County Fairgrounds covered picnic area

$4,000 - Rails to Trails Kalispell: Art installation in Tunnels

$2,000 - Ravalli County Aging: Hamilton Community Garden

$5,000 - Montana State Park Federation: Somers Park amenities and Welcome Kiosk

$5,000 - Anaconda Economic Development Corporation: Downtown Placemaking

"We are incredibly proud to partner with Montana's grantees as they work to make immediate improvements in their communities and encourage promising ideas," said Nancy Andersen, AARP Montana Director of Outreach. "Our goal at AARP Montana is to support the efforts of our communities to be great places for people of all backgrounds, ages and abilities and the coronavirus pandemic has only underscored the importance of this work."

The Community Challenge grant program is part of AARP's nationwide Livable Communities initiative, which supports the efforts of cities, towns, neighborhoods and rural areas to become great places to live for people of all ages. Since 2017, AARP Montana has awarded 26 Community Challenge grants totaling $239,028 to nonprofit organizations and government entities across the state.

View the full list of national grantees and their project descriptions at www.aarp.org/communitychallenge and learn more about AARP's livable communities work at www.aarp.org/livable.

# # #
About AARP: AARP is the nation's largest nonprofit, nonpartisan organization dedicated to empowering people 50 and older to choose how they live as they age. With a nationwide presence and nearly 38 million members, AARP strengthens communities and advocates for what matters most to families: health security, financial stability and personal fulfillment. AARP also produces the nation's largest circulation publications: AARP The Magazine and AARP Bulletin. To learn more, visit www.aarp.org, www.aarp.org/espanol or follow @AARP, @AARPenEspanol and @AARPadvocates, @AliadosAdelante on social media.  

About AARP Montana: For nearly 50 years, AARP has been working right here in big sky country to improve the lives of the 50 plus. As a non-profit organization, AARP Montana advocates for what matters most to families: health security, financial stability and personal fulfillment. By fighting on issues that matter most to Montana families and providing trusted information, we're helping to empower Montanans to choose how they live as they age. Today, over 140,000 strong, AARP Montana is one of the largest membership organizations in the state. As a nonpartisan organization, AARP does not endorse candidates for public office or make contributions to political action committees, campaigns or candidates. To learn more, visit www.aarp.org/MT or follow @AARPMontana on social media.