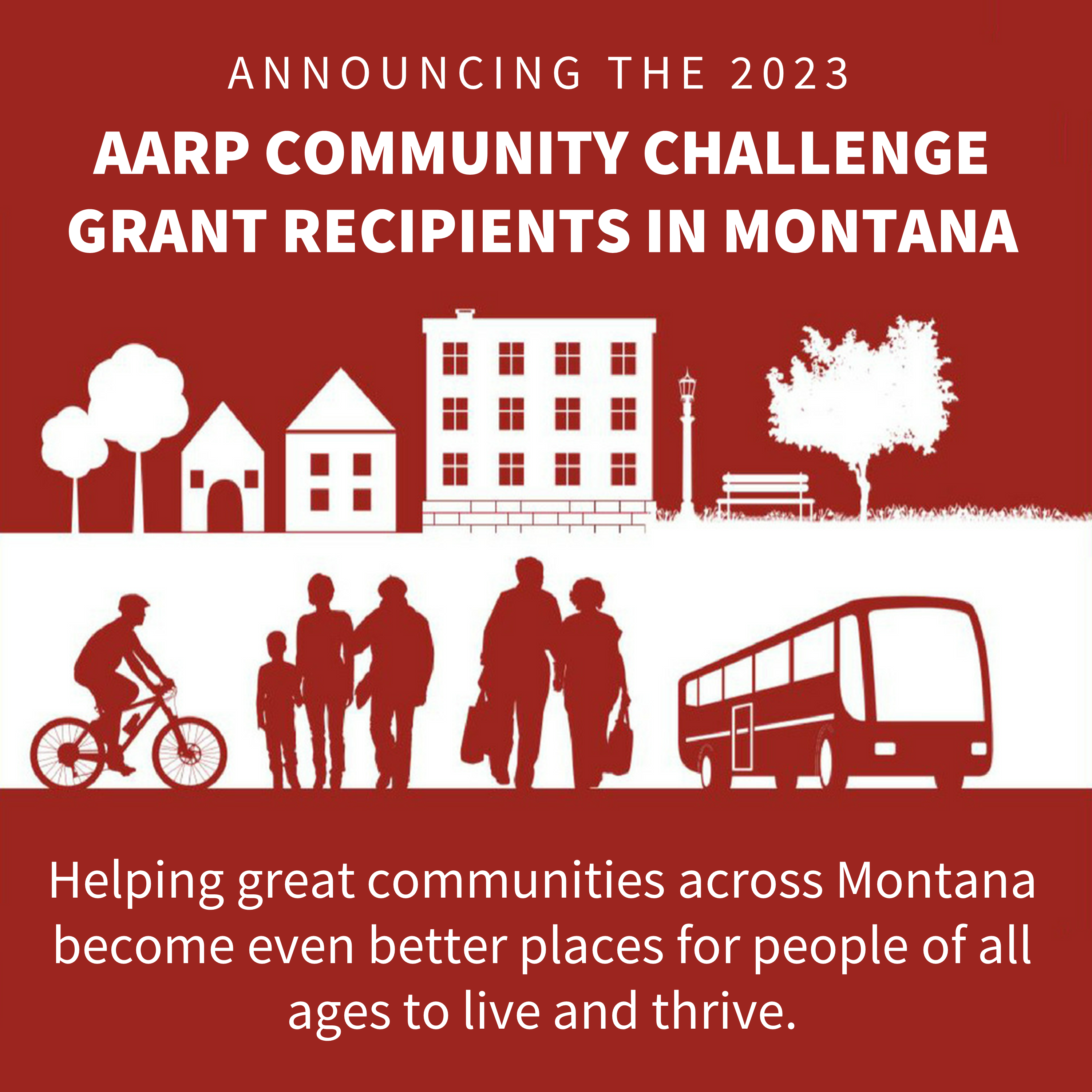 Helena, Mont., June 28, 2023 — AARP Montana announced five organizations throughout the state will receive 2023 Community Challenge grants – part of the largest group of grantees to date with $3.6 million awarded among 310 organizations nationwide. Grantees will implement quick-action projects that help communities become even more livable in the long-term by improving public places; transportation; housing; diversity, equity and inclusion; digital access; and civic engagement, with an emphasis on the needs of adults age 50 and over.

"AARP Montana is thrilled to grant these funds to help already great communities across Montana become even better places for people of all ages to live and thrive." said AARP Montana State Director, Tim Summers. "Over the past six years we have funded 39 different Montana projects and we have worked with grantees on a wide range of ideas from creating safer streets, improving public transportation, trails and parks to creating community gardens and enlivening neighborhoods with murals, benches, lighting, planter boxes and bike racks."

Here in Montana, five projects were funded for a total of $82, 875. Those projects include:

$18,396 -- Arlee Community Development Corporation. This project enhances the Confederated Salish Kootenai Tribes' Community Victory Garden near the Arlee Pow Wow grounds. Accessible picnic tables and benches are added for Elders to observe and relax. The Arlee Community Development Corporation (ACDC) provides these amenities, creating a welcoming environment for Elders and garden volunteers. Elders can enjoy the community atmosphere, share stories, and improve their well-being. The picnic tables and benches are a valuable addition to the community park, where the ACDC is a leading partner. Additionally, the ACDC partners with Senior Centers to supply fresh produce from the Victory Garden for senior meals and weekly produce boxes.
$20,000 -- Adult Resource Alliance on behalf of Age Friendly Billings. Age-Friendly Billings will collaborate with local organizations to enhance Lillis Park's inclusivity for all ages and abilities. This grant aims to create an age-friendly environment, promoting daily walking and exercise for older adults. It will fund a challenge board and two signs, encouraging safe joint exercises and a daily goal of walking. Objectives include raising community awareness and generating enthusiasm among partners to address age-friendly needs, fostering a more inclusive community.
$20,000 -- Confederated Salish and Kootenai Tribes. In December 2020, Congress transferred ownership of the Bison Range from the US Fish & Wildlife Service to the CSKT (Confederated Salish and Kootenai Tribes), and the reunification of the land and tribal control was officially completed in early 2022. This grant aims to establish outdoor day use areas at the CSKT Bison Range, allowing Tribal elders, families, and older visitors to enjoy the outdoors while also connecting with the area's rich history and culture. The National Bison Range is located in Moiese, Montana – 50 miles northwest of Missoula on U.S. Highway 93.

$11,380 -- City of Hamilton. The City of Hamilton, in collaboration with Bike Walk Bitterroot and technical support from Montana State University's Western Transportation Institute, initiated this project to design and execute temporary traffic calming initiatives on local streets utilizing traffic circles. These pop-up demonstration projects aim to address concerns related to the interaction between pedestrians and vehicles while also serving as a testing ground for potential permanent safety measures on State Street.
$13,099 -- Headwaters Trail System. The Headwaters Trail System project aims to enhance Edwin Bellach Memorial Park by adding three stationary exercise equipment pieces. These installations will be located alongside the Headwaters Trail, specifically on a popular 1/2-mile loop frequented by trail users aged 50 and above. Our primary focus will be on acquiring equipment that benefits this age group. The chosen site offers easy access from a paved parking lot, making it a preferred area for rehabilitation purposes, particularly for individuals recovering from hip, knee, back, and other surgeries.
AARP Community Challenge grant projects will be funded in all 50 states, Washington, D.C., Puerto Rico, and the U.S. Virgin Islands. True to the program's quick-action nature, projects must be completed by November 30, 2023.

This year, the AARP Community Challenge accepted applications across three different grant opportunities, including existing flagship grants in addition to new capacity-building microgrants for improving walkability and community gardens. New demonstration grants will focus on improving transportation systems, with funding support provided by Toyota Motor North America, and housing choice design competitions.

AARP is also bolstering its investment in rural communities, mobility innovation, transportation options, and health and food access.

"These grants continue to lead to long-term, positive changes in communities across the country," said Nancy LeaMond, AARP Executive Vice President and Chief Advocacy & Engagement Officer. "This year, we are proud to support the largest number of projects in the program's seven-year history, which will improve residents' quality of life through tangible changes so everyone can thrive as they age." The grant program is part of AARP's nationwide Livable Communities initiative, which supports the efforts of cities, towns, neighborhoods and rural areas to become great places to live for people of all ages.

Later this summer, AARP Montana will be announcing additional Community Challenge Grant winners that are funded through the AARP Montana state office.

Since 2017, AARP Montana has awarded 39 Community Challenge grants totaling $400,655 to nonprofit organizations and government entities across the state.

View the full list of grantees and their project descriptions at aarp.org/communitychallenge and learn more about AARP's livable communities work at aarp.org/livable.

View Past Community Challenge Grant Winners in Montana:

###
About AARP: AARP is the nation's largest nonprofit, nonpartisan organization dedicated to empowering people 50 and older to choose how they live as they age. With a nationwide presence, AARP strengthens communities and advocates for what matters most to the more than 100 million Americans 50-plus and their families: health security, financial stability and personal fulfillment. AARP also produces the nation's largest circulation publications: AARP The Magazine and AARP Bulletin. To learn more, visit www.aarp.org/about-aarp/, www.aarp.org/español or follow @AARP, @AARPenEspañol and @AARPadvocates on social media.


###
About AARP Montana: For over 50 years, AARP has been working right here in big sky country to improve the lives of Montanans 50 plus. As one of Montana's largest non-profit membership organizations, with more than 134,000 members, we advocate for what matters most to families: health security, financial stability and personal fulfillment. We're committed to helping already great communities across Montana become even better places for people of all ages to live and thrive by granting funds through our Community Challenge Grant Program. We fund small dollar, big impact projects in several categories, including transportation, safe streets, housing and public parks and trails.

We also connect Montanans with information and resources as well as help people connect with others who share their interests and passions – like music! As a main sponsor of the Helena Symphony's Masterworks Series, we're proud to help bring quality concerts to the community. By fighting on issues that matter most to Montana families and providing trusted information, we're helping empower Montanans to choose how they live as they age. As a nonpartisan organization, AARP does not endorse candidates for public office or make contributions to political action committees, campaigns or candidates. To learn more, visit www.aarp.org/MT or follow @AARPMontana on social media.

###