Alex Ward selected as recipient of 2013 Andrus Award for Community Service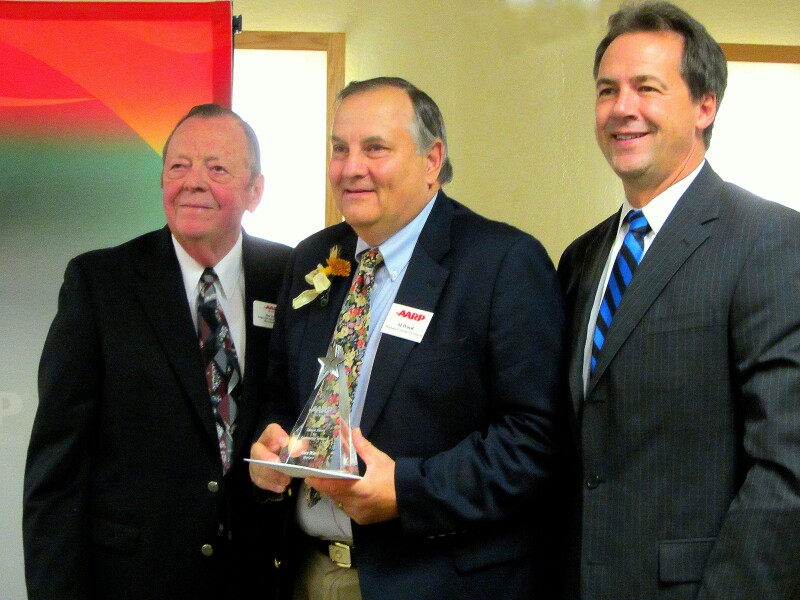 AARP Montana announced today that Alex Ward of Billings was selected to receive the 2013 Andrus Award for Community Service, the Association's most prestigious volunteer award. Each year AARP honors the legacy of AARP founder, Dr. Ethel Percy Andrus, with the AARP Andrus Award for Community Service. This award is a symbol of the power of individuals to make a difference in the lives of others. Montana Governor Steve Bullock formally presented the honor to Ward at a ceremony last night in Helena.
In congratulating Ward, Montana State President Joy Bruck said "Al Ward has always recognized the important role volunteers play in making things better for society. It's a pleasure to present this honor to Mr. Ward, a man who has given of himself to make an important difference in the lives of others. His spirit of service has left an indelible mark on communities all around Montana."
Ward has been a volunteer with AARP since 2009 and has served as a lead volunteer on advocacy, consumer protection and Native American issues. Retired, Ward is a former AARP Outreach Director with a storied career in law enforcement and the military. He is the author of three books and several publications on crime and consumer protection, the recipient of several lifetime achievement awards, a current or former board member of numerous organizations, and as an adult education specialist, he has taught over 700 classes in crime and loss prevention to law enforcement, security, business and general public audiences.
Ward began his career by serving his country in the U.S. Marine Corps, enlisting during the height of the Vietnam War. By the end of his enlistment, Ward served as one of two technicians in an Air Traffic Control Tower at the helicopter landing field at Camp Pendleton. His commitment to serve his country continued with the U.S. Coast Guard as a Reservist for 16 years. Continuing his career in public service, Ward served more than 25 years as a police officer with the Bellevue Police Department in Washington State. As a security consultant, his consumer protection and crime prevention efforts were directed towards adult education.
In his retirement, Ward continues his long track record of public service by volunteering not only with AARP, but also with several organizations including the Governor's Council on Aging, The Montana Crime Prevention Council, the Marine Corps League, the Reserve Officers Association and various Indian tribes and tribal organizations.
"Al Ward is a proven advocate and leader with an impressive record of achievement that has impacted not just older Montanans, but residents of all ages," said Bob Bartholomew, AARP Montana State Director. "I am thrilled that Al was selected to receive this prestigious award – he serves as a fitting tribute to the legacy of Ethel Percy Andrus' motto – 'to serve and not to be served'."
Photo: Al Ward, recipient of the 2013 Andrus Award (center) - joined by Governor Steve Bullock (right) and AARP Regional Volunteer Director, Jim Dolbier (left)
###