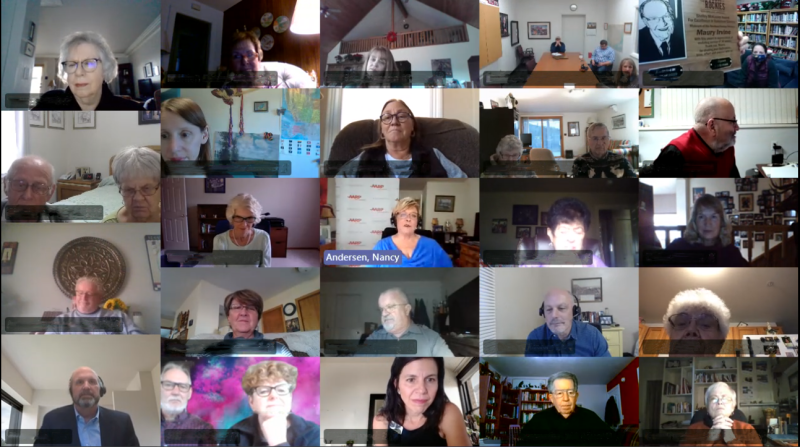 Maury Irvine selected as recipient of AARP's most Prestigious Volunteer Award

AARP Montana announced that Maury Irvine of Bozeman was selected to receive the 2020 Andrus Award for Community Service, the Association's most prestigious volunteer award. Each year AARP honors the legacy of AARP founder, Dr. Ethel Percy Andrus, with the AARP Andrus Award for Community Service. This award is a symbol of the power of individuals to make a difference in the lives of others. The award was formally presented to Irvine during an online ceremony yesterday.

In congratulating Maury, Montana State Director Tim Summers said "Maury Irvine has always recognized the important role volunteers play in making things better for society. It's a pleasure to present this honor to Maury, a person who has given of himself to make an important difference in the lives of others."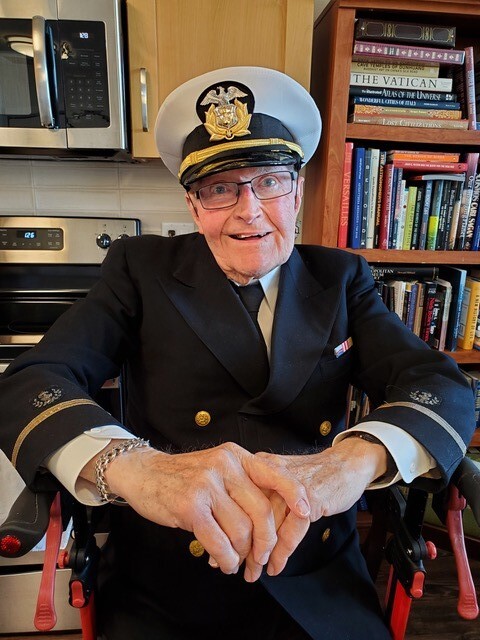 Volunteer docent, merchant marine, physicist, computer pioneer and world traveler, Maury has visited more than 50 countries and seven continents, and he is always ready for another adventure and eager to share his stories. Maury is 96 years old and has been a volunteer docent for the Museum of the Rockies for more than 30 years contributing 9,800 hours. Maury has chosen an active lifestyle full of travel, continuous learning and interacting with people. He is also an amateur paleontologist, and he brings unique real-life stories to his museum tours including riding camels, exploring ancient Roman ruins or traveling in Mongolia.

At the Museum of the Rockies, he is a frequently requested tour guide, relates to young and old alike and his favorite saying is that during his tours, the first rule is that you must have fun.

"Maury is an inspiration and mentor to other Museum volunteers, he truly applies his extensive life experiences to his volunteering. On behalf of AARP Montana, we are honored to present Maury Irvine with the AARP Andrus Award for Community Service – he serves as a fitting tribute to the legacy of Ethel Percy Andrus' motto – 'to serve and not to be served'." said Summers.

Maury was also awarded the 2020 AARP Chapter/Retired Educators Association Unit Community Service Award earlier this year.

As part of the award, AARP Montana has donated $2500 in Maury Irvine's name to the Museum of the Rockies in support of their mission to inspire life-long learning in science, history, culture, and art.

Also at the event, special awards were presented to the following individuals and organizations:

Northern Broadcasting Radio System – 2020 Excellence in Public Service Communications
Northern Broadcasting System is a powerhouse in Montana and throughout the region. Their networks reach over 85 stations in 4 states. Each week, 224,000 Montanans – or one out of every four people in our state – tunes in to a Northern Broadcasting station. AARP Montana's Excellence in Public Service Communications Award recognizes exemplary journalism that reports on issues of concern to older Montanans -- including, veterans' issues, healthcare and caregiving. Those issues are vital to all Montanans -- but it is in the area of consumer protection and voter education that Northern Broadcasting has delivered an invaluable service to the people of our state. Through the "Voices of Montana Program," Northern Broadcasting has done extraordinary work with both its "Fraud Watch Fridays Program" and its "Radio Voter Guides" for the U.S. Senate and the Governor's Race. AARP Montana is grateful for its partnership with Northern Broadcasting. That powerful alliance allowed both Northern Broadcasting and AARP Montana to "get the word out" to Montanans regarding these crucial topics. AARP Montana is honored to award Northern Broadcasting its Excellence in Public Service Communications Award.

Montana League of Cities and Towns – 2020 Outstanding Community Partner Organization
The League and AARP have formed a valuable partnership to help build more livable and age friendly communities throughout Montana. The partnership combines the cities and towns planning expertise with AARP's experience helping to design livable communities for all ages. Executive Director, Tim Burton and the league's commitment to this effort is already helping to make several Montana communities more livable for everyone. Thanks to the League, AARP was a keynote presenter at their recent annual conference and is now a frequent contributor to the association's newsletter where we have the opportunity to highlight livable community resources and successes in Montana.

Sarah Sandau – 2020 Outstanding Individual Community Partner
Sarah is Lewis and Clark County's Prevention Program Supervisor and she chairs the Healthy Communities Coalition and Aging Well Workgroup. Sarah has been an amazing partner and champion of AARP's Livable and Age-Friendly Communities work. Under her leadership, the Aging Well Workgroup has expanded to be truly representative of our community. She's worked to gather the right stakeholders together and after receiving a Resolution of Support from the Board of Health, Sarah has spearheaded presentations Helena Chamber of Commerce, the East Helena City Council and has initiated conversations with local community leaders and elected officials as we move forward with efforts towards becoming a community where people of all ages and abilities can live and thrive. Thanks Sarah for all you've done and continue to do.

Cathy Kaiser – 2020 AARP Montana Community Engagement Award
Kathleen Henson - 2020 AARP Montana Community Engagement Award
These two AARP Montana volunteers are being recognized for their outstanding contributions as co-leaders for the first-ever Helena NeighborWalk Program. They completed mandatory online training from the Arthritis Foundation's Walk With Ease Program and CPR training. Then helped develop the 6-week NeighborWalk curriculum based on the program. Importantly, they pivoted from preparing for an in-person group to leading a virtual video program as required by the pandemic and they didn't miss a beat. They are both passionate about incorporating physical activity into a healthy lifestyle and they shared that passion with the group and infused the weekly video meetings with great local information, humor, and fun. The group was so inspired they have chosen to continue with monthly video meetings.

Marilyn Hamer – 2020 Outstanding Retired Educator
Marilyn retired from teaching in 2011 after 38 years in the Great Falls public school system. She is currently the Executive Director of the Montana Retired Educators Association which is part of AARP's Educator Community. Marilyn also serves on AARP Montana's Executive Council. Marilyn is a strong advocate and is active in her community and throughout Montana sharing information on fraud prevention, brain health, and more.

Clara Sipe – 2020 Outstanding Driver Safety Award
Clara has been a pillar of Montana's AARP Driver Safety Program for 37 years. She's led 118 classes and shared her safe driving information with more than 1,600 participants. Still actively leading safe driving classes at 90 years old, Clara has been an inspiration and mentor to so many in the Driver Safety Program for nearly 40 years.

Janet Lilley – 2020 Outstanding Tax-Aide Award and Andrus Finalist
Janet has volunteered with the AARP Tax-Aide program for more than 22 years and currently leads the Missoula team. Nominated by a teammate, she has inspired and mentored them and is recognized for her professionalism, her organization, and her innovative training techniques.

Mary Olson – 2020 Social Security Advocate and Andrus Finalist
Mary has been utilizing her experience and expertise in Social Security with Missoula Aging Services for the past 8 years contributing more than 1,400 hours. Mary has worked one-on-one with 255 individuals as well as teaching classes on SSA with diverse groups throughout the area. She has helped so many navigate the complexities of Social Security. Mary also volunteers with RSVP, the Missoula Food Bank and with the Poverello Center homeless shelter.

Jeannie Goggins – 2020 Innovation Award and Andrus Finalist
As a volunteer with Kalispell's Warm It Up Program, Jeannie's unique annual contributions include crocheting more than 300 hat, mitten and scarf sets and quilting more than 100 blankets that are donated to schools and other organizations in the Flathead Valley. Notably in 2020, Jeannie stepped up and made 350 face masks for the local Area Agency on Aging staff, Meals on Wheels volunteers and other seniors in need.

Pauline Hooper – 2020 Andrus Award for Community Service Finalist
Pauline has been volunteering with Helena's Rocky Mountain Development for more than 22 years and is the face and the heart of the Helena Daily Dinner Club welcoming all who attend. She is dedicated and as the most tenured volunteer, she has trained, mentored and inspired many throughout the years.

Ernie Lytle – 2020 Andrus Award for Community Service Finalist
Ernie has been a valued Red Cross volunteer for 10 years. He is the main trainer in Bozeman and is pivotal in transporting blood product from Bozeman to Great Falls for processing. He also supervises the Gallatin County Disaster Action Team that responded to so many fires during 2020. He has built partnerships with organizations that operate shelters during disasters and works with the Home Fire Preparedness Campaign making homes safer in underserved communities including Veterans, low-income families, vulnerable seniors and people with disabilities.

Florita "Sanch" Mulkey – 2020 Andrus Award for Community Service Finalist
In only five years as a Foster Grandparent in Missoula, Sanch has contributed more than 4,200 hours giving support, one-on-one attention and love to her students, many who are considered at risk. Her teacher colleagues report that she goes above and beyond, arrives early and stays late and is always showing initiative, flexibility, and a positive attitude.

Peter Sullivan – 2020 Andrus Award for Community Service Finalist
Peter defines community philanthropy as "giving where it is needed most and working to convince others to do the same" and he has put his words into action. As an active philanthropist, he has supported many of Helena's premier organizations including Carroll College, the Diocese of Helena, The Friendship Center, Helena Food Share, YMCA, YWCA, Grandstreet Theater, Myrna Loy, Helena Symphony, Holter Museum of Art and Shodair Children's Hospital. His involvement goes beyond monetary contributions, he has lead several capital fundraising campaigns in Helena and is a member of the Governor's Task Force on Endowments and Philanthropy.

"AARP has long valued the spirit of volunteerism and the important contributions AARP volunteers make to their communities, neighbors, and the programs they serve. It's a pleasure to present these awards to so many wonderful volunteers who have made an important difference in the lives of others," concluded Summers.

AARP's commitment to volunteer service can be traced back to the life and vision of founder Dr. Ethel Percy Andrus. From the beginning, her motto, "To serve, not to be served," has shaped AARP's community service efforts at the national, state and local levels. Andrus Award winners are nominated by their peers and the award recipient is chosen by a special committee of AARP Montana volunteer leaders.