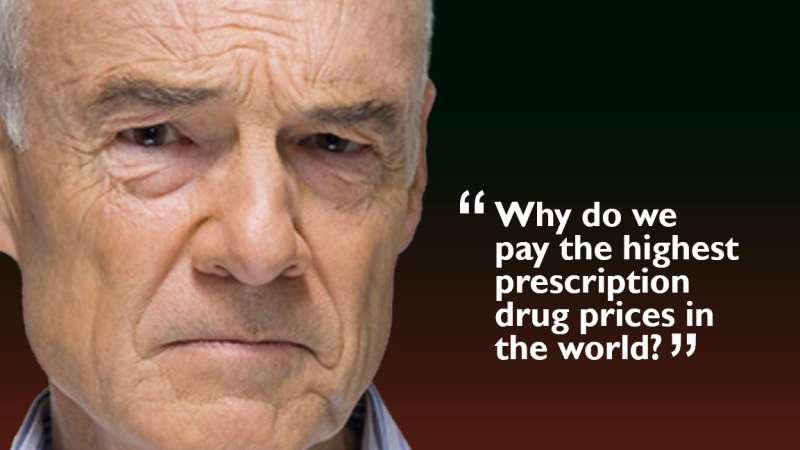 Rick, a veteran from the Flathead area is on a fixed income. While serving his country on active military duty, Rick was severely injured during a training mission. As a result of his injuries, Rick has very high co-pays for his prescription drugs. His financial situation became so desperate that his Social Security checks are being garnished due to the high price he is currently paying for his prescription drugs.
Rick is not alone. Nearly three-quarters of Americans over 50 worry about being able to afford prescription drugs for themselves and their families, according to a new AARP nationwide survey. Across the political spectrum, these older adults overwhelmingly support policies that could lead to lower prices, including making it easier to develop new generics, allowing Medicare to negotiate prices and requiring drugmakers to explain how they set their prices.
"Americans are paying the highest prescription drug prices in the world while drug companies rake in billions," says Tim Summers, AARP Montana State Director. "It's time for pharmaceutical companies to stop deflecting blame and acknowledge that the root cause is the price they set for their products. Congress, the Trump Administration, and Montana state legislators must take action to lower prescription drug prices."
During the last state legislative session, AARP Montana supported a range of bills designed to lower prescription drug costs and other health care and insurance costs for Montanans, including SB 270, the Prescription Price Protection Act. The act prohibits pharmacy benefit managers from requiring pharmacies to charge consumers more in copayments more than it costs to make a drug.
The Prescription Price Protection Act was signed into law, but a number of other measures failed that would have helped to lower drug costs.
After the Montana House overwhelmingly supported a prescription drug transparency bill, the Senate voted it down on a tie vote (25 to 25), largely due to pharmaceutical lobbyist pressure. Montanans are urged to go to the state legislative website at https://leg.mt.gov/ and look up House Bill 710 to see how their state senator voted on this important cost saving piece of legislation.
"AARP is fighting for commonsense solutions to bring down the extraordinarily high costs of prescription drugs, but we need your help – we need your stories. Personal stories are powerful and can influence lawmakers and decision-makers on important issues. If you're worried about the high cost of prescription drugs, I urge you to share your story—because together with the power of AARP's advocates, your voice will ensure our leaders act to protect all Americans from these rising costs," concluded Summers.
"No Montanan should be forced to choose between paying for the medicines they need and paying for food, rent, or other necessities," said Mike Batista, Director of Government Affairs for AARP Montana. "We urge lawmakers both here in Montana and in Washington D.C. to work together and pass bipartisan, commonsense legislation to lower prescription drug prices. And lawmakers will be more likely to do the right thing if they hear directly from those affected by the astronomical costs of prescription drugs. When you share your story, you'll remind our elected leaders that Montanans are making impossible choices and going to extraordinary lengths just to get the prescriptions they need."
Montanans are urged to share their personal stories about the high cost of prescription drugs here: www.aarp.org/ShareYourRxStory