Voters urged to reject LR-126 by casting a "NO" vote on their ballots this fall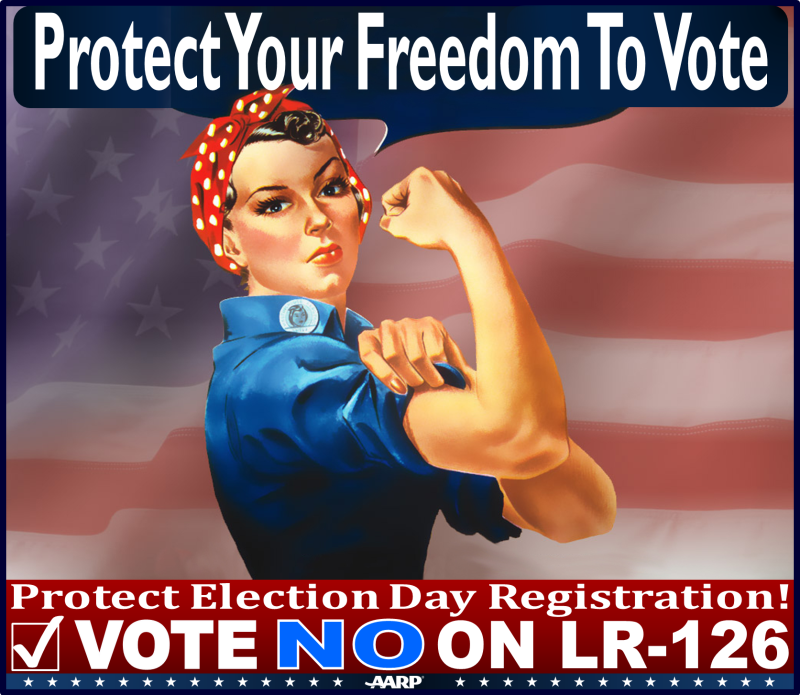 Helena, Mont., Sept 17, 2014 – This fall Montanans will vote on LR 126, a ballot measure to repeal Montana's Election Day Voter registration law.

AARP is fighting to defeat this measure. If passed, the referendum would repeal sections of law that have allowed more than 29,000 Montanans to vote since it was first passed by a bipartisan majority nearly a decade ago. Instead, voters would be required to register by 5 p.m. on the Friday before Election Day.

Montana's elections consistently rank as some of the best run nationally. A recent report by the Pew Charitable Trusts ranked Montana as the 11th best state for its election system's performance.

"Montana's current election system runs extremely smooth – it makes the registration process easy and accessible and protects our freedom to vote," said Joy Bruck, AARP Montana State President and Past President of the League of Women Voters. "Unfortunately, a group of out-of-touch politicians are attempting to fix something that isn't broken. If passed, this measure would put unfair and unnecessary hurdles in front of our students, seniors, veterans, farmers and ranchers' ability to have their voice heard in our great democracy. Join me in opposing LR-126 by voting 'NO' on the ballot this fall. Instead of trying to play political games, we should be proud of our election system."

Election Day registration modernizes election systems by allowing eligible residents to both register to vote and then cast a ballot on the same day, which eliminates arbitrary registration deadlines and facilitates onsite fixes to registration issues.

Ten states plus the District of Columbia presently offer same-day registration, allowing any qualified resident of the state to go to the polls or an election official's office on Election Day, register that day, and then vote. A number of additional states have either passed same day registration measures that are awaiting implementation, passed same day registration pilot studies, and/or have introduced same day registration legislation within the past calendar year.

Election Day registration states consistently lead the nation in voter turnout. For more information, log onto: http://www.montanansforfreeandfairelections.com.

###