Karen and John Thorson of Plains selected as recipients of 2022 Andrus Award for Community Service

Helena, Mont., Dec. 13, 2022 -- AARP Montana announced that Karen and John Thorson of Plains were selected to receive the 2022 Andrus Award for Community Service, the Association's most prestigious volunteer award. Each year AARP honors the legacy of AARP founder, Dr. Ethel Percy Andrus, with the AARP Andrus Award for Community Service. This award is a symbol of the power of individuals to make a difference in the lives of others. The award was formally presented to Karen and John during a recent online ceremony.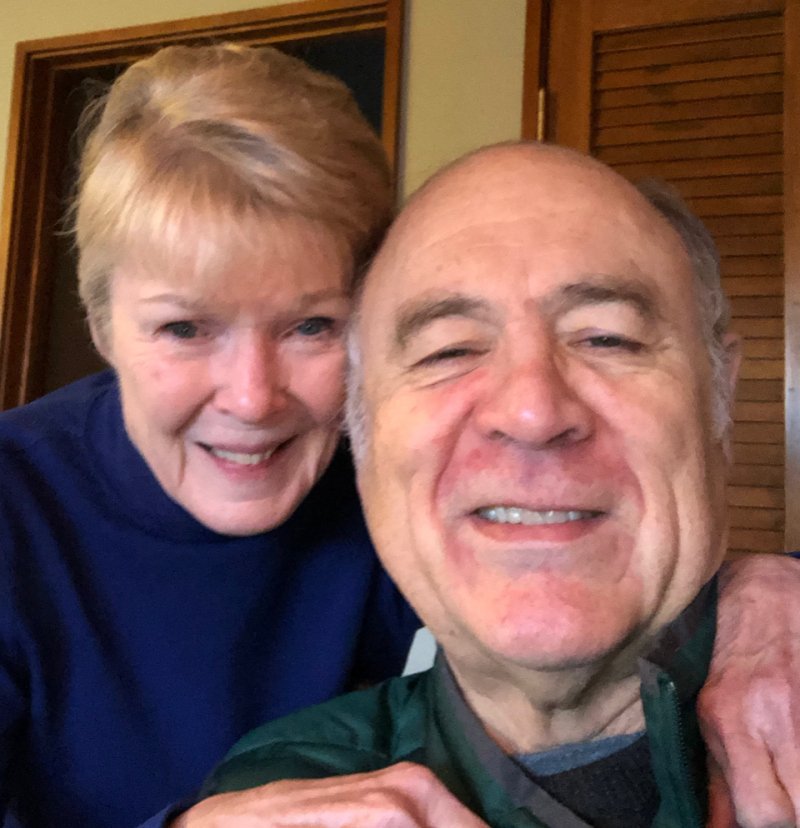 In congratulating Karen and John, Montana State Director Tim Summers said "the Thorsons have recognized the important role community plays in the quality of life for those living there. A community center brings together residents, neighbors, volunteers and visitors creating a tightly-knit community, ultimately making things better for all who live there. It's a pleasure to present this honor to the Thorsons, who have given of themselves to make an important difference in the lives of others."

The Paradise School, built in 1910, served the Community of Paradise, Montana for 103 years. In 2013 the school closed when it was not cost effective to maintain for the remaining 7 students in the district. It sat empty until 2016, when John and Karen Thorson envisioned renovating the old school as a cultural center for arts and local history. The 3-story brick building was in dire need of modernization, including a new heating system and costly ADA accessibility upgrades.

The Thorsons pulled together a multidisciplinary team of architects, engineers, and Montana historians to identify the scope of the project and a large team of volunteers to help with implementation. They secured grants totaling $450,000 and additional donations of more than $250,000. Because of the arts and history programming, the newly formed Paradise Arts Council is able to lease the building from Sanders County for $1.00/year and it has now been renamed the Paradise Center.

Visitors can explore exhibits depicting the geologic history of the area including the Ice Age floods that shaped the surrounding landscapes. They've developed an interactive, 3-D model of Glacial Lake Missoula created by a professional exhibit builder working in tandem with a team of geologists. Additionally, visitors can view displays of Native American artifacts and a railroad room is under development. This new display will chronicle the historical importance of railroad to the local area and will include models of local buildings, an interactive roundhouse and lots of historical photographs.

The Thorsons also wanted the Paradise Center to be used as a gathering place for community events and to provide culturally enriching activities and classes for local residents. After attending the Montana Performing Arts Consortium in Fort Benton and Great Falls, the Thorsons booked acts to perform at the Paradise Center. Karen arranged for buses to transport residents at no cost from other areas of the county to the Center to enjoy these activities. Additionally, they have developed an interpretive walking path, visible from the Center that includes native plants and interpretive panels detailing the geologic, cultural, and economic factors that have impacted the local valley.

The Center is available for local class reunions, weddings, and other celebrations and it also hosts an annual Artist in Residence Arts and Crafts Fair. Karen, a former teacher, has incorporated adult classes and summer Kids Arts Camps into the programming. The Paradise Center has become an important community resource for an extremely rural part of Montana.

"John and Karen are an inspiration to others. This project truly represents the principles of the Andrus Award for Community Service. On behalf of AARP Montana, we are honored to present them with the AARP Andrus Award for Community Service – they embody the legacy of Ethel Percy Andrus' motto – 'to serve and not to be served'." said Summers.

As part of the award, AARP Montana has donated $2500 in the Thorsons name to the non-profit of their choice.

Also at the event, special awards were presented to the following individuals and organizations:

Outstanding Retired Educator – Bette Albright, Kalispell
Bette Albright is a retired teacher living in Kalispell who has been very active in her community over the years. Bette has served on the Shade Tree Board in Kalispell for 30 years and she recently completed 12 years of service on the Kalispell District 5 School Board. She also prepares snacks for the Kalispell Warming Shelter. Bette was nominated by Karen Richardson as the outstanding Retired Educator because of a special project she implemented this year in additional to these outstanding volunteer contributions . During 2022, Bette worked with staff at a local nursing home to identify four residents who might benefit from regular visits and outings. Bette takes each of the four residents out for ice cream every week and spends time visiting with them.

"These ice cream dates have become a weekly highlight and the residents attending look forward to the outing and the social interaction," said AARP Montana Director of Outreach, Nancy Andersen, when presenting the award. "Thank you, Bette, for this innovative project and for helping others in your community to feel engaged and appreciated."

Outstanding Tax-Aide Volunteer – Michael Raymond, Bozeman
Michael Raymond from Bozeman was identified by Chuck Gellar, Montana's Tax-Aide Coordinator as an outstanding volunteer. Michael became the volunteer Driver Safety Training Specialist for both Montana and Wyoming shortly after the pandemic began. Mike developed a virtual presentation that both states could use for virtual training and additionally he developed a "how to" manual for preparation of Montana state returns. This instruction manual has proven invaluable to Montana's tax preparation volunteers and has also been utilized by states that adjoin Montana. Geller indicated that Mike's dedication to the program is unparalleled and reflects the highest ideals all volunteers should strive for.

"We at AARP Montana echo that sentiment and we want to thank Mike for his expertise and contributions to this important tax prep program," said Andersen.

Outstanding Driver Safety Volunteer – Peter Ridgeway, Polson
Peter Ridgway was selected by Montana's Driver Safety Coordinator Thom Ainsworth as the 2022 Outstanding Driver Safety Volunteer. Pete is relatively new to the program, joining just a year ago, and yet he's done an impressive job with his classes. Peter worked with his District Coordinator in the Flathead to establish a Driver Safety Class Site at the Salish Kootenai College….this is Montana's first class site on one of Montana's American Indian Reservations. The classes have been well attended and feedback has been extremely positive. Peter has already scheduled classes at the college through 2023.

"Congratulations Peter Ridgeway on these accomplishments and thank you for your dedication to share the great Driver Safety instruction material at the CSKT college," said Andersen.

Andrus Award Nominee and Community Service Award Recipient – Susan Duncan, Helena
Susan Duncan from Helena was nominated for the Andrus Award by Sandy Jankowski and she was chosen to receive the 2022 AARP Montana Community Service Award. Susan's volunteer work is diverse and impressive. She volunteers at Helena Food Share working with customers and stocking shelves. Susan is also an active volunteer with the YWCA program whose mission is to house and return women to the workforce while building self-reliance. She's helped prepare rooms for new residents and gathered personal care supplies and donations from the community. Susan also volunteered with CASA for several years. The Court Appointed Special Advocates (CASA volunteers) advocate on behalf of children with the judicial and foster care system. Susan also provided childcare for Helena's Afghan resettlement families, she reads one-on-one with children in Helena schools, serves as an election judge, donates blood and is currently volunteering with Family Promise.

"We're also excited that Susan is a new volunteer with AARP Montana and we're looking forward to working with her in the future. This is an impressive line-up of volunteer contributions and it's clear that the Helena community has benefited from Susan's commitment to helping others. Thanks for all you do Susan," said Andersen.

Andrus Award Nominee and Legacy Award – Bob Schurr, Missoula
Bob Schurr, from Missoula, was nominated for the Andrus Award by Adriane Hopkins and he has been selected to receive the 2022 AARP Montana Legacy Award. At 91 years old, Bob – a retired minister -- has dedicated his life to service. Prior to volunteering with Missoula Aging Services beginning in 1998, Bob served on a church choir, a nutrition board, a housing board and was a volunteer EMT for 20 years. He has now volunteered more than 3,600 hours with Missoula Aging Services. Bob's legacy of service includes a number of Missoula organizations including Arts Missoula, Parks and Rec, the Senior Center, Big Brothers and Sisters, Special Olympics, the International Choral Festival, Wildlife Film Festival, Habitat for Humanity, Missoula Carousel, the University of Montana and the Health Department.

"You can probably see why Bob was selected as our first Legacy Award recipient. Additionally, Bob has served on Missoula's Senior Corps Advisory Board and the Missoula Aging Services Governing Board, he has been a tutor and has delivered for Meals on Wheels for 19 years. Thank you, Bob, for your remarkable contributions to the Missoula community," said Andersen.

Andrus Award Nominee and Empty Bowl Award – Harold Spilde, Great Falls
Harold Spilde from Great Falls was nominated for the Andrus Award by Judith Spilde and he was chosen to receive the 2022 AARP Montana Empty Bowl Award for his work fighting hunger in Great Falls. Harold has been the volunteer director of FISH, an emergency food program operated by 12 churches and a service club in Great Falls for 29 years. Harold volunteers at the pantry four hours a day, five days a week. His duties include daily set-up, buying food, writing grants, conducting Board meetings, greeting clients, preparing client bags and boxes and even mopping the floors and cleaning the bathroom.

"Harold's dedication and generous spirit have inspired so many in the community and we thank you for all you do Harold. The Great Falls community is better because of your commitment and contributions," said Andersen.

Andrus Award Nominees and Multicultural Award – Alexandra and Yakov Chinikailo, Missoula
Alexandra and Yakov Chinikailo were nominated for the Andrus Award by Adrianne Hopkins and they are the first recipients of the AARP Montana Multicultural Award. They have volunteered with Missoula Aging Services for 17 years contributing nearly 20,000 hours of volunteer service working with Missoula's Belarusian community. Before working with MAS, they were already providing volunteer companionship within this immigrant community. They currently volunteer 20 hours a week which includes driving approximately 120 miles each week. Yakov has said "Our clients have a language barrier. We have similar experiences and can understand where they are coming from. Kindness is an international language and we enjoy helping people of all needs."

"This couple has empowered their clients to remain living independently with dignity at home. Thank you Alexandra and Yakov for your impressive contributions," said Andersen.

Andrus Award Finalist – Kerrie Fairbrother, Helena
Kerrie Fairbrother from Helena, is a finalist for the Andrus Award and she was nominated by Sarah Sandau. Kerrie's volunteer contributions come straight from her heart. After losing a loved one to skin cancer, Kerrie has worked tirelessly to help educate others to be "sun safe." While volunteering with the Healthy Communities Coalition, Kerrie spearheaded a project to sew baby hats for sun protection. Her motto is that "sun safety should begin at birth because early prevention is the key." The hats, with sun safe information printed on the fabric, are given to every baby born at St. Peter's hospital – more than 1,000 hats have been distributed. Kerrie coordinated the sewing group for this project for quite sometime and when they couldn't keep up with the demand, she secured funding from the St. Peter's Foundation to purchase hats, which will ensure the program continues into the future.

"Thank you, Kerrie, for your passion and dedication to skin cancer prevention. The benefits from your contributions will continue long into the future," said Andersen.

Lifetime Achievement Awards

Brigadier General (Ret) James W. Higgins, Libby
Jim Higgins retired from the Air Force in 2001 as a Brigadier General. He started volunteering for AARP Montanan in 2004 and has served on the AARP Montana Executive Council. He has also served as the Lead on Veterans' Issues and Outreach since 2015.

Jim has more than 30 years of military command and logistics management experience and was the Commander and Chief of Staff for the Montana Air National Guard from 1998-2001 and Commanded the 120th Fighter Wing from 1991-1998. He has spent over 4,000 hours in the seat of an F16 Fighter or other fighter jets and cargo planes.

Jim has been an unstoppable powerhouse advocate for Montana's veterans for over two decades. He has served all Montana veterans with dedication and respect regardless of rank or service branch. He has been an especially strong advocate for suicide awareness and prevention.

"We count ourselves fortunate to have been able to work with, you Jim over the last 7-8 years. We have learned a lot from you. For this, and so much more, we would like to bestow on Jim the AARP Montana Lifetime Achievement Award," said summers in presenting the Lifetime Achievement Awards.

Charlene Suckow, Great Falls
Charlene Suckow is a retired teacher from Great Falls and has volunteered with AARP Montana since 2008. She served on the AARP Montana Capitol City Task Force for years as one of our volunteer lobbyists and she was a force to be reckoned with at the legislature. Her pension, retirement and financial security expertise has really helped retired and current educators, retired and current state employees and the 50+ alike. Charlene was also a member of the AARP Montana Executive Council for 6 years.

As a lobbyist, she is observant, thoughtful, whip smart and when she speaks, people listen. She is always willing to help-out at AARP Montana events and meetings, including driving golf carts at the Helena Symphony Under the Stars event!

"Charlene, I have personally appreciated and enjoyed your candor, humor and great input into our various state plans and events over the years," said Summers.

Alex Ward, Billings
Al has been with AARP in one capacity or another since the early 1990s. He was a fraud prevention consultant to AARP for several years, then a full-time employee for 11 years, then after he retired, he served on the AARP Montana Executive Council and for the last seven years has been the AARP Montana State President. In 2013 Al was awarded the AARP Andrus Award for Community Service.

Before AARP, Al served in the Marine Corps, retired from the Coast Guard, was a police officer for 20 years with the City of Bellevue, Washington and is a Certified Crime Prevention Professional. He is also an accomplished photographer, a great American Indian lay Historian, expert diver and Indian Taco connoisseur.

It's very rare for a non-native to earn an American Indian name, but Al did just that because of his sincere and selfless service, he is known as "Kind Heart" in the Blackfeet language.

Al has tirelessly served Montana's American Indian population, veterans and all Montanans 50 plus through his fraud prevention expertise and efforts. Fraudsters and scammers fear Al Ward.

"Al, we appreciate all your amazing work and service over the years, and look forward to many more. We are so pleased to present you with a Lifetime Achievement Award," concluded Summers.