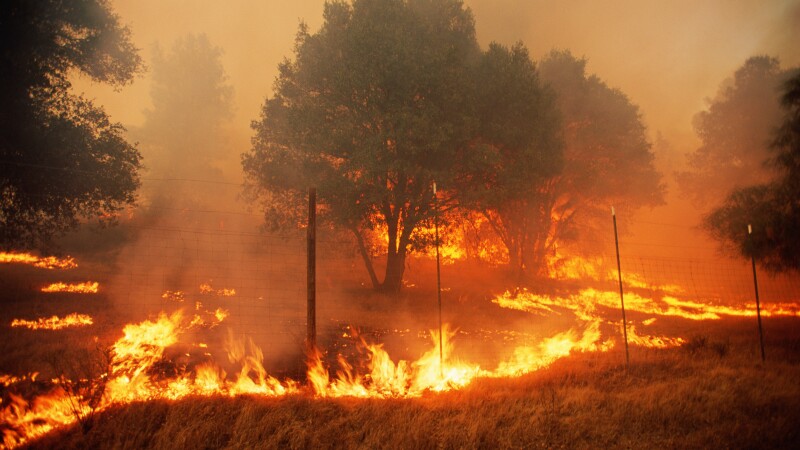 With the Wildfire Season Upon Us, Now is the Time to Reduce Risk

This question came from Linda, one of our listeners on a live Tele Town Hall we held previously on wildfire safety.

Q: My husband and I just moved from Eastern Montana to the Flathead area. We've always dreamed of having a home in the pines, and now, our dream has finally come true. But we never had to worry about wildfires at our previous home. With the fire season upon us, what steps should we take to make sure we minimize the risk of wildfires to our home and property?

A: Congratulations on your new home, Linda! More and more people are making their homes in woodland settings or remote mountain sites. There, homeowners enjoy the beauty of the environment but also face the very real danger of wildfire.

Wildfire doesn't have to burn everything in its path. In fact, cleaning your property of debris and properly maintaining your landscaping are important first steps to helping minimize damage and loss. The work you do today can make a difference. Follow these simple action steps from Firewise.org to prepare and help reduce the risk of your home and property becoming a victim of the next wildfire:

Minimize vegetation around the house.
All vegetation is fuel for a wildfire. To reduce the risk, make sure that you minimize or eliminate brush, trees and other vegetation near your home. The greater the distance between your home and the vegetation, the greater the protection.

Clear leaves and other debris from gutters, eaves, porches and decks. This prevents embers from igniting your roof.
Remove dead vegetation from under your deck and from within 10 feet of the house
Remove anything flammable that is stored underneath decks or porches.
Regularly check under decks to make sure debris and combustible materials have not accumulated.
Remove flammable materials (firewood stacks, propane tanks, dry vegetation) within 30 feet of your home's foundation and outbuildings, including garages and sheds.
Wildfire can spread to tree tops. If you have trees on your property, prune so the lowest branches are 6 to 10 feet from the ground.
Keep your lawn hydrated and maintained. If it is brown, cut it down to reduce fire intensity. Dry grass and shrubs are fuel for wildfire.
Don't let debris and lawn cuttings linger. Dispose of these items quickly to reduce fuel for fire.
Inspect shingles or roof tiles. Replace or repair those that are loose or missing to prevent ember penetration.
Cover exterior attic vents with metal wire mesh no larger than 1/8 inch to prevent sparks from entering the home.
Enclose under-eave and soffit vents or screen with metal mesh to prevent ember entry.
Plan Your Water Needs for your Property

Identify and maintain an adequate outside water source -- such as a hydrant, well, cistern or small pond.
Have a garden hose that is long enough to reach any area of the home and other structures on the property.
Install freeze-proof exterior water outlets on at least two sides of the home and near other structures on the property.
First and foremost, always stay safe -- Build an emergency kit and make a family communications plan (which can be found at www.ready.gov). Always be ready for an emergency evacuation -- evacuation may be the only way to protect your family in a wildfire. Know where to go and what to bring with you. You should plan several escape routes in case roads are blocked by a wildfire.
Download a wildfire preparedness factsheet from AARP Montana here>>

AARP has long been educating individuals and families about emergency preparedness and is ready to help when disaster strikes. The U.S. Department of Homeland Security's Federal Emergency Management Agency (FEMA) and AARP recently announced an agreement that will expand outreach around emergency preparedness for millions of Americans.

More information from AARP on emergency preparedness can be found at: www.aarp.org/createthegood (click on "How-To Guides" then scroll down to Operation Emergency Prepare). Additional resources are available at www.ready.gov, www.fema.org and www.firewise.org.

MORE WILDFIRE RESOURCES:

Download the Montana Wildland Fire Action Guide from the Montana Fire Chiefs' Association here>>

Montana Statewide Fire Dashboard >>


# # #
Do you have a question for AARP Montana? Send your question to "Ask AARP Montana" at MTAARP@aarp.org or 30 W 14th St., Helena, MT 59601 or call our toll-free hotline at 866-295-7278. As we receive questions, we will consult with both internal and external experts to provide timely and valuable advice.