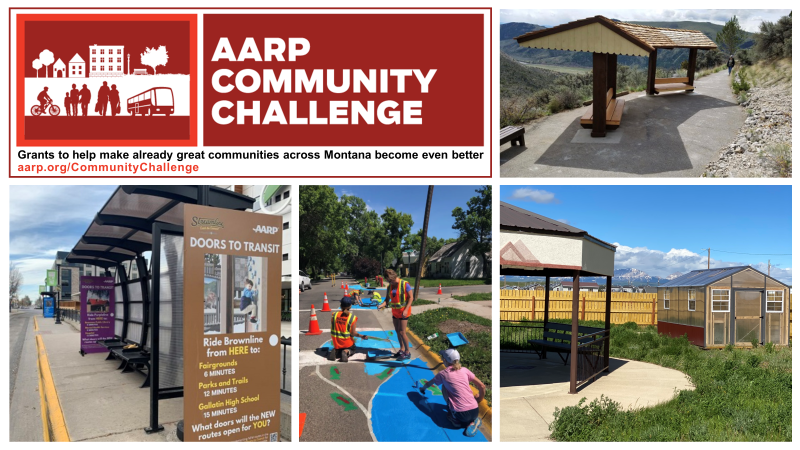 AARP Montana Awards Grants to Nine Montana Organizations as Part of its Nationwide Program to Make Great Communities Even Better

AARP Montana announced nine organizations throughout the state that will receive 2022 Community Challenge grants – part of the largest group of grantees to date with $3.4 million awarded among 260 organizations nationwide. Grantees will implement quick-action projects that help communities become even more livable in the long-term by improving public places; transportation; housing; digital access; and civic engagement, with an emphasis on the needs of adults age 50 and over.

"AARP Montana is thrilled to grant these funds to help already great communities across Montana become even better places for people of all ages to live and thrive." said AARP Montana State Director, Tim Summers. "Over the past five years we have funded over 30 different Montana projects and we have worked with grantees on a wide range of ideas from creating safer streets, improving public transportation, trails and parks to creating community gardens and enlivening neighborhoods with murals, benches, lighting, planter boxes and bike racks."

Here in Montana, nine projects were funded for a total of $83,752. Those projects include:

Projects funded by AARP's national Livable Communities team $62,308:

$7,000 – The Confederated Salish Kootenai Tribes was awarded a grant to create a Community Garden. The garden will include a greenhouse as well as adjacent garden space that is already fenced. Produce from the garden will be provided to congregate meal programs at six senior centers on the reservation.
$23,758 -- City of Cut Bank was awarded a grant to develop an unused dog park into an attractive, healthy community gathering place installing trees, shade structures, and benches.
$8,500 -- Virginia City's Friends of Thompson Hickman, Madison County Library was awarded a grant to create a roadmap and pilot project to guide handicap access improvements throughout historic Virginia City.
$23,050 -- Cultivating Connections Montana in Hamilton was awarded a grant to create the "Veggie Brigade" a new inter-generational project to aid Ravalli County seniors who want help with gardening and are willing to grow food to donate back to the community. Youth Farm interns will be paired with seniors in the community who are willing to host weekly garden visits to their own yards growing "more salads for seniors".
Projects funded by AARP Montana State Office $21,444:

$4,444 – The Pony Homecoming Club was awarded a grant to add an irrigation system to Pony Park where community members, gather, socialize and celebrate. Pony residents are overwhelmingly 50+ and a park irrigation system will also decrease water usage and help reduce fire danger.
$5,000 – Helena Rotary Club was awarded a grant to create a community-inspired outdoor mural in Helena's historic 6th Ward.
$2,000 – Malta Senior Center was awarded a grant for maintenance of the Senior Center including a new screen door, window screens, and rain gutter and roof repairs.
$5,000 – Exploration Works in Helena was awarded a grant for to provide 50 Grandparent Memberships for low to moderate income grandparents raising grandchildren.
$5,000 – City of East Helena was awarded a grant to purchase and install three new concrete picnic tables in the city park.
AARP Montana compiled a publication highlighting all Community Challenge Grant projects funded in the state since the beginning of the program. Click here to download the publication >>.

AARP Community Challenge grant projects are funded in all 50 states, Washington, D.C., Puerto Rico, and the U.S. Virgin Islands. True to the program's quick-action nature, projects must be completed by November 30, 2022.

This year, AARP is bolstering its investment of affordable and adaptable housing solutions in response to the national housing crisis. With additional funding support from Toyota Motor North America, the program is also increasing its support of projects that improve mobility innovation and transportation options.

The grant program is part of AARP's nationwide Livable Communities initiative, which supports the efforts of cities, towns, neighborhoods and rural areas to become great places to live for people of all ages.

Since 2017, AARP Montana has awarded 34 Community Challenge grants totaling $317,780 to nonprofit organizations and government entities across the state.

View the full list of national grantees and their project descriptions at aarp.org/communitychallenge and learn more about AARP's livable communities work at aarp.org/livable.

View Past Community Challenge Grant Winners in Montana:

# # #
About AARP: AARP is the nation's largest nonprofit, nonpartisan organization dedicated to empowering people 50 and older to choose how they live as they age. With a nationwide presence and nearly 38 million members, AARP strengthens communities and advocates for what matters most to families: health security, financial stability and personal fulfillment. AARP also produces the nation's largest circulation publications: AARP The Magazine and AARP Bulletin. To learn more, visit www.aarp.org, www.aarp.org/espanol or follow @AARP, @AARPenEspanol and @AARPadvocates, @AliadosAdelante on social media.​

About AARP Montana: For over 50 years, AARP has been working right here in big sky country to improve the lives of the 50 plus. As a non-profit organization, AARP Montana advocates for what matters most to families: health security, financial stability and personal fulfillment. We're committed to building stronger, more livable communities by granting funds through our Community Challenge Grant Program and working with Montanans to create safer streets and improve public transportation, trails and parklands.

We also connect Montanans with information and resources as well as help people connect with others who share their interests and passions – like music! As a proud sponsor of The Myrna Soundstage and HomeStream Your Helena Symphony, we bring quality concerts to Montanans in their own homes. By fighting on issues that matter most to Montana families and providing trusted information, we're helping to empower Montanans to choose how they live as they age. As a nonpartisan organization, AARP does not endorse candidates for public office or make contributions to political action committees, campaigns or candidates. To learn more, visit www.aarp.org/MT or follow @AARPMontana on social media.

###