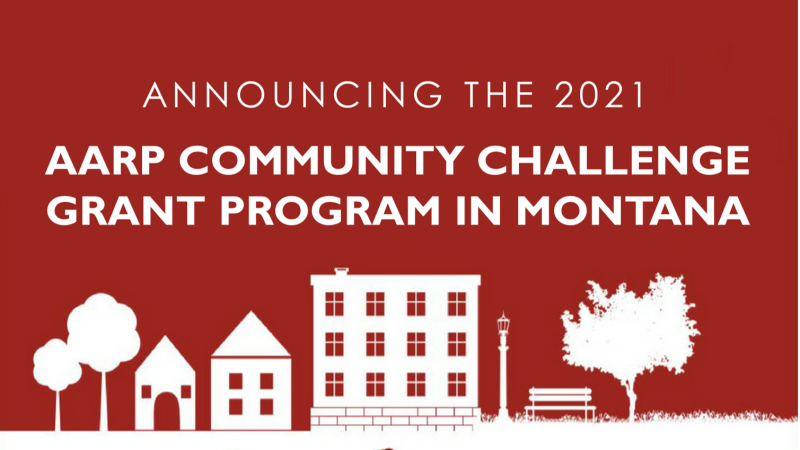 The program funds quick-action projects; Application Deadline is April 14, 2021

Helena, Mont., Feb. 18, 2021—AARP Montana invites community organizations and local governments across the state to apply for the 2021 Community Challenge grant program, now through April 14. Grants fund quick-action projects that can range from several hundred dollars for small, short-term activities to several thousand or tens of thousands for larger projects. Now in its fifth year, the grant program is part of AARP's nationwide Livable Communities initiative, which supports the efforts of cities, towns, neighborhoods and rural areas to become great places to live for people of all ages.

"We are thrilled to bring this grant opportunity back to Montana in 2021 and we encourage all eligible organizations to apply," said Nancy Andersen, AARP Montana Director of Outreach. "We've seen great results from the Community Challenge grant program in communities across Montana, and this year we are increasing our support for projects that focus on diversity and inclusion and aid in local recovery from the coronavirus pandemic."

Since 2017, AARP has awarded 560 grants – including 20 in Montana – through the Community Challenge to nonprofit organizations and government entities in all 50 states, the District of Columbia, Puerto Rico and the U.S. Virgin Islands. Nationally, the program provides direct support to all community types, with nearly 40% of past projects benefitting rural communities, 20% going to suburban locations and 40% improving urban places. Granted projects have demonstrated an ability to help garner additional funds or support from public and private funders, encourage replication and overcome local policy barriers, and receive greater overall awareness and engagement.

AARP will prioritize projects that deliver inclusive solutions that meet the needs of diverse populations, as well as those that directly engage volunteers through permanent or temporary solutions that aim to achieve one or more of the following outcomes:

Create vibrant public places that improve open spaces, parks and access to other amenities.

Deliver a range of transportation and mobility options that increase connectivity, walkability, bikeability, wayfinding, access to transportation options and roadway improvements.

Support a range of housing options that increase the availability of accessible and affordable options.

Increase civic engagement and demonstrate the tangible value of "Smart Cities" with innovative and tangible projects that bring residents and local leaders together to address challenges.

Support local recovery from the coronavirus pandemic with an emphasis on economic development, improvements to public spaces, and transportation services.

Ensure a focus on diversity and inclusion while improving the built and social environment of a community.

Other community improvements. In addition, AARP wants to hear about local needs and new, innovative ideas for addressing them.
The Community Challenge is open to 501(c)(3), 501(c)(4) and 501(c)(6) nonprofits and government entities. Other types of organizations will be considered on a case-by-case basis.

The application deadline is 8:00 p.m. ET, April 14, 2021, and all projects must be completed by November 10, 2021. To submit an application and view past grantees, visit www.AARP.org/CommunityChallenge.

AARP Montana works in collaboration with communities across the state, bringing people together, and providing resources and expertise to help make Montana's counties, towns and cities great places to live for people of all ages.

"We've seen tangible results here in Montana from the AARP Community Challenge grant program," said AARP Montana State Director, Tim Summers. "There are tremendous opportunities to make our communities even better and we encourage all eligible organizations to apply."

Last year in Montana 11 communities received grants. The grantees included:

$25,000 – Three Forks: Headwaters Trail System: This project constructed a new loop trail with connections to existing infrastructure to provide a walkable and bicycle-friendly way for people to enjoy the outdoors.

$12,500 – Missoula: City of Missoula-Missoula Transportation Planning: This project helped create an accessible public gathering space with parklets, seating, art, bike parking and curb extensions along with temporary safety installations at busy intersections.

$9,087 – Cascade: Town of Cascade: An ADA-compliant picnic and walled sitting area with tables was created. Flower planters and a flag pole were also added for all generations and abilities to enjoy.

$9,080 – Bozeman: Human Resource Development Council of District IX, Inc: New and existing public transportation routes were showcased for the community through a pop-up project which installed temporary doors placed at various bus stops in the City to enable residents to visualize new/adjusted transit routes.

$5,000 - Ravalli County Fairgrounds Foundation: ADA-compliant accessible seating and ramps at the County Fairgrounds were installed.

$5,000 - Great Falls BID, ArtFest: An outdoor building mural was created along with a community engagement component.

$5,000 - Blackfeet Tribe-Eagle Shield Senior Center: A green house for the Eagle Shield Center Elder Park was provided.

$5,000 - Big Sky Economic Development: Phase 1 of the Billings sculpture park was created.

$5,000 – Clinton: Five Valleys Land Trust: Rock Creek Confluence Universal Trail, benches and signage

$5,000 – Libby: Kootenai Cross Country Ski Club: Upgrade warming hut, parking lot and trail signage

$5,000 Rotary Club of Helena: Mount Helena ADA Trail paving material


###
About AARP: AARP is the nation's largest nonprofit, nonpartisan organization dedicated to empowering people 50 and older to choose how they live as they age. With a nationwide presence and nearly 38 million members, AARP strengthens communities and advocates for what matters most to families: health security, financial stability and personal fulfillment. AARP also produces the nation's largest circulation publications: AARP The Magazine and AARP Bulletin. To learn more, visit www.aarp.org, www.aarp.org/espanol or follow @AARP, @AARPenEspanol and @AARPadvocates, @AliadosAdelante on social media.​

About AARP Montana: For nearly 50 years, AARP has been working right here in big sky country to improve the lives of the 50 plus. As a non-profit organization, AARP Montana advocates for what matters most to families: health security, financial stability and personal fulfillment. By fighting on issues that matter most to Montana families and providing trusted information, we're helping to empower Montanans to choose how they live as they age. Today, nearly 148,000 strong, AARP Montana is one of the largest membership organizations in the state. As a nonpartisan organization, AARP does not endorse candidates for public office or make contributions to political action committees, campaigns or candidates. To learn more, visit www.aarp.org/MT or follow @AARPMontana on social media.

# # #