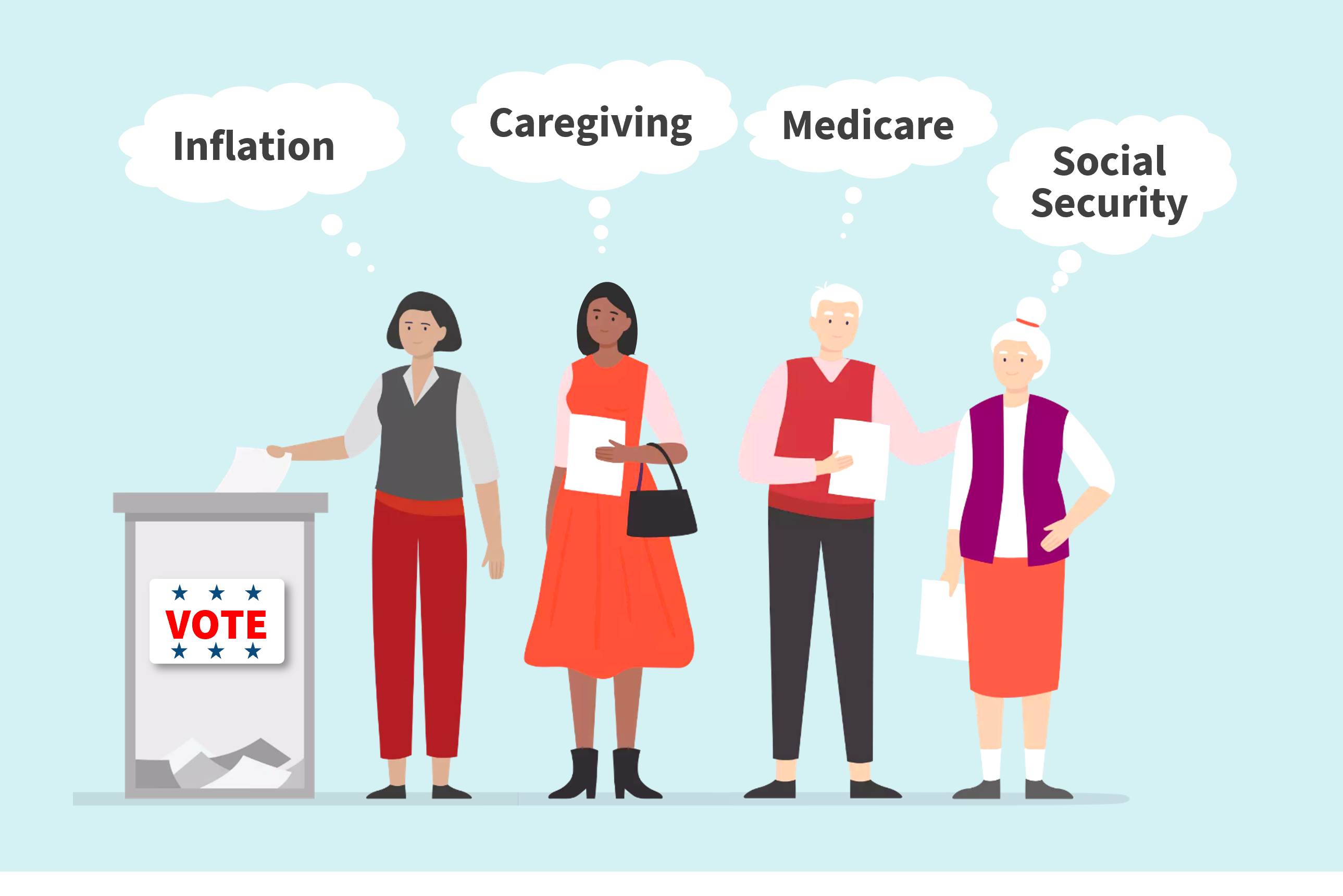 Helena, Mont., July 25, 2023 — Candidates who support the issues most important to Americans ages 50-plus can improve their margin significantly in close 2024 races, according to a new AARP poll. The poll, which surveyed likely voters from the 40 most competitive congressional districts, found caregiving to be a pivotal top issue for voters 50+. Americans 50+ are the largest – and perhaps the most crucial – voting bloc. Approximately 112,000 Montanans are now family caregivers.

While the poll shows that voters 50+ say candidates' stances on Social Security and Medicare are very important factors impacting their vote next November (81% and 77%, respectively), 70% of these voters want candidates to support policies to help older adults live independently at home as they age. More than one in five Montana residents— 244,937 people— receive Social Security.

Thirty-eight percent of voters are currently caregivers, a number that doubles when those who have been one in the past or expect to be one in the future are included. Democrats have an advantage over Republicans among voters 50+ on caregiving (44% - 38%), but in a generic congressional ballot, more caregivers today vote Republican over Democrat (49% - 38%). Over two-thirds (67%) of voters 50+ also rate the cost of prescription drugs as a very important issue, with Democrats leading by just 3-points (42% - 39%) on their perceived handling of this issue.

"Caregiving and the cost of prescription drugs could very likely be the most important issues of the upcoming election cycle," said Nancy LeaMond, AARP Executive Vice President and Chief Advocacy and Engagement Officer. "Candidates can't afford to ignore the issues that matter to the 50+ -- who will likely be the decisive voting bloc in 2024 -- especially in an election cycle where control of Congress and the White House are both up for grabs."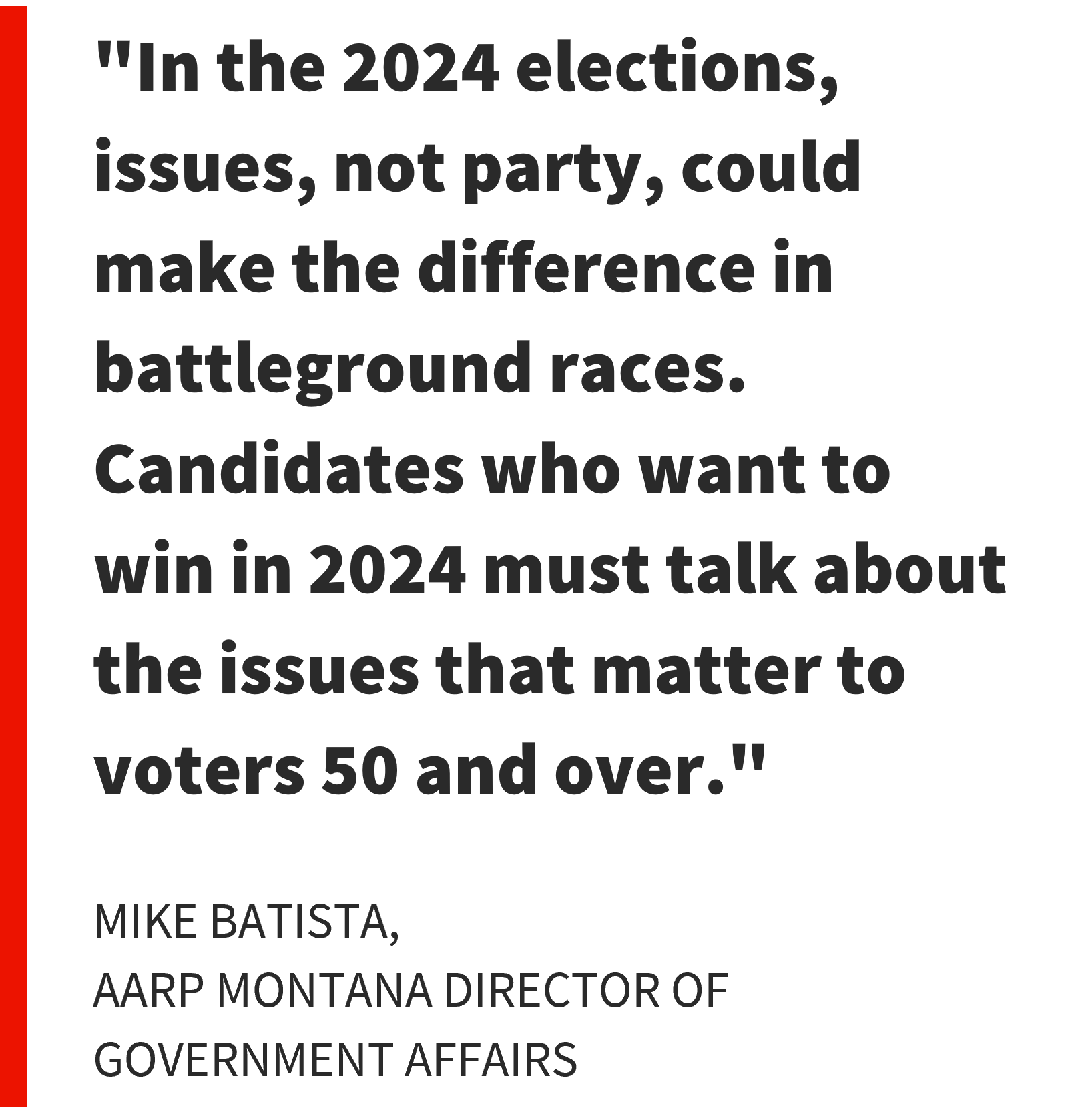 "In the 2024 elections, issues, not party, could make the difference in battleground races – and some in the media are referring to Montana as a battleground state for the next election cycle," said Mike Batista, AARP Montana Director of Government Affairs. "Candidates who want to win in 2024 must talk about the issues that matter to voters 50 and over – like Social Security, caregiving and prescription drug costs -- especially given that voters aged 50 and older are 'extremely motivated' in the 2024 election, according to our polling."

In the 2018 and 2022 mid-term elections, the share of voters 50+ was approximately four times that of voters under 30, (56% - 15% and 59 - 12%, respectively). In the 2020 presidential election, the share of voters 50+ was nearly three times that of voters under 30 (53% - 18%).

Not only will older voters likely continue to make up a larger share of the electorate in 2024, AARP's new poll shows that they are also much more motivated to vote. Eighty-five percent of voters 50+ say they are extremely motivated to vote in 2024, compared to just 67% of younger voters.

In these 40 competitive districts, the parties are tied on a generic congressional ballot. Among voters 50+, the 50-64 age group strongly favors the GOP (52% - 35%), while those age 65 and older lean Democratic (46% - 43%). Women age 50+ favor the GOP by just 1-point over Democrats (44%-43%), while men age 50+ show much stronger Republican support (52% - 38%).

A hypothetical matchup between President Biden and former President Trump shows President Biden winning these districts by 47% - 43% with voters 18+, but among voters 50+ Trump leads by 1-point (45% - 46%). In a second hypothetical matchup, President Biden and Governor DeSantis are tied, both at 45%. Among voters 50+ though, President Biden trails Gov. DeSantis, 48% - 43%.

View the complete survey results or find the survey at www.aarp.org/research.

AARP commissioned the bipartisan polling team of Fabrizio Ward & Impact Research to conduct a survey. The firms interviewed 1,752 likely voters in 40 of the US House districts that Cook Political Report rated as "Lean" or "Toss Up" as of July 5, 2023. This includes a sample of 1,200 likely voters distributed across the districts, with an oversample up to 1,200 likely voters age 50 and older distributed across the districts, between July 5-11, 2023. The interviews were conducted via landline, cellphone, and SMS-to-web. The margin of sampling error for the 1,200 likely voter and 50+ likely voter samples is ±2.83. Interviews were offered in English and Spanish.

###
About AARP: AARP is the nation's largest nonprofit, nonpartisan organization dedicated to empowering people 50 and older to choose how they live as they age. With a nationwide presence, AARP strengthens communities and advocates for what matters most to the more than 100 million Americans 50-plus and their families: health security, financial stability and personal fulfillment. AARP also produces the nation's largest circulation publications: AARP The Magazine and AARP Bulletin. To learn more, visit www.aarp.org/about-aarp/, www.aarp.org/español or follow @AARP, @AARPenEspañol and @AARPadvocates on social media.

###
About AARP Montana: For over 50 years, AARP has been working right here in big sky country to improve the lives of Montanans 50 plus. As one of Montana's largest non-profit membership organizations, with more than 134,000 members, we advocate for what matters most to families: health security, financial stability and personal fulfillment. We're committed to helping already great communities across Montana become even better places for people of all ages to live and thrive by granting funds through our Community Challenge Grant Program. We fund small dollar, big impact projects in several categories, including transportation, safe streets, housing and public parks and trails.

We also connect Montanans with information and resources as well as help people connect with others who share their interests and passions – like music! As a main sponsor of the Helena Symphony's Masterworks Series, we're proud to help bring quality concerts to the community. By fighting on issues that matter most to Montana families and providing trusted information, we're helping empower Montanans to choose how they live as they age. As a nonpartisan organization, AARP does not endorse candidates for public office or make contributions to political action committees, campaigns or candidates. To learn more, visit www.aarp.org/MT or follow @AARPMontana on social media.

###