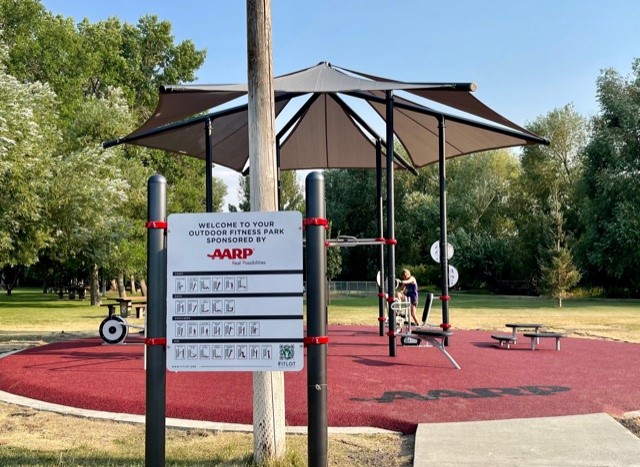 AARP donates fitness park along with free classes all summer long

Though the FitLot Park has been open for two years now, it's finally time for AARP Montana and East Helena to celebrate the outdoor addition to the Helena community.

Yet many might not be aware of its existence. In Kennedy Park, adjacent to the playground, is an installation of several all-weather athletic stations that effectively create an exercise circuit for anyone looking for an exercise session.

The FitLot park was donated by AARP Montana for all ages as a part of a larger national initiative in honor of AARP's 60th anniversary in 2020. There is at least one AARP FitLot park in all 50 states.

"It's an opportunity to really show our commitment toward local communities and healthy aging," said Tim Summers, AARP Montana State Director. "The outdoor exercise equipment encourages people of all ages to stay fit and meet others in the process. Also, the FitLot is free and open to the public – saving folks the cost of joining a gym."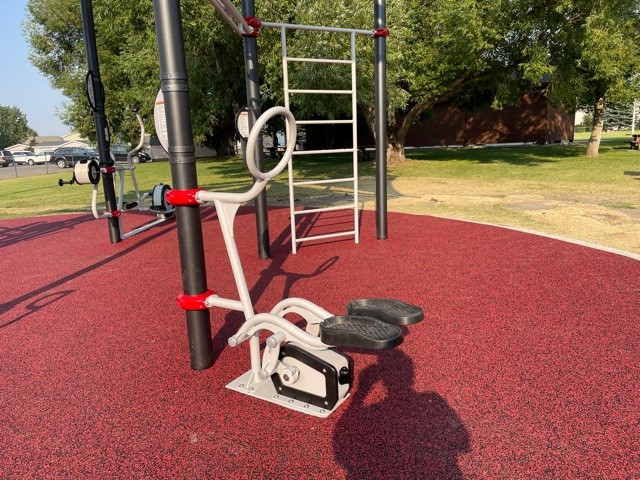 The FitLot stations at Kennedy Park are high quality and can give someone a workout if they push themselves.

There are ellipticals, benches and dip and pull-up bars, and resistance band stations. Most stations provide the opportunity to adjust resistance based on the user's strength. If any station appears unfamiliar, there's always a description posted beside it, detailing how to correctly perform the exercise.

Many people stopping by the outdoor fitness circuit may be relatively inexperienced when it comes to structuring their own workout. Designers created the equipment to be as self-explanatory as possible, but when someone is out of the swing of an exercise routine, going at it alone can be daunting.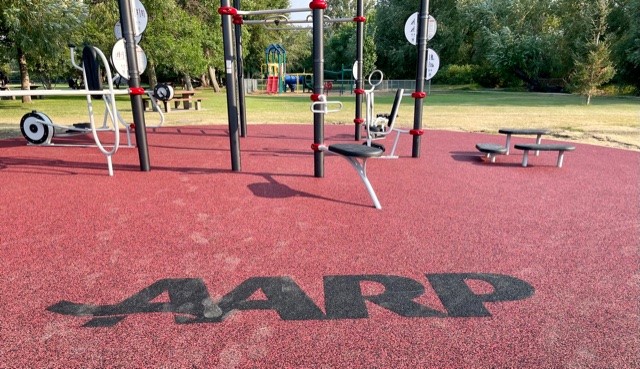 This is especially true for older people. They often don't have a viable place to exercise, despite the proven benefits of exercising at an older age.

In response, AARP Montana and the City of East Helena have joined forces to offer a series of free classes held throughout the summer at the Kennedy Park FitLot.

Brianne Martini, an American Council of Exercise certified trainer (ACE certified trainer for short) will lead the FitLot classes 9-10 a.m. on Mondays, Wednesdays and Fridays throughout the summer.

The most important aspect of her job is to lead the participants through the exercise, closely monitoring them. This is particularly true for active older adults.

"There's a variety of exercises people can do – and it's really good for anybody to have a strength workout," said Nancy Andersen, AARP Montana Director of Outreach. "It builds metabolism, strengthens their bones and their joints. But most people don't get the opportunity to utilize equipment in their exercise routine. Which is what makes the FitLot so great for a community -- the fact that it's free and open to everyone."

These one-hour classes will help people learn proper movement, safe equipment use, and the format of a FitLot circuit training class in a slow-paced, light-effort instructional setting. This class is designed for all ages and abilities.

Registration is Required and space is limited. Once registration is confirmed, wear comfortable shoes and clothing and bring water.

Summer Schedule of FitLot Classes in Kennedy Park in East Helena:

June:


Monday, June 26, 9 a.m. Registration closed

Wednesday, June 28, 9 a.m. Registration closed
July:


Monday, July 3, 9 a.m. Registration closed

Wednesday, July 5, 9 a.m. Registration closed

Friday, July 7, 9am (Introduction to FitLot or drop-in class) Registration closed

Monday, July 10, 9 a.m. Registration closed

Wednesday, July 12, 9 a.m. Registration closed

Monday, July 17, 9 a.m. Registration closed

Wednesday, July 19, 9 a.m. Registration closed

Monday, July 24, 9 a.m. Registration closed

Wednesday, July 26, 9 a.m. Registration closed

Friday, July 28, 9 a.m. (Introduction to FitLot/or drop-in class) Registration closed

Monday, July 31, 9 a.m. Registration closed
August:


Wednesday, August 2, 9 a.m. Registration closed
Friday, August 4, 9 a.m. Registration closed

Monday, August 7, 9 a.m. Registration closed

Wednesday, August 9, 9 a.m. Registration closed

Friday, August 11, 9 a.m. (Introduction to FitLot- drop-in class) Registration closed

Friday, August 25, 9 a.m. (Introduction to FitLot/or drop-in class) Register here >>