Montanans across Big Sky Country will have the opportunity to hear directly from the swindler-turned-security expert and get their questions answered during live T ele-Town Hall event on May 30 at 6:30 pm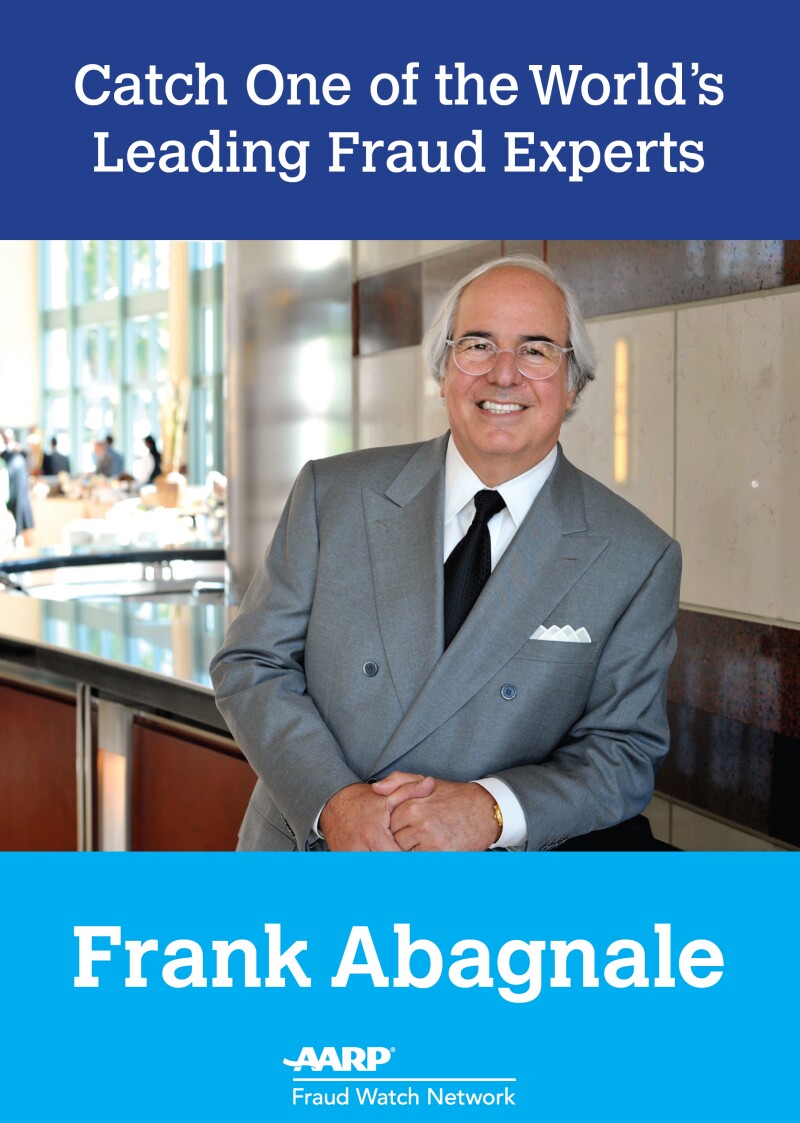 Thousands of AARP members as well as other Montanans across the state will have the opportunity to participate in a live telephone town hall event with with renowned cybersecurity and fraud prevention expert Frank Abagnale of 'Catch Me If You Can' Fame about fraud prevention and consumer protection.
AARP Montana will host the statewide live event which will take place on May 30 at 6:30 pm Mountain Time and will allow thousands of AARP members to join Frank Abagnale to find out ways to identify fraud and scams and how Montanans can protect themselves. Moderating the event is Troy Shockley, News Director of The Montana Radio Company.
Before he was old enough to vote, Frank Abagnale was considered by the FBI to be the most successful bank robber in American history.
He didn't use a gun; rather, he used his wits, his charm, and his skill as a forger.
And he soon branched out -- he became one of the most famous impostors ever, claiming to have assumed no fewer than eight identities, including an airline pilot, a physician, a U.S. Bureau of Prisons agent, and a lawyer. He escaped from police custody twice -- once from a taxiing airliner and once from a U.S. federal penitentiary -- before he was 21 years old.
He served prison terms in France, Sweden, and eventually the United States, before he got an offer he couldn't refuse from the FBI agent who had pursued him -- he was asked to come work for the agency undercover, helping prevent the very types of crimes he had committed so successfully.
Abagnale's exploits were depicted in the award winning film 'Catch Me If You Can,' starring Leonardo DiCaprio as Abagnale and Tom Hanks as the FBI agent who pursued and captured him.
More than 40 years later, Abagnale still works with the FBI, and also runs a consulting firm which specializes in uncovering and preventing commercial fraud. Abagnale has written three books on fraud and scams.
Four years ago, he was approached by AARP to become a "Fraud Watch Ambassador," and it is in this role that he is joining AARP Montana during a live tele town hall to help Montanans learn how to spot and avoid scams. Last summer, AARP Montana hosted Abagnale in Helena to present to an audience of more than 800 people at the Helena Civic Center.
AARP will call its members in Montana to invite them to participate in the tele town hall. Members interested in participating will only need to hold on the line to be placed into the live event with Abagnale. After brief introductions and statements, participants will have the opportunity to ask their questions.
AARP has approximately 148,000 members in Montana. All AARP households with current phone numbers will be called to participate in the meeting. In addition, members of the public can register for the call here >>. Montanans can also "tune-in" to the tele town hall via the AARP Montana Facebook page at www.fb.com/AARPMontana.
"Frank's personal experiences will provide invaluable insight into the mind of a con artist, and provide participants with a firsthand understanding of how people of all backgrounds can be caught in the net of the scam artist," said Tim Summers, AARP Montana State Director. "Identity theft and other forms of fraud rank high among the concerns of the 50-plus in Montana. So we're delighted that Frank Abagnale will be joining thousands of our members across the state during our tele-town hall to discuss how Montanans can steer clear of fraud and what steps they can take if they have been victimized."
"The tele-town hall format has many advantages, not the least of which is the convenience for the participants who don't have to leave home or carve time out of their schedule to head down to a traditional meeting," said Al Ward, AARP Montana State President. "There's no worrying about driving time, the weather or other conflicts -- members can just pick up the phone at home and instantly join the meeting."
AARP tele-town hall meetings utilize a number of cutting-edge technologies including voice over Internet protocol (VoIP) technology that permit up to tens of thousands of people to connect in an interactive, two-way dialogue. "We are looking forward to having a community conversation with AARP members across the state and we are pleased to offer this opportunity for AARP members to hear directly from Frank Abagnale -- one of the world's foremost experts on fraud and consumer protection," said Summers.
In addition to AARP members, the general public can also participate by listening via the livestream at www.facebook.com/AARPMontana or registering for the event. Registration places them on the list for the outgoing calls. People can register here >>.
Montanans can join the Fraud Watch Network for free and sign up for Watchdog Alerts and get help from trained volunteers through the Fraud Helpline at 877-908-3360 or online at www.aarp.org/fraudwatchnetwork.
Quick Glance Details:
WHAT: Live Tele Town Hall Event about Fraud Prevention and Consumer Protection
WHO: Frank Abagnale, AARP Members and the 50+ across Montana
WHEN: Thursday, May 30, 2019, 6:30 - 7:30 p.m., Mountain Time
DETAILS: AARP Members will automatically be called; others can participate in one of two ways:

Registering for the outbound call list here>>
Joining via the livestream at www.facebook.com/AARPMontana

###