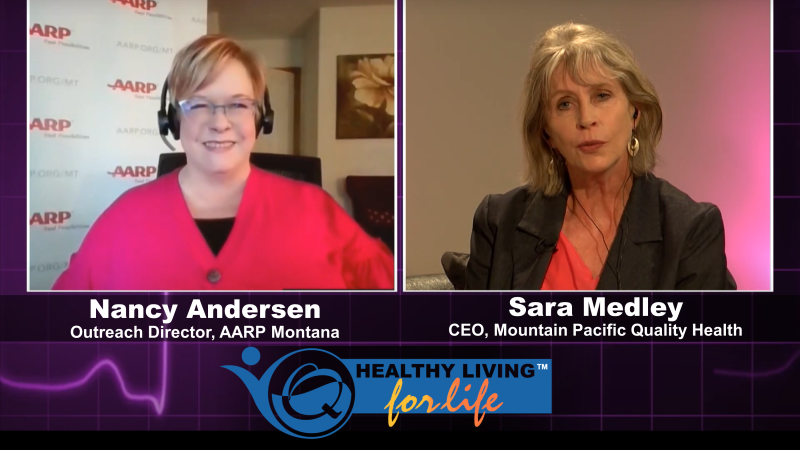 Don't miss upcoming shows -- register to receive an e-mail reminder from AARP Montana!

AARP Montana is pleased to sponsor the Healthy Living for Life TV series, an informational program produced and hosted by Mountain-Pacific Quality Health.
The weekly series offers a wide range of dynamic guests and topics – like how to protect yourself from fraud and how to make sure your home is ready for you to age in place.

"COVID-19 and the resulting call for social distancing and bans on in-person gatherings threatened the community education programs that are a staple of AARP Montana's work around the state," said AARP Montana State Director Tim Summers. "Popular sessions that arm 50-plus Montanans and their families with crucial information about caregiving, brain health and more were canceled. So with a little fancy footwork, we quickly mobilized volunteers and community partners to adapt our programs to the virtual and broadcast world so people can participate from the comfort of their homes."

The result? A strategic partnership with Mountain Pacific Quality Health to offer a rich lineup of interesting and informational programs airing weekly on television stations across the state.

We can help make sure you don't miss upcoming shows. Sign up below to receive show reminders as well as re-play links for past shows.

SHOW SCHEDULE:

Why Are Rural Residents Hesitant? | March 5 & 6 -- Watch replay here >>
More residents in rural communities test positive for COVID compared to those who live in more urban areas, and they are much less likely to get vaccinated against COVID. Why are these kinds of numbers so common among our rural friends? We explore vaccine hesitancy in this episode of Healthy Living for Life.

Losing Our Senses | March 12 & 13 -- Watch replay here >>
A common, tell-tale symptom of COVID-19 is losing the senses of taste and smell, but the pandemic is not the only threat to our senses. Age, medications and other factors can also steal our taste and smell, important senses for memory, quality of life and even safety. In this episode, we talk about how we might be able to avoid that which dulls our senses.

Aging and the Brain | March 19 & 20 -- Watch replay here >>
Like all parts of our bodies, our brains change as we age. Because healthy brain function is essential to memory, planning and decision-making, it is also a big part of being able to stay independent. So how do we keep our brain healthy as we age? We find out in this edition of Healthy Living for Life.

The Benefits of Physical Therapy | March 26 & 27 -- Watch replay here>>
When we think about those who make up our health care team, we likely include our doctors, nurses and pharmacists, but what about physical therapists? In this episode of Healthy Living for Life, we talk about how physical therapy can support healthy aging and independent living.

Why Is Vitamin D So Important? | April 2 & 3 -- Watch replay here >>
Vitamin D can be hard to come by, but it plays a key role in many aspects of our health and wellbeing, including bone health and our immune systems. Learn about why vitamin D is important and when and where to find it.

How to Protect Our Vision | April 9 & 10
Age can sometimes get in the way of clear vision. While most issues with our sight can be easily corrected with glasses or contact lenses, getting older increases our risk for eye diseases and conditions. In this episode of Healthy Living for Life, we get tips for protecting our vision at any age.

Where and when can I watch Healthy Living for Life?
● Saturdays @ 9:30 AM on SWX (cable television)
● Sundays @ 5:30 AM on KULR8
● Sundays @ 8:00 AM on KTMF, KFBB, KWYB and KHBB

Over 200 episodes of Healthy Living for Life have aired statewide across Montana! If you miss a program on TV, a full library of past episodes is available on the Mountain Pacific Website.

"People of all ages from across the state are invited to tune in to the Healthy Living for Life TV series, brought to you each week by AARP Montana," concluded Summers. "You can tune-in on TV from the comfort of your own home or catch replays of past episodes online."