AARP Tax-Aide in Montana seeking new volunteers in a variety of positions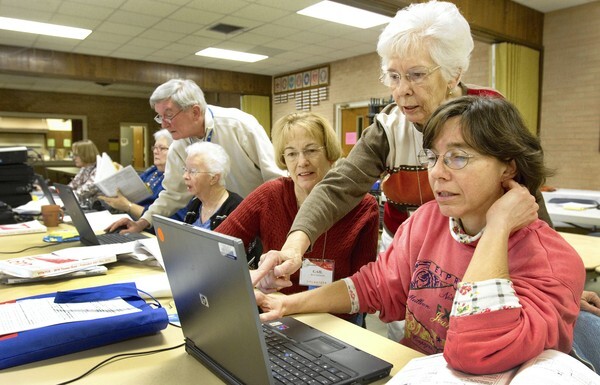 AARP Foundation Tax-Aide is the nation's largest volunteer-run tax preparation and assistance service -- and they want you to join them. They are seeking volunteers in Montana for not only tax counseling and leadership positions, but volunteers in greeter and public relations positions are needed also.

Each year from February 1 through April 15, trained and certified AARP Tax-Aide volunteers prepare, free of charge, federal, state and local tax returns for low- and middle -income taxpayers, with special attention to those age 60 and older.

Last year alone, more than 170 AARP Tax-Aide state volunteers helped nearly 10,000 Montanans across the state breathe a sigh of relief by helping them complete their tax forms correctly and on time. The total amount returned to the people of Montana through the volunteers' efforts was $3,207,470.00.

Concetta Eckel of Helena has volunteered with AARP Tax-Aide for 12 years as a tax counselor and also as a member of the state management team for five years. Having worked as a business owner for nearly twenty years, Eckel feels the program is a perfect match for her experience and expertise.

"I love being able to use my skills to provide services to those who can't afford to hire a tax preparer," said Eckel. "And I get to work with a great community of people – both clients and volunteers. All of our volunteers express joy at helping others and working with one another."

"From our perspective at the IRS, volunteers are the most valuable resources that the free tax preparation program has," said Fran Reichert, senior tax consultant for the Internal Revenue Service.

Starting in 1968 with just four volunteers at one site preparing 100 tax returns, AARP Foundation Tax-Aide now involves more than 35,000 volunteers and serves 2.6 million taxpayers annually at nearly 6,000 sites nationwide. In fact, it is one of the most effective volunteer programs in America.

"But even though we've grown a lot, we're still all about the grassroots. You'll be helping people in your own community with a much-needed service that's free, individualized and has no strings attached," said Eckel.

During a recent question and answer session, Eckel answered the following questions about volunteering with AARP Tax-Aide in Montana:

Who volunteers for AARP Tax-Aide?
People from all walks of life from all around Montana. And there is a role for everyone.

Who would I be helping as a volunteer?
Almost four out of five people who turn to AARP Foundation Tax-Aide are 60 or older. Household incomes aren't high. For many of them, a tax refund could mean they won't have to choose between paying for groceries and keeping the lights on.

Do I need to have experience working with numbers?
AARP Tax-Aide Volunteers interact with clients by filling out tax returns. Even if you don't have accounting or tax preparation experience, becoming a Tax Volunteer may be right for you. AARP provides training in tax law procedures, preparing tax forms, and using tax preparation software.

What if I like working with people better than working with numbers?
An AARP Tax-Aide Greeter is the first person clients meet when they enter a tax site. Greeters make sure the client has all the necessary paperwork before meeting with a counselor, and they manage the flow of clients being served.

I have a knack for computers and technology – can you make use of my skills?
Absolutely! Technology coordinators manage computer equipment, work to ensure taxpayer data security or provide technical assistance to volunteers at multiple sites on technology issues.

I love getting out the word about things happening in our community – is there a role for me?
Definitely! Communications coordinators promote AARP Tax-Aide to potential clients from February to April and help recruit volunteers in the fall for the following tax season.

I have served in leadership and administrative positions – do you need folks with my abilities?
Yes! At the local and district levels, volunteer leadership administrators manage a team of volunteers, make sure program operations run smoothly, track volunteer assignments and site activities along with ensuring adherence to the program's processes.

Final thoughts?
When folks decide to become a volunteer with AARP Foundation Tax‐Aide in Montana, their expertise will be appreciated more than they could ever imagine. I am encouraging people to get the joy and satisfaction of helping out by becoming an AARP Foundation Tax‐Aide volunteer today. Call toll‐free: 1‐888‐687‐2277 or fill out an application on‐line at: www.aarp.org/taxaide.

###