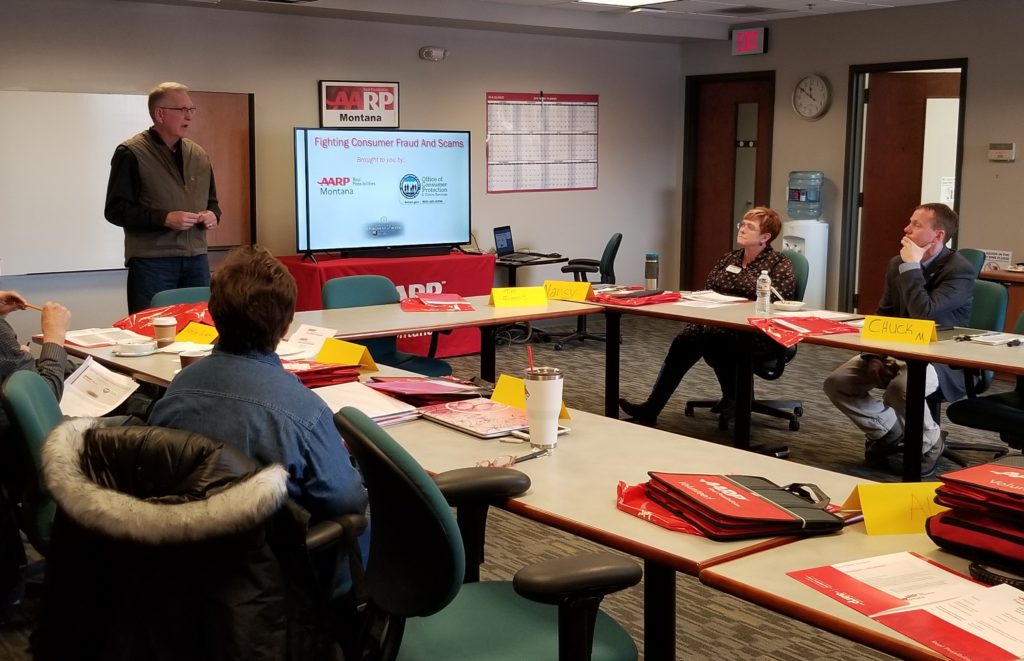 The Attorney General's Office of Consumer Protection (OCP) and AARP Montana collaboratively trained volunteers today who will educate community groups in various Montana cities about scams, fraud, and identity theft. This effort, which is believed to be the first of its kind in the nation between AARP and an attorney general's consumer protection team, will reach more older Montanans than either organization formerly has been able to using its own staff.

"When it comes to financial fraud and scams, an ounce of prevention is worth a pound of cure, and education is the most effective tool for prevention," Attorney General Tim Fox said. "While my Office of Consumer Protection has partnered for several years with AARP to educate seniors about how to avoid con artists, training AARP volunteers to help us amplify the message across our vast state makes good sense from both a budgetary and staffing point of view."

The seven volunteer outreach specialists, who are from Helena, Butte, Billings, and Great Falls, come from a variety of backgrounds which complement their new roles as experts in the areas of fraud and scam prevention. They will be available in several Montana communities to speak to civic and community groups and at conferences upon request. It is possible more volunteers will be trained in the future, depending upon how often the first group is utilized.

"Anyone, regardless of income, education, profession or age, can become a victim when unscrupulous individuals target unsuspecting consumers in an effort to line their own pockets," said Tim Summers, AARP Montana State Director. "Because information is a consumer's best defense against becoming a victim, this partnership with the Montana Attorney General's Office is critical to our consumer protection work. Together, we are able to leverage our resources to reach a much broader audience with important fraud prevention information."

Montana is rapidly aging, with the age 65+ demographic being one of the fastest growing in the nation. The U.S. Census Bureau predicts that by 2035, people over 65 years old, commonly referred to as "baby boomers," will outnumber children for the first time in our history. Across the nation and in Montana, financial fraud and scams continue to have a disproportionate impact on seniors, with older Americans losing billions of dollars every year to various scams and frauds. Several states, including Montana, are developing task forces to address these problems head on. Those task forces include professionals who investigate and prosecute crimes targeting the elderly, from physical and sexual abuse, to financial exploitation and fraud.

To request a scam awareness presentation free of charge, visit Montana's Office of Consumer Protection website, e-mail mtaarp@aarp.org, or call AARP's Nancy Andersen at (406) 457-4703.