Montana Newspaper Association Hosts June 14th U.S. Senatorial and House Debate during its Annual Convention; Event will broadcast on Montana PBS on Sunday, June 15, 2014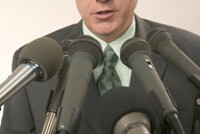 Helena, Mont., June 12, 2014 -- The Montana Newspaper Association and Montana PBS have joined together to sponsor the first United States Senate and United States House of Representatives candidate debates of the political season.
The debates will be held in the Library Auditorium at Montana Tech in Butte on Saturday afternoon, June 14, 2014. The U. S. Senate debate will begin at 1:30 p.m., followed by the U. S. House debate at 3:30 p.m. The debates will be recorded and broadcast on Montana PBS on Sunday, June 15, 2014: House at 5:00 p.m. and Senate at 6:30 p.m.
The debates are free and open to the public. Seating is limited.
"On behalf of AARP's 150,000 Montana members, we are pleased to join as a "community partner" in this forum where the candidates for the U.S. Senate and U.S. House can present their respective visions for the future of our state and nation," said AARP Montana State President Joy Bruck. "The next Senator and Representative will face a daunting set of public policy issues that are critical to the future of all Montanans. Those at mid-life and older are paying close attention to an array of issues including how our elected officials will continue to protect and strengthen Social Security and Medicare for today's retirees and future generations."
The Montana Newspaper Association hosts an annual convention each summer. During election cycles, the Newspaper Association presents the state's first debates of the general election season. AARP Montana is an Associate Member of the Montanan Newspaper Association and is joining as a "community partner" in the event.
Some national observers have noted that while previous elections were all about younger voters' energy, 2014 and 2016 could be the comeback of boomers as kingmakers. On January 1, 2011 the baby boomers began turning 65. The U.S. Census Bureau reports that almost 8,000 people a day will celebrate that significant birthday, and it's a process that will continue through 2039 when the last of the 78 million Boomers reaches 65.
By 2015, projections rank Montana fourth in the nation in percentage of seniors. By 2025 the number of "mature Montanans" – those over 65 -- will more than double. Civic engagement is important to this cohort. Eighty three percent of Montana registered voters age 50+ voted in the last election.
Decades of stagnating incomes, shrinking savings and surging debt have weakened the personal economic foundation for many Americans and left them vulnerable to the financial crisis. Montanans over 50 rate their personal economic security as one of their most important concerns.
"As a non-profit, non-partisan organization, we do not endorse candidates or contribute to their campaigns. We instead focus on voter education – getting candidates' positions on issues and then letting our members know those positions so they can make informed decisions. Our members want to know what these candidates are going to do about the nation's problems and we will do all we can to help them get those answers," Bruck added.
For the 2014 election, AARP's voter engagement efforts will include the compiling and printing of U.S. House and U.S. Senate Voter Guides. The guides will focus on the candidates' views on protecting and strengthening Social Security and Medicare for today's seniors and future generations.
"AARP Montana is pleased to be part of the first debate of the state's general election season for U.S. Senatorial and House candidates," said AARP Montana State Director Bob Bartholomew. "The stakes couldn't be higher. The next Congress could very well determine the future of Medicare and Social Security. And that's why we're encouraging Montanans to pay very close attention to what the candidates say about these important programs so they can make an informed decision when casting their vote this November."