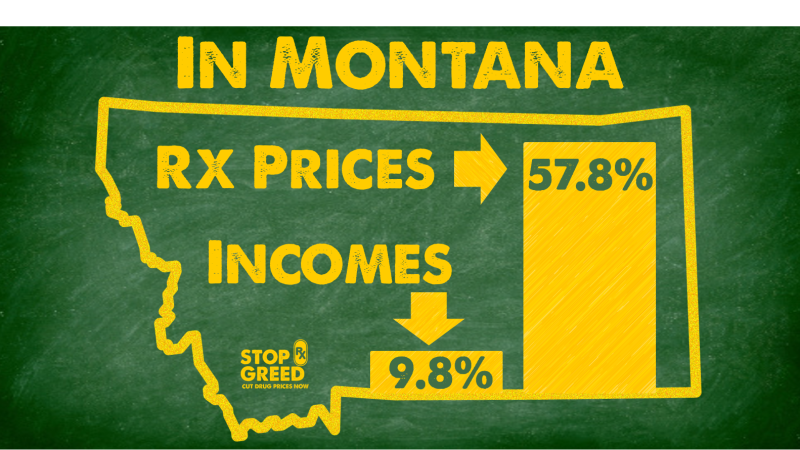 AARP Montana Shows Impact of Skyrocketing Drug Prices on Montanans with New Data and Infographic
AARP Montana today released new state data and an infographic illustrating the impact of high prescription drug prices for Montana residents, specifically those living with cancer, prediabetes or diabetes, and heart disease. AARP unveiled the infographic at the National Academy for State Health Policy (NASHP) annual conference as part of AARP's nationwide Stop Rx Greed campaign to lower drug prices for all Americans.

See Montana Infographic here >>

"While prescription drug prices continue skyrocketing, Americans are being forced to choose between filling life-saving medications or paying rent and buying food," said AARP Montana State Director, Tim Summers. "So far in 2019, 29 states have passed 46 new laws to rein in drug prices. It's critical that state and federal lawmakers continue this momentum to stop Rx greed."

In 2017, 39% of Montanans stopped taking a prescription drug as prescribed due to cost, as shown in the infographic. The infographic also highlights recent price increases for select prescription drugs commonly used to treat cancer, diabetes, and heart disease. Between 2012 and 2017, the retail price of:

· Revlimid, used to treat cancer, increased from $147,413 per year to $247,496 per year. In Montana, 112,153 people are living with cancer.

· Lantus, a form of insulin used to treat diabetes, increased from $2,907 per year to $4,702 per year. There are 76,352 people with diabetes in Montana.

· Aggrenox, a heart disease medication, increased from $3,030 per year to $5,930 per year. In Montana, 25,239 people have heart disease.

During the 2019 Montana Legislative Session, Montana legislators passed Senate Bill 270, which prohibits "gag clauses" in contracts between pharmacists and Pharmacy Benefit Managers. These gag clauses forbade local pharmacists from informing consumers that the drug they wanted to buy had a less-expensive generic alternative.

Additionally, the Montana House overwhelmingly passed House Bill 710, which sought to add more transparency to murky prescription drug pricing practices by requiring prescription drug manufactures and insurers to disclose pricing information on specific highly-expensive drugs. Unfortunately, Big PhRMA was able to kill that bill in the Montana Senate on a 25-25 tie vote.

AARP will continue to fight at the Montana State Legislature and at the federal level to lower the high cost of prescription drugs.

To view the Montana infographic, visit www.aarp.org/rxstates. To learn more about AARP's Stop Rx Greed campaign and view the national infographic, visit www.aarp.org/rx.

# # #
About AARP
AARP is the nation's largest nonprofit, nonpartisan organization dedicated to empowering people 50 and older to choose how they live as they age. With a nationwide presence and nearly 38 million members, AARP strengthens communities and advocates for what matters most to families: health security, financial stability and personal fulfillment. AARP also produces the nation's largest circulation publications: AARP The Magazine and AARP Bulletin. To learn more, visit www.aarp.org or follow @AARP and @AARPadvocates on social media.

About AARP Montana:
For nearly 50 years, AARP has been working right here in big sky country to improve the lives of the 50 plus. By fighting on issues that matter most to Montana families and providing trusted information, we're helping Montanans live life to the fullest. Today, nearly 150,000 strong, AARP Montana is the largest membership organization in the state. As a nonprofit, nonpartisan organization, AARP does not endorse candidates for public office or make contributions to political action committees, campaigns or candidates.

###