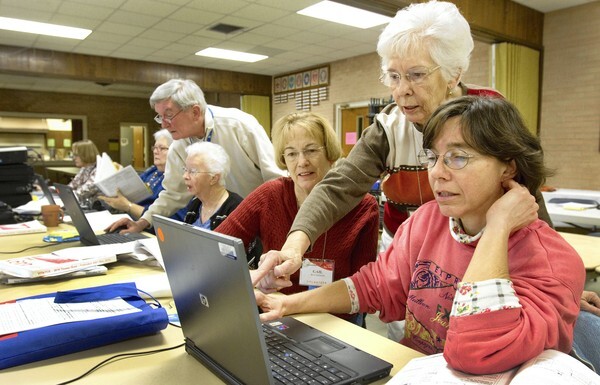 AARP Foundation Tax-Aide, the nation's largest free, volunteer-based tax preparation and assistance service, announced today that it will suspend tax preparation services at all sites effective Monday, March 16, until further notice. The action is due to concerns about the spread of coronavirus. The program's website, www.aarpfoundation.org/taxaide, is the best resource for information and changes in service availability.

"Tax-Aide is prioritizing the health of taxpayers, our volunteers, and the communities we serve by suspending service until further notice," said AARP Foundation President Lisa Marsh Ryerson.

Tax-Aide will continue to assess whether some or all sites can re-open during this tax season as regularly scheduled, or during a longer extended tax season.

While Tax-Aide provides free tax preparation and filing services to all taxpayers, many of its clients are over 60, a group considered by health experts at higher risk for COVID-19.

Federal Tax Returns - Deadline Extended: IRS Notice 2020-17 provides for a 90-day extension until July 15 of the due date for tax payments up to $1 million. This relief applies to federal income tax payments (including estimated tax payments) normally due on April 15, 2020. The IRS announced the extension on March 21, 2020.

Following are the options to consider:

· Get a rough idea of your tax situation using the 2020 IRS tax withholding estimator or one of the many estimated tax calculators available online.

· If there is a refund due, wait until Tax-Aide service resumes. Updates on the resumption of Tax-Aide service will be posted on the Tax-Aide Site Locator web page.

· Extend the time to file your return for six months until October 15 by filing Form 4868 Application for Automatic Extension of Time to File U.S. Individual Income Tax Return. The extension may also be filed online. Note that any balance due must be paid by July 15.

· If you cannot wait until Tax-Aide service resumes, there are several self-preparation commercial software offerings available. You also can investigate the free-file options, seek a professional preparer, or visit IRS's free tax filing service at: https://www.irs.gov/filing/free-file-do-your-federal-taxes-for-free

· AARP Foundation Tax-Aide does not offer online or drop-off tax service.

Montana State Tax Returns -- Deadline Extended: Governor Steve Bullock announced an extension of the payment and filing deadlines for 2019 individual income taxpayers to July 15 in accordance with the new federal filing deadline.

State filing and payment deadlines vary and are not always the same as the federal filing deadline. Some states automatically accept a federal Form 4868 extension, while other states have extended their tax filing dates. Check with your state tax agency for more information. Contact information for states is available here.

###

About AARP Foundation

AARP Foundation works to end senior poverty by helping vulnerable older adults build economic opportunity and social connections. As AARP's charitable affiliate, we serve AARP members and nonmembers alike. Bolstered by vigorous legal advocacy, we spark bold, innovative solutions that foster resilience, strengthen communities and restore hope.