Creative work from communities across the nation -- including three in Montana -- is showcased in the third edition of AARP's Where We Live: Communities for All Ages series. This edition shares more than 100 articles and dozens of photographs on the ways communities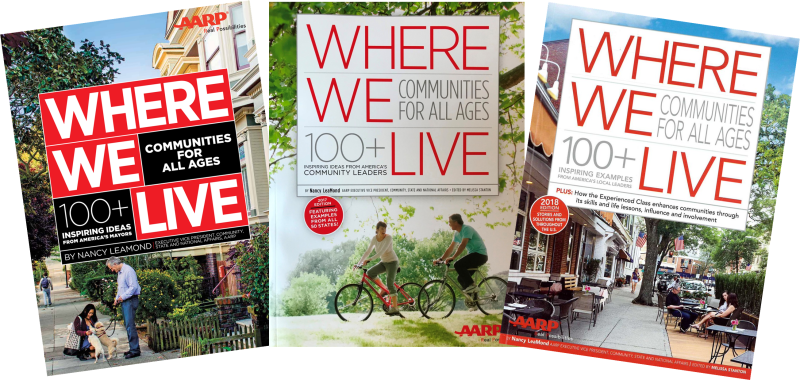 throughout the U.S. are becoming great places to live for people of all ages. It also highlights mayors and other community leaders who are making this change happen. All 50 states, the District of Columbia, the U.S. Virgin Islands and Puerto Rico are featured in the book.

The three Montana communities highlighted in the book used AARP Community Challenge Grants to fund community projects. The grant recipients were the Western Transportation Institute and City of Bozeman; Powell County Parks; and Missoula County.

"AARP received a tremendous response to the program in its inaugural year, with nearly 1,200 proposals across the United States, including nine from Montana," said Tim Summers, AARP Montana state director. "We're thrilled that three great proposals from Montana were selected. These projects will not only enhance the livability of their own communities, but also help shine a spotlight on what it means to be an age-friendly community."

In brief, the Montana projects include:

Bozeman: Western Transportation Institute and City of Bozeman | Tactical Urbanism

A mobile tool kit for pop-up projects will be created for showcasing how temporary demonstrations help improve street designs for traveling by foot, bicycle, bus, wheelchair and other means.

Deer Lodge: Powell County Parks | Trail Enhancements

Grant funds will be used to connect the commercial district that includes the Deer Lodge Medical Center with the city's parks and residential neighborhoods.

Missoula: Missoula County | Walkability

Funding will be used to demonstrate how pedestrian-oriented infrastructure improves public safety, creates a stronger sense of place and provides opportunities for people to gather and interact.

"Over the past three years, we've shared hundreds of ideas and examples from community leaders through the Where We Live series," said Nancy LeaMond, AARP Executive Vice President of Community, State and National Affairs. "AARP is proud to put a spotlight on what this livability revolution looks like on the ground, from city and countywide initiatives to small changes that make a big impact."

2018 Montana Community Challenge Grant recipients will be announced next week.

For more information, or to download or request a free copy of Where We Live, visit AARP.org/WhereWeLive or HERE.