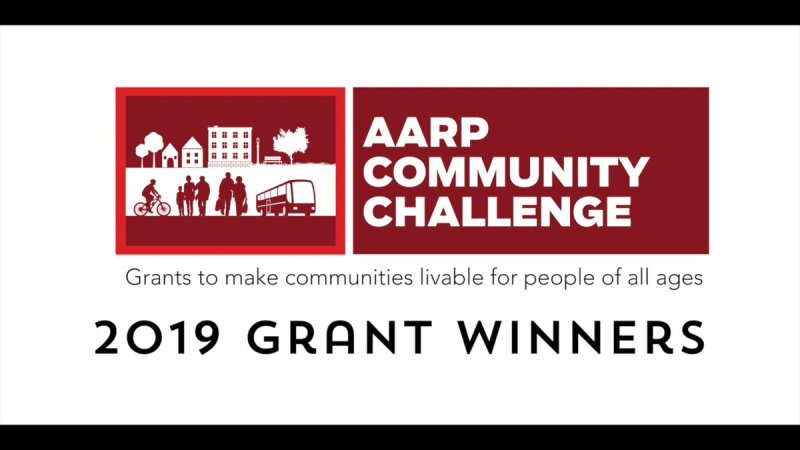 Helena, Mont., July 17, 2019 —Today, AARP announced the awardees for its 2019 AARP Community Challenge grant program, including three recipients right here in Montana. A total of nearly $1.6 million will be distributed to fund 159 "quick action" projects across the country, helping communities make immediate improvements and jumpstart long-term progress to support residents of all ages. Nearly 1,700 applications were received from non-profits and government entities across the nation for the program, now in its third year. Each of the projects, which must be completed by November 4, is designed to achieve one or more of the following outcomes:

Create vibrant public places that improve open spaces, parks and access to other amenities.
Demonstrate the tangible value of "Smart Cities" by engaging residents and policymakers in accessing, understanding and using data to increase quality of life for all.
Deliver a range of transportation and mobility options that increase connectivity, walkability, bikeability, wayfinding, access to transportation options and roadway improvements.
Support the availability of a range of housing that increases accessible and affordable housing options.
Here in Montana, grantees include:
$1,500 -- Anaconda: Anaconda-Deer Lodge County
This grant will provide two ADA Accessible picnic tables for the Kennedy Common area in Anaconda. The Kennedy Common was donated to Anaconda in 1906 by the Anaconda Copper Mining Company and a covenant requires it always remain a park. The area is used for a variety of community activities. This grant will build on work done by the City of Anaconda in 2018 to replace the circular sidewalk and provide a safe walking area for residents. Although there are currently park benches available in this area, there are no picnic tables for the public to use and enjoy. Because the tables will be ADA compliant, they will serve residents of all ages and abilities.
$10,000 – Lewis & Clark Caverns: Montana State Parks Foundation
This grant will fund a shade/weather shelter for the Lewis and Clark Caverns Paradise Room Accessibility Project which will open the caving, speleology, and spelunking opportunities at the state park to visitors with mobility challenges. The shelter is where tour participants can gather to review tour guidelines prior to entering the cave. This project will also provide specialized training for park staff, and inform target communities about this new adaptive recreation opportunity. Without the structure and training, park and volunteer guides will have no sheltered location to begin and end the accessible Paradise Room tour and visitors would be exposed to a variety of inclement weather and environmental weather and environmental conditions.
$10,580 – Bozeman: Western Transportation Institute
Grant funds will be used to continue the traffic-calming projects implemented by Western Transportation Institute and the City of Bozeman over the past two years. These projects utilized a Traffic Calming Trailer funded by a previous AARP Community Challenge Grant. These new funds will help the City take these projects from temporary to interim by providing more durable materials such as concrete planters, flexible delineator posts, and pavement paint to create traffic circles, curb extensions and pedestrian islands that remain in place all year-round for up to several years. These projects provide the safety improvements of permanent projects at less than one quarter of the cost. Interim projects allow for further adaptation and refinement of designs as the community experiences and evaluates projects before investing in long-term capital projects.
"These grants will enable Anaconda-Deer Lodge County, the Montana State Parks Foundation and the Western Transportation Institute to make their communities more livable and enhance the quality of life for the people that they serve," said AARP Montana State Director Tim Summers. "We are thrilled to provide funds to these community partners, who provide tremendous service to Montanans every day."
The full list of grantees can be found at www.aarp.org/communitychallenge.
"AARP has teams on the ground in communities across the country who hear from mayors, community leaders and local residents about the value of getting quick wins to create long-term change. We developed the Community Challenge grant program to answer that call and help build momentum for more livable communities nationwide," said Nancy LeaMond, AARP Executive Vice President, Community, State and National Affairs. "This year, we are proud to fund more projects in all 50 states, Washington, D.C., Puerto Rico and the Virgin Islands."
The Community Challenge grant program is part of AARP's nationwide Livable Communities initiative which helps communities become great places to live for residents of all ages. As part of this, AARP staff and volunteers are working across the country, engaging and mobilizing residents, delivering technical assistance and expertise to local leaders and organizations, and supporting the work of the 381 communities and four states that have enrolled in the AARP Network of Age-Friendly States and Communities.

# # #
About AARP
AARP is the nation's largest nonprofit, nonpartisan organization dedicated to empowering people 50 and older to choose how they live as they age. With a nationwide presence and nearly 38 million members, AARP strengthens communities and advocates for what matters most to families: health security, financial stability and personal fulfillment. AARP also produces the nation's largest circulation publications: AARP The Magazine and AARP Bulletin. To learn more, visit www.aarp.org or follow @AARP and @AARPadvocates on social media.
About AARP Montana:
For nearly 50 years, AARP has been working right here in big sky country to improve the lives of the 50 plus. By fighting on issues that matter most to Montana families and providing trusted information, we're helping Montanans live life to the fullest. Today, nearly 150,000 strong, AARP Montana is the largest membership organization in the state. As a nonprofit, nonpartisan organization, AARP does not endorse candidates for public office or make contributions to political action committees, campaigns or candidates.

###