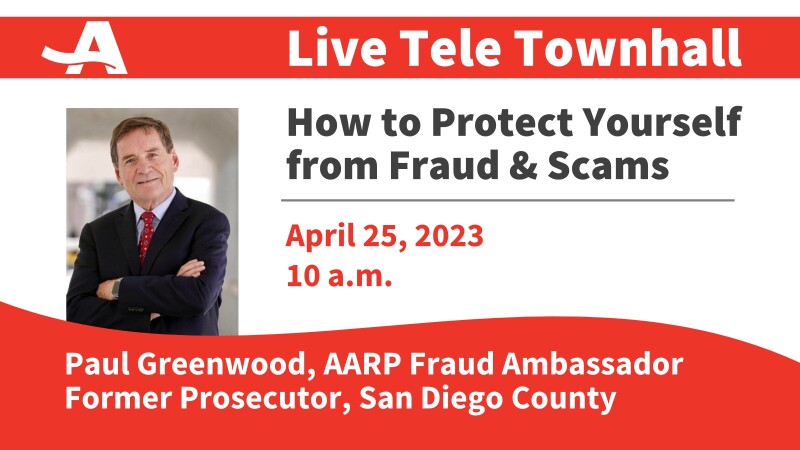 AARP Montana hosts a live, interactive tele townhall from 10 to 11 a.m. Tuesday, April 25, to discuss how to protect yourself from fraud and scams.

AARP Montana invites you to join us for a Tele Townhall on Tuesday, April 25, from 10 to 11 a.m. Learn more about protecting yourself and your family from fraud and scams.

This event will feature nationally-renowned consumer protection expert and AARP Fraud Ambassador, Paul Greenwood.

Former Deputy District Attorney Paul Greenwood was a lawyer in England for 13 years. After relocating to San Diego in the early 90s, he joined the DA's office. For 22 years, Paul headed up the Elder Abuse Prosecution Unit at the San Diego DA's Office. In 1999, California Lawyer magazine named Paul as one of their top 20 lawyers of the year in recognition of his pioneering efforts to pursue justice on behalf of senior citizens. Greenwood has prosecuted over 750 felony cases of both physical and financial elder abuse. He has also prosecuted ten murder cases, including one death penalty case.

In March 2018 Paul retired from the San Diego DA's office to concentrate on sharing lessons learned from his elder abuse prosecutions with a wider audience. In October 2018 he was given a lifetime achievement award by his former office. Paul now spends much of his post retirement time consulting on elder abuse cases and providing training to law enforcement and Adult Protective Services agencies across the country and internationally. He is also involved as the criminal justice board member of National Adult Protective Services Association

Paul is very familiar with Montana – he has been here many times as a keynote speaker for various conferences, including the Governor's Conference on Aging. AARP Montana has been working with him for nearly 15 years. Governor Gianforte issued an Executive Order to expand elder justice councils across Montana in the fall of 2021. Paul Greenwood is working with the State of Montana to set those up.

Additionally, the call will be hosted by AARP Montana State Director, Tim Summers. Troy Shockley, former News Director for Montana Radio Company, will serve as the call's moderator.

"This is a live forum and participants are encouraged to join the call and hear directly from the subject matter experts. Folks can also pose their questions to the panel," said Summers. "This important call is available for anyone regardless of whether they are an AARP member or not. Because this telephone townhall is interactive, we encourage people to come prepared with questions that they might have."

On Tuesday, April 25 shortly before 10:00 a.m., AARP Montana will begin calling out to members across the state for this live event. Those interested in participating only need to stay on the line to join.

There are three additional ways to participate in the live event:

Those unable to join the live event on April 25 can listen to the recorded call on AARP Montana's Facebook page or here: https://vekeo.com/aarpmontana.