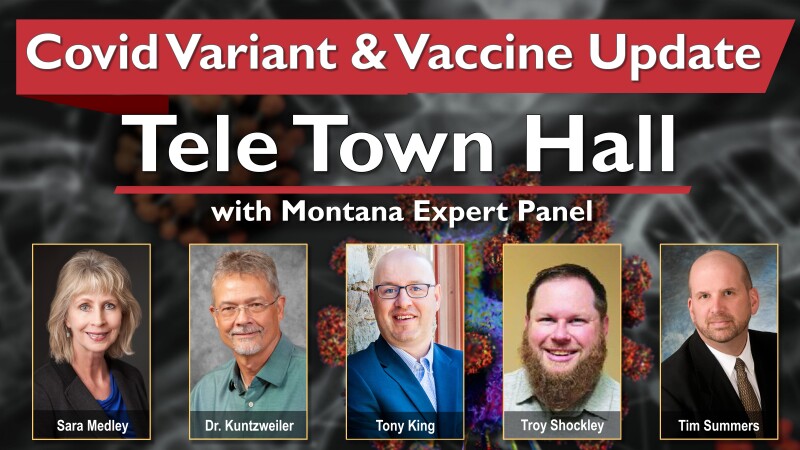 To provide accurate and up-to-date information about new COVID variants and vaccinations in the state, AARP Montana is holding a live tele-town hall on February 22, 2022 at 10 AM. This event will feature medical and vaccination experts from Mountain-Pacific Quality Health including Dr. Douglas Kuntzweiler, Chief Medical Officer, Tony King, Pharmacist and Director of Pharmacy Programs as well as Sara Medley, CEO. The call will be hosted by AARP Montana State Director, Tim Summers. Troy Shockley, News Director for Montana Radio Company, will serve as the call's moderator.

"This is a live interactive forum and participants are encouraged to join the call and hear directly from the subject matter experts. Folks can also pose their questions to the panel," said Summers. "This important call is available for anyone regardless of whether they are an AARP member or not."

Mountain-Pacific Quality Health is a nonprofit health care improvement organization known as a Quality Innovation Network-Quality Improvement Organization (QIN-QIO) that partners within our communities to provide solutions for better health. The organization first opened its doors in Helena, Montana, in 1973. Part of their charge falls under the direction of the Centers for Medicare & Medicaid Services (CMS). They partner with health care providers, practitioners, stakeholders, patients and families on a variety of quality improvement initiatives to achieve better care, better population health and lower health care costs. These initiatives include: preventing healthcare-associated infections in hospitals and nursing homes as well as preventing healthcare-acquired conditions related to long-term care in nursing homes.

On Tuesday, February 22, AARP Montana will begin calling out to Montana members for this tele-town hall around 10:00 a.m.

There are three additional ways to participate in the live event:

Those unable to join the tele-town hall on February 22, can listen to the recorded call on AARP Montana's Facebook page or here: https://vekeo.com/aarpmontana.