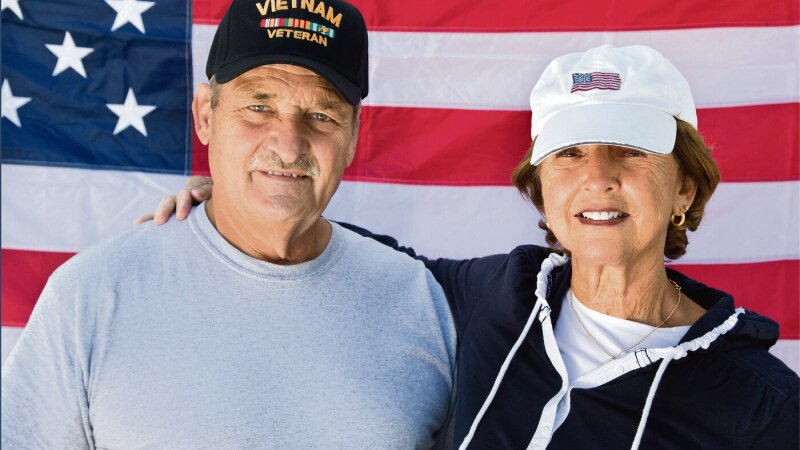 Continuing our longstanding commitment to honor veterans, military and their families, AARP Montana is sharing free resources and tools that are especially designed for veterans and military personnel.

"As a veteran myself, I along with AARP commend the tens of thousand of Montana veterans that have bravely served and sacrificed for our country," said Al Ward, AARP Montana State President. "We also recognize the unsung heroes -- the families and caregivers of our veterans, many of whom have made immeasurable sacrifices to care for their loved ones as they return from service."

Free "Thank You Kit" for Veterans
As a small way of saying "thank you for your service" we will send you some free veterans swag from AARP Montana. Simply sign up and the package will be delivered directly to you.

Get your free Veterans Thank You Kit here>>

Military Caregiving Guide for the "Heroes Behind Our Heroes"
Since AARP's founder, Dr. Ethel Percy Andrus, took a personal tour of the Mount Alto Veterans Hospital in Washington, D.C., in 1959, AARP has recognized the special challenges faced by military and veteran caregivers. We are pleased to offer our new AARP Military Caregiving Guide for veterans, service members and their families.

REQUEST A COPY BE MAILED TO YOU OF YOUR FREE MILITARY CAREGIVING GUIDE HERE>>

DOWNLOAD THE FREE MILITARY CAREGIVING GUIDE HERE >>

Free Career Tools for Veterans

AARP Job Board: Offers customized search filters for the veteran community via its 'veterans wanted' search filter. This feature serves up employers who are actively searching for veterans. Some employers even use a 'Veterans Wanted' badge on their job postings to show their commitment to hiring veterans. Visit www.aarp.org/jobs.
AARP Resume AdvisorSM: Helps translate military experience for the civilian workforce with a free resume review. Veterans can receive objective feedback on how their resume communicates their skills and expertise and personalized recommendations to make it stand out.

MORE MONTANA RESOURCES FOR VETERANS AND MILITARY FAMILIES

Not enrolled with the VA?
Veterans not enrolled can call their local VA facility even if they haven't received previous services at a Veterans Affairs health center. Enrollment will be worked on after their health care needs are addressed.