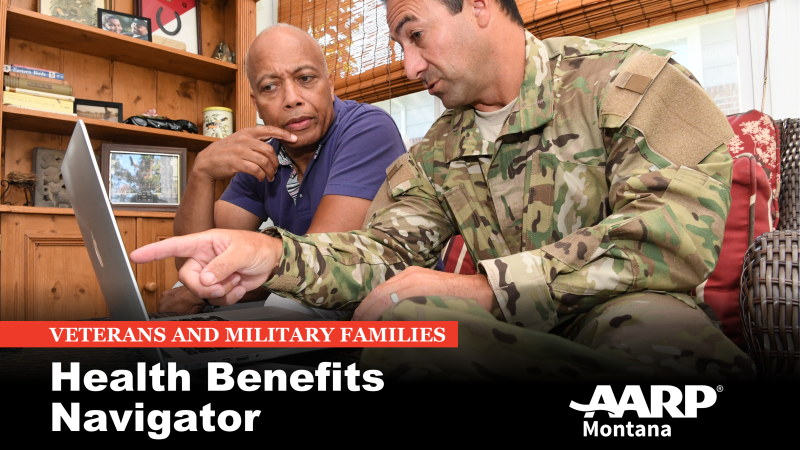 Of the 94,404 veterans in Montana, only 37% have used their benefits at VA health care, according to U.S. Census Bureau

AARP launched a new tool this week to bring together valuable information and resources to help veterans, military families and their caregivers navigate their health care options. The Veterans and Military Families Health Benefits Navigator provides Montana's veterans with critical information about what is required to qualify for health care benefits from the U.S. Department of Veterans Affairs (VA) or Department of Defense (DoD).

"Now more than ever, veterans and military families need help accessing the health care benefits they earned serving our country," said Tim Summers, AARP Montana State Director. "This free, one-stop resource will help make the process less confusing and overwhelming for veterans and military families as they navigate their options."
Even before the pandemic, veterans and their families struggled with where to begin when deciding the best path for their health care needs: VA health care, Military Tricare, Medicare, private insurance, or Medicaid. Recently, more than 340,000 veterans have been diagnosed with COVID-19 and VA medical centers from across the country have reported almost 15,000 deaths from the disease.

In addition, of the 94,404 veterans living in Montana, only 37% have utilized their earned benefits at VA health care, according to the U.S. Census Bureau. Montana has one of the highest per capita Veteran populations in the U.S. -- about 1 in 10 residents are Veterans.

The AARP Veterans and Military Families Health Benefits Navigator can help families:

Learn more about health benefits provided through the VA and DoD;
Understand how to apply for and enroll in VA health care; and
Identify how to get help from representatives who have experience and knowledge of the VA's process for awarding benefits.
Nearly 60% of all veterans are eligible for VA healthcare services, while less than half of those eligible veterans use VA health benefits, according to a RAND study. Yet quality of care delivered by VA is generally equal to or better than care delivered in the private sector. A misunderstanding or frustration with the application process causes many veterans to simply forgo VA health benefits. Oftentimes, confusion about qualification requirements keeps veterans from receiving their health benefits.

AARP's Veterans and Military Families Health Benefits Navigator is available at www.AARP.org/VetsHealthNavigator. For more information and other resources for veterans, visit www.aarp.org/veterans.

MORE RESOURCES FOR VETERANS:

FREE "THANK YOU KIT" FOR VETERANS
As a small way of saying "thank you for your service" we will send you some free veterans swag from AARP Montana. Simply sign up and the package will be delivered directly to you.

FREE MILITARY CAREGIVING GUIDE FOR THE "HEROES BEHIND OUR HEROES"
Since AARP's founder, Dr. Ethel Percy Andrus, took a personal tour of the Mount Alto Veterans Hospital in Washington, D.C., in 1959, AARP has recognized the special challenges faced by military and veteran caregivers. We are pleased to offer our new AARP Military Caregiving Guide for veterans, service members and their families.

FREE AARP RESOURCES AND GUIDES FOR VETERANS AND MILITARY FAMILIES

FREE AARP CAREER TOOLS FOR VETERANS

FRAUD PREVENTION RESOURCES & OPERATION PROTECT VETERANS:

MORE MONTANA RESOURCES FOR VETERANS AND MILITARY FAMILIES:

Not enrolled with the VA? Veterans not enrolled can call their local VA facility even if they haven't received previous services at a Veterans Affairs health center. Enrollment will be worked on after their health care needs are addressed.