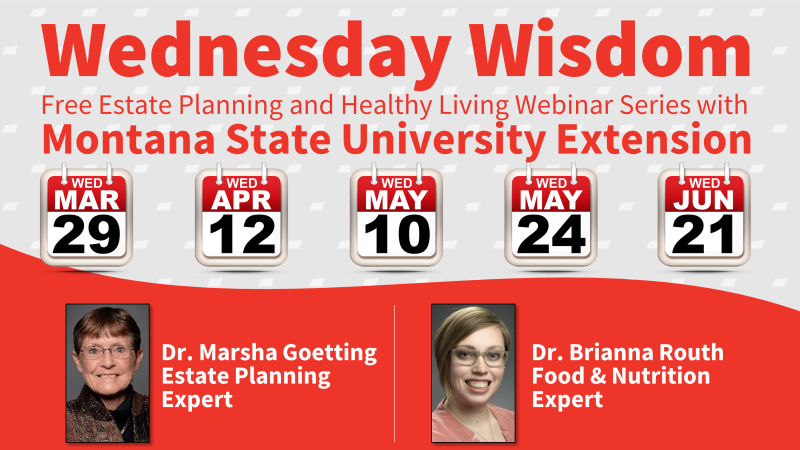 AARP Montana is collaborating with Montana State University Extension to offer a series of free virtual workshops aimed at helping people make smart estate planning decisions and also healthy living decisions.

The series, titled "Wednesday Wisdom," will run from 10 to 11 a.m. Wednesdays on March 29, April 12, May 10, May 24 and June 21, 2023. The Estate Planning webinars will be presented online by Dr. Marsha Goetting, MSU Extension family economics specialist and professor at MSU. The Healthy Living webinars will be presented by Dr. Brianna Routh, Food and Nutrition Expert from MSU Extension Service.

Goetting said that, for some Montanans, estate planning can be one of the most important and confusing decisions they make in their lives. It raises questions of personal legacy and how to assure the right people receive one's property after death.

Over the past seven years Goetting has presented more than 500 educational sessions that have reached more than 15,000 Montanans with financial and estate planning information. She has received state, regional and national awards for her programs and has authored 44 "MontGuide" fact sheets that cover estate planning topics.

REGISTER FOR THE WEBINAR SERIES HERE >>

TOPICS FOR ESTATE PLANNING SERIES -- PRESENTED BY DR. MARSHA GOETTING:

Trusts: Which Type Do I Want?


March 29, 10 a.m.
Discover situations under which revocable and testamentary trusts can be useful estate planning tools. Explore how parents can set up special needs trusts for minor children and adults with special needs. Learn about the meaning of the various phrases often used in trusts. Explore family circumstances for which a trust could be most beneficial.

Selecting an Selecting an Estate Attorney.


May 24, 10 a.m.
When selecting an attorney to help develop an estate plan, you need to have one who is well-informed about Montana will and trust laws, and other legal tools. You want the attorney to develop an estate plan tailored to your needs, by considering your age, health, family, income, assets, goals, and other circumstances. If your goal is to find an attorney to help settle an estate or administer a probate, then look for one who is knowledgeable about the probate process and trust law in Montana. Attorneys have different areas of expertise This session will explore how to find an attorney and what questions you want to ask about developing a plan or settling an estate.

Income Tax Impact on Inheritance.


June 21, 10 a.m.
There are some who say federal and state death taxes is the determining factor. You will also become aware of the meaning of the stepped-up basis on inherited property and carry-over basis on gifted property and the resulting tax impact.
More information about Estate Planning for Montanans and all the resources available from MSU Extension can be found online at: https://www.montana.edu/estateplanning/. For those who do not have computer access, hard copies of online documents are available from county Extension or reservation offices.

Contact: Marsha Goetting, MSU Extension family economics specialist, marsha.goettting@montana.edu

Need help preparing End-of-Life documents? Montana Legal Services and the Legal Services Developer Program are there to help! You can get free or reduced fee access to an attorney who can help you with your end of life documents, like a will, power of attorney and living will. Download a flyer with more information >>

TOPICS FOR HEALTHY LIVING SERIES -- PRESENTED BY DR. BRIANNA ROUTH:

Mindful Eating and Aging


April 12, 10 a.m.
This webinar will explore key nutrient needs and common nutrient deficiencies as we age and will share the research behind diets, dietary patterns, and mindful eating.
Food Wellness: Beyond the Nutrients


May 10, 10 a.m.
This webinar will explore food safety from purchase to storage and preservation and we'll brainstorm tips for planning for convenient foods.