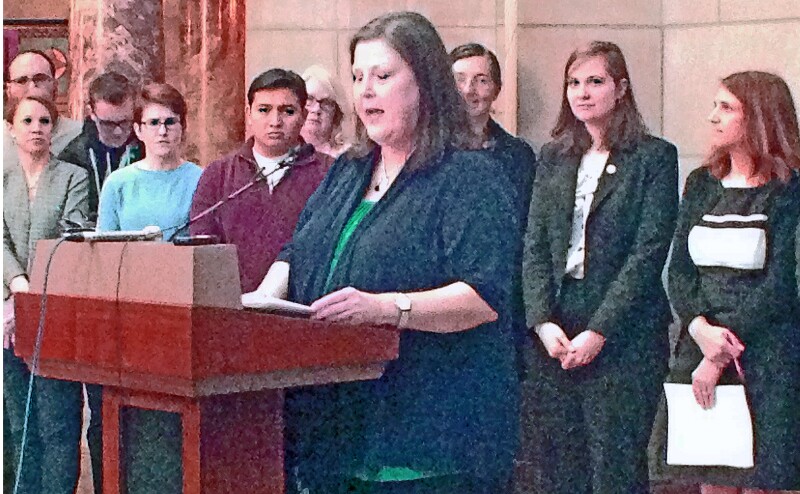 Last week, a minority of state senators filibustered the Wellness in Nebraska Act, which would have provided federally-funded health care coverage to 54,000 low-income adults who can't afford to buy insurance.
While the legislation won't advance this year, AARP Nebraska and other supporters are looking ahead to achieve success in 2015.
Today, we joined state senators, health care advocates and uninsured individuals at a State Capitol news conference in support of affordable healthcare for all Nebraskans. Afterwards, AARP volunteers distributed thank-you cards to the 27 state senators who supported LB 887.
AARP Nebraska State Director Connie Benjamin made the following remarks to the press:
On behalf of AARP, I want to thank Sen. Campbell for sponsoring LB 887. I want to thank all of the Senators who supported the cloture motion to give LB 887 an up or down vote. We appreciate your efforts to make the lives of Nebraskans who are struggling to make ends meet a little easier.
Unfortunately, the motion did not have the support of 33 Senators needed to end a filibuster.
So there will be no relief for those who are uninsured, who don't have enough income to qualify for exchange tax credits and who can't afford health insurance. They will get no relief because some of their elected representatives decided that they shouldn't have it.
AARP is proud to be part of a coalition of more than a dozen organizations who actively supported LB 887.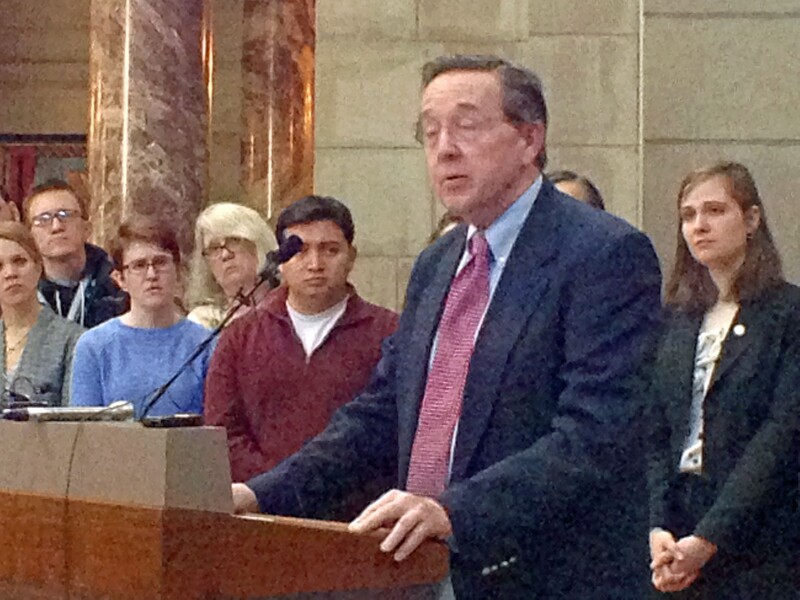 I want to speak to the 60,000 or so Nebraskans who are impacted by not having LB 887 pass last week. We know that many of you have jobs and are working hard, we know that you are paying into Social Security and state and federal taxes.
I want to assure you that that our organizations will continue to advocate for you and for a rational health care policy in Nebraska that makes sure that everyone has access to coverage that they can afford. We will continue our educational efforts on the Affordable Care Act. AARP volunteers and staff have made more than 100 public presentations to inform Nebraskans how to make the best use of the act. Not to mention all of the education that other groups have done. We know that there are options available for some of those 60,000 Nebraskans.
About 7,000 are under the age of 18. They are currently eligible for the Children's Health Insurance Program. In some cases, parents may also be eligible for coverage through Medicaid. I would encourage parents of those children to consider securing coverage for their kids.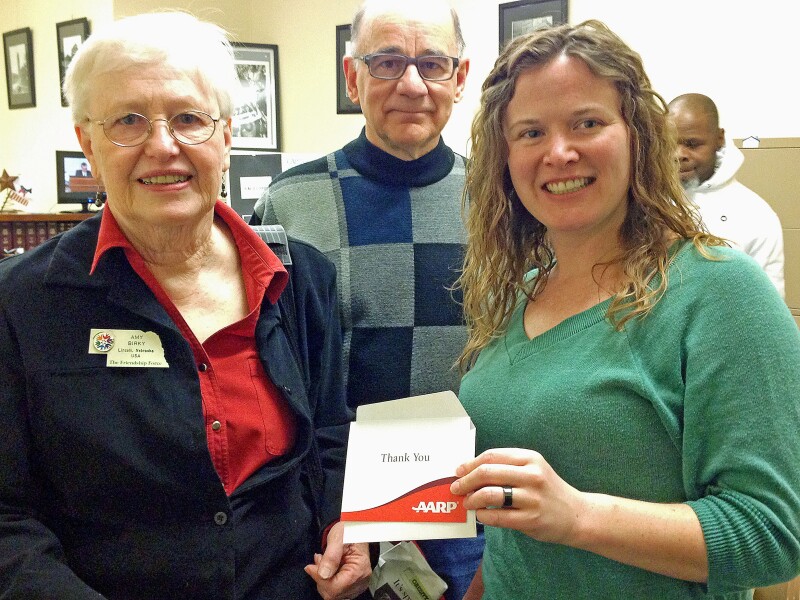 For those who are out of work and consequently have an income below 100% of the federal poverty level, you need to know that if your household income does increase above that level during the course of the year, you can apply for coverage through the health insurance marketplace. Depending on your new income, you may be able to qualify for tax credits and cost sharing reductions.
For the thousands of Nebraskans who are currently eligible for exchange tax credits and cost sharing reductions, but who haven't yet enrolled in coverage, time is running out. Open enrollment ends next Monday. We continue to hear from people who don't realize that they are able to get very affordable health care coverage through the health care marketplace. We don't want anyone to be denied access to affordable health care coverage because they don't know about it.
But without LB 887, those with the lowest incomes have no access to affordable coverage. And that is a tragic result for those whose household income is less than $11,490 for a single person, $15,510 for a couple or $23,550 for a family of four.
Providing coverage for those individuals will be an issue in the upcoming elections. We will be working to determine where candidates for the Legislature and for governor stand on providing low-income Nebraskans with the opportunity to gain access to health care coverage.
We will inform our members and others about the effect of Nebraska's failure to provide access to coverage to those with limited incomes. That failure has adverse consequences on those who remain uninsured, on the health care providers who serve them, on our state's budget and on our state's economy.
We have polled Nebraskans on this issue. We have found majority support for state legislation to help people with limited incomes gain health care coverage as was proposed in LB 887. We will be working to assure that voters know where candidates stand on this important issue and what the consequences of that stance will be.