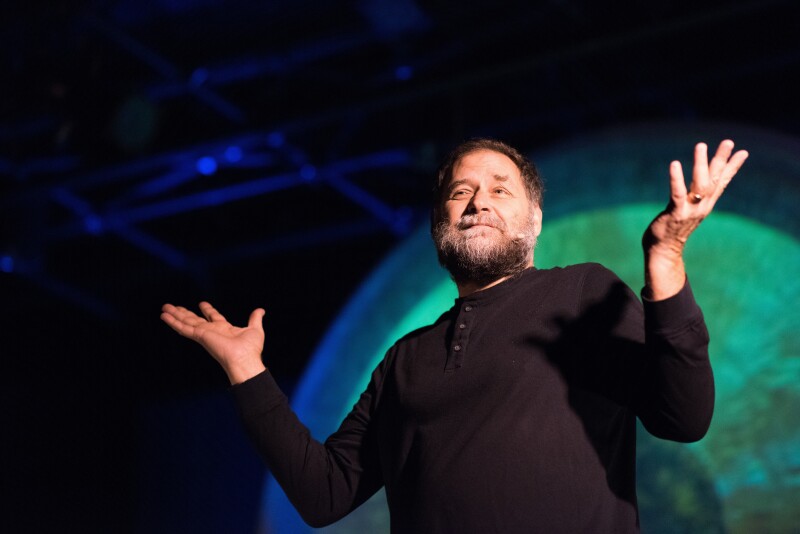 AARP is a proud sponsor of the national Age of Disruption Tour that will make stops in Omaha on Sept. 20 and Lincoln on Sept. 21.
Dr. Bill Thomas, one of the most innovative and creative thinkers working in medicine today, brings a radical new approach to growth and aging through his modern day American Chautauqua movement in The Age of Disruption Tour. Barnstorming the country in a rock n' roll tour bus, Dr. Bill Thomas is engaging with communities to build new and vastly more rewarding visions of aging.The 2016 tour features two non-fiction theater performances: the paradigm shifting
Disrupt Dementia
and Dr. Thomas' signature show,
Aging: Life's Most Dangerous Game
,
featuring the unconventional pairing of a physician (Dr. Thomas) and a musician,
Nate Silas Richardson
.
Disrupt Dementia
is a
first-of-its kind
event inviting people living with dementia and their allies to experience a new vision for living with cognitive change. This immersive and transformational non-fiction theater experience turns convention on its head by focusing on
what we can all learn from people living with dementia, rather than from experts
and includes exclusive outtakes from a new film by
Alive Inside
director Michael Rossato-Bennett, live music and storytelling from humanitarian and refugee Samite and also features Nate Silas Richardson. The performance is co-hosted by a pioneer in the field of authentic partnership research, Dr. Jennifer Carson, and millennial psychotherapist turned activist Kyrié Carpenter.
Life's Most Dangerous Game
features original music, storytelling, poetry and groundbreaking insights on aging and care. The mixed-media performance begins with a light-hearted look at just how "crazy" our culture's perspective on normal human aging can be and then asks: "What if?" What if we all lived in a world that saw aging not as a process of decline but rather as the entree to life's most dangerous game?
In between the shows there is a highly engaging 'lobby experience' for guests to engage with the ideas presented in the afternoon performance, get connected with local culture changers and connect with other disrupters in their community.
"Aging can be reimagined as a vivid and enlivening process that presents us with extraordinary risks, and rewards," Dr. Thomas says. "So, how are we supposed to play this most dangerous of all games? What do winning and losing look like?"
The Age of Disruption Tour takes audiences on an incredible journey into a new and highly disruptive understanding of age and aging that has the power to inspire positive change for members of the audience and the communities in which they live. .
WHAT: Age of Disruption Tour

WHEN:
Tuesday, September 20, 2016 - Omaha
Wednesday, September 21, 2016 - Lincoln
WHERE: Scottish Rite Masonic Center - 202 S 20th St., Omaha, NE - 68102
Lied Center for Performing Arts - 301 N 12th St, Lincoln, NE - 68508
TICKETS: Tickets can purchased online at DrBillThomas.org