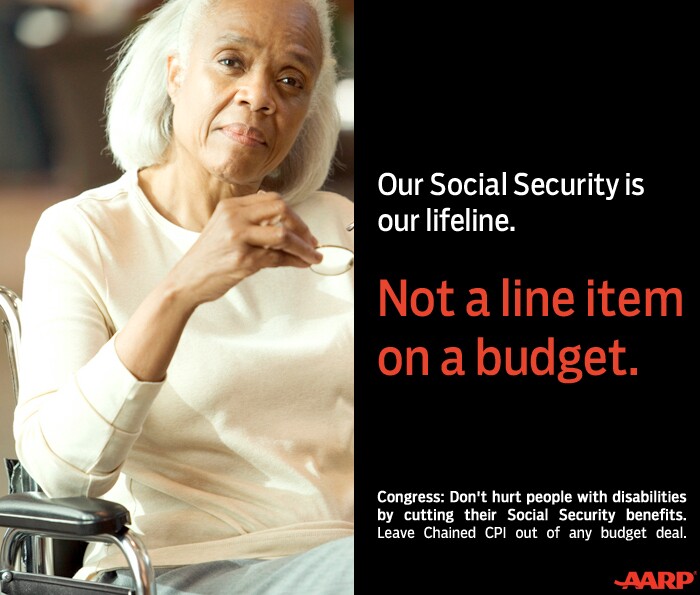 As President Obama heads to Capitol Hill to push his deficit reduction plan, AARP urged the Nebraska congressional delegation to oppose the so-called 'chained CPI,' which would make significant cuts to Social Security and veterans benefits in Nebraska according to a new analysis based on data from the Congressional Budget Office (CBO).
The chained CPI – also called the 'superlative CPI' – would change the way the cost-of-living adjustment, or COLA, is calculated for Social Security and veterans' compensation, cutting benefits for seniors and veterans who are already stretched by prescription drugs, utilities and health care costs. And as they get older, it only gets worse because the cut would start now and get bigger every year, hitting people the hardest as they age and have exhausted much of their savings. Using data from the CBO and the Departments of Veterans Affairs and Defense, AARP calculates that adoption of the chained CPI would result in Nebraska's retirees and veterans losing more than $870 million over a 10-year period.
"Chained CPI is a Washington term that really means cutting Nebraskans' Social Security and veterans benefits," said Connie Benjamin, state director of AARP Nebraska. "AARP believes Nebraskans deserve to know that the chained CPI is a stealth benefit cut that is currently on the table in Washington. The cut is especially harmful because it would start now and grow worse over time, taking money out of the pockets of seniors and veterans as they get older and every dollar counts."
The AARP analysis showed that nationally, retirees and veterans would see their benefits cut by $146 billion over that 10-year period. Individuals can see how their personal benefits would be affected at www.aarp.org/whatyoulose.
"Reducing Social Security and veterans' benefits through the chained CPI would break the promises politicians have made to protect benefits for today's seniors. It would also leave a legacy of lower benefits for future generations," concluded Benjamin. "We urge Nebraskans to tell their representatives in Congress not to accept the chained CPI as part of any budget deal."