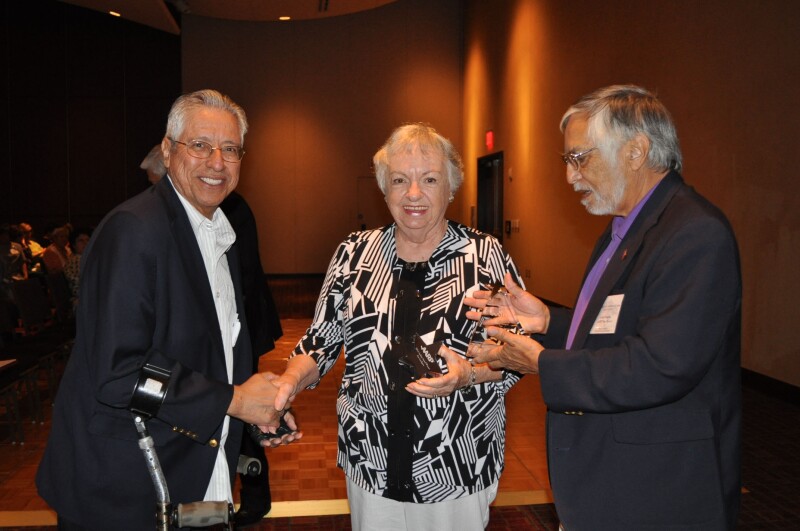 Sue Lundgren, of Las Cruces, has been named AARP New Mexico's 2012 Andrus Award winner. The award is named for AARP's founder Dr. Ethel Percy Andrus and is given to a volunteer who most exemplifies her example and motto of "to serve, not to be served."Lundgren was bestowed the honor because of the countless hours she gives to a variety of organizations in Las Cruces, her dedication toward serving others and her belief that community service is important.

"I've always believed that you should leave this pl

ace better than you found it," Lundgren said. "There is so much going on in Las Cruces where people need help. It's kind of sad but there are a lot of needs."

And Lundgren isn't afraid to pitch in where she can not only helping with the AARP Las Cruces Chapter 1230 activities but also a variety of other organizations as well.

She works with Ciclovia, an organization that is connected to the Diabetes Council, which encourages people with diabetes and their families to go to Young Park and do a variety of exercises together including sports and dance activities such as Zumba. Lundgren also volunteered for the Mission of Mercy free dental clinic, the annual Arts Council show, the Whole Enchilada Fiesta, the Renaissance Faire and Mariachi Festival, among others.

Lundgren also works with the Doña Ana Art Council and serves as a docent for the Museum of Modern Art. The museum has classes for both children and adults but Lundgren enjoys working with the children most.

"I don't want to be just with the old people – that's no fun. I enjoy being around the little ones. They absorb everything you say," she said.

But Lundgren's sense of service and volunteering go way back beyond the 26 years she's lived in Las Cruces. She volunteered at the Braille Institute in Los Angeles for 13 years, while her own children were little, helping students do their homework. She also helped the elderly with paperwork and paying bills.

The most rewarding work and some of the hardest occurred during her time with the Peace Corps where Lundgren was assigned to Belize from 1977 to 1981, a different world then from the tourist attraction the country has become today. While there she worked as a teacher and British Girl Guide troop leader.

She said she was prepared for the abject poverty – that wasn't the hard part.

"The people there were just wonderful. They'd give you the shirt off their back if you asked for it. But it was the government that made it hard. People would put things in your way to stop what you were trying to achieve," Lundgren said. "It was a lot of work but it was fun."

Lundgren met her second husband Carl, who passed away in 1999, while in the Peace Corps. He was the sole engineer for the country, teaching apprentices and building anything needed, from airstrips, bridges and jails to sports arenas.

The couple later had planned to move from their home in Chesapeake Bay to Central America. They left their belongings in Laredo, Texas, while searching for a place to call home but couldn't find the right community and returned to the United States.

They came across Las Cruces, and the rest, as they say, is history.

"I like that there was snow on the mountains but at the same time it was shirtsleeve weather. And everyone was so friendly," Lundgren said.

After Carl's passing, Lundgren decided to continue her community service joining up with the Las Cruces AARP Chapter.

"I joined AARP to be involved in legislative affairs and somehow it segued into other things. I love and enjoy all the work I do for AARP," said Lundgren, who has served as the chapter secretary for "ages".

AARP State President Louis Sarabia, also of Las Cruces, said Lundgren is an asset to the Las Cruces area.
"Sue is a true example of what it means to give back to one's community. She is involved in so many different activities – you can find her helping with a pedestrian survey, or doing exercise classes or helping at Field Day at Conlee Elementary School. There doesn't seem to be an end to her energy. She is a great example for people wondering how they can give back to their community – you just see a need, dive in and do it," Sarabia said.

Lundgren's next mission is to build up membership in the Las Cruces Chapter so that the work they are doing can continue.

"We're all getting older. We need some new blood. I really wish more people would join but they're just not aware of the work AARP does locally. It is a struggle," she said.

Photo caption: Sue Lundgren, center, receives the AARP New Mexico 2012 Andrus Award from State President Louis Sarabia while AARP National Board Member Fernando Torres-Gil congratulates her.