Treasurer Eichenberg, Legislators Salazar, Tallman, Padilla Make List of "Super Savers"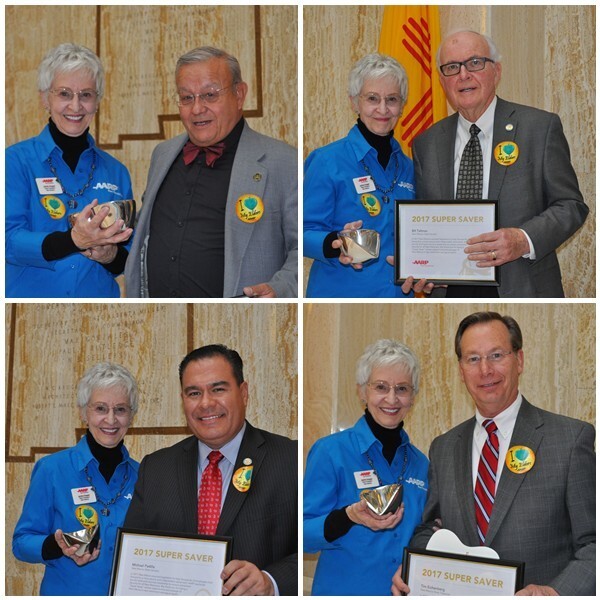 A number of New Mexico's state leaders came together during the 2017 Legislative Session to find ways to help New Mexicans save for a secure retirement. Those individuals have been inducted into AARP's third class of Super Savers -- state officials across the country who have fought to help Americans retire with confidence.

This class includes New Mexico State Treasurer Tim Eichenberg, Rep. Tomás Salazar, Sen. Michael Padilla and Sen. Bill Tallman. All four men were instrumental in the passage of Senate Joint Memorial 12, which established the Retirement Income Security Task Force and passed unanimously in both houses.

"AARP thanks Treasurer Eichenberg, Sen. Padilla, Sen. Tallman, and Rep. Salazar, for championing the Retirement Income Security Task Force last year, said Gene Varela, AARP New Mexico State Director. "The task force is looking at different avenues to help New Mexicans save for their future."

"Ensuring that New Mexicans have a secure and independent retirement benefits everyone. Our research shows that 86 percent of employees would participate in a retirement savings plan if their employer offered one. Additionally, a secure retirement means fewer people relying on government safety nets," Varela said.

Currently 62 percent of New Mexicans working in the private sector do not have access to a retirement savings plan through their employer. The Retirement Income Security Task Force is charged with looking at options for establishing a retirement savings plan for those individuals. It will complete its work this summer and make recommendations to the Legislative Investments and Pensions Oversight Committee. Treasurer Eichenberg leads the Task Force's efforts.