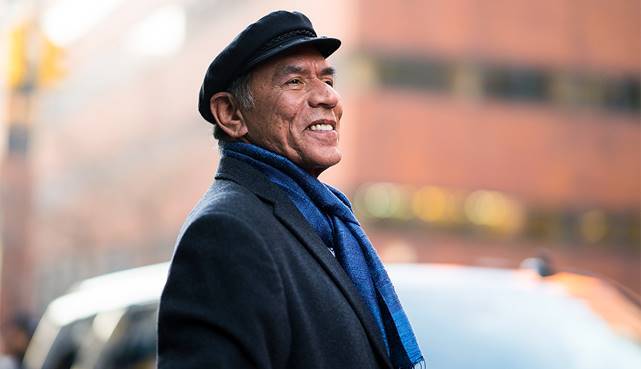 For the third year in a row AARP New Mexico will have a presence at the Santa Fe Indian Market, Saturday and Sunday, Aug. 18 th and 19 th, with some fun and unique events planned at its booth, located near the event bandstand.
"AARP has had such an enjoyable time visiting with both the artists and Indian Market's visitors, that there was no question we'd come back for another year," said Gene Varela, AARP New Mexico State Director. "Of course we want to let people know about the resources AARP has but we also want to support the Native American community, which is such a big part of the state's rich culture."
"Our main goal at Indian Market is to show up in a different way than our traditional informational booths and really, just have fun," Varela said.
One of those fun activities is a meet and greet with well-known actor Wes Studi, who will make an appearance at the booth, from 12 p.m. to 1 p.m. to sign autographs and take photos, on both days.
Studi is known for his roles as fierce Native American warriors in such films as Dances with Wolves, the Last of the Mohicans, and in 2002, Studi played Lt. Joe Leaphorn in the PBS American Mystery! Special SKINWALKERS based on New Mexico author Tony Hillerman's popular Navajo police novels.
In addition, to honor Indian Market's focus on Native American artwork, AARP will provide a sweepstakes where participants can register for a chance to win a bear fetish, by artist Cliff Fragua. Visitors to the AARP booth will have the opportunity to enter.*
Fragua is a Jemez Pueblo sculptor, who works primarily in stone and occasionally in glass and bronze. He received a sculpture commission from the state of New Mexico to create a statue of Popé that is now in the permanent collection of the U.S. Statuary Hall, in the U.S. Capitol Building in Washington, D.C.
The prize bear fetish is made of laminated stone, including calcite, marble and turquoise. Macaw feathers and turquoise and coral beans have been added. The bear fetish represents strength and healing.
*
NO PURCHASE NECESSARY.
Must be 21 years or older to enter. Employees of AARP, their immediate family members and members of their same household are not eligible. Only one (1) entry per individual. Ends on August 19, 2018 at 6pm MDT. Full official sweepstakes rules are available at the AARP booth. Sponsor: AARP