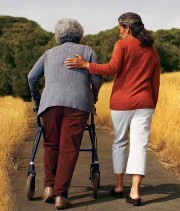 Often people become family caregivers by circumstance. It starts slowly – you find yourself helping your loved one by running errands, sorting through bills, and picking up prescriptions. But how do you know when it's time to become a full-time caregiver and who all should be involved in that discussion?

Preparing to Care will be the focus of a special presentation by AARP New Mexico with the Links Inc., French Funerals and the Southwest Women's Law Center. This free event is Wednesday, April 16 th, from 5:30 p.m. to 6:30 p.m. at the Albuquerque Community Foundation Center, 624 Tijeras Ave., NW, Albuquerque, NM, 87102

"At AARP, we know how important the work that is done by family caregivers is to our nation and our communities," said Gary Williams, AARP New Mexico Associate State Director for Community Outreach. "Family caregivers are often unsung heroes; sacrificing their jobs, spare time and finances to support and care for family members and friends who are unable to manage the many tasks of daily living."

"What we're hoping to do through this presentation is give people a starting point and some basic information that can help them as they consider how best to care for a loved one," Williams said.

Topics the presentation will cover include: How to Start the Conversation; Forming a Team; Making a Family Plan, Finding Support; and the Importance of Caring for Yourself.

Caregiving is not an uncommon practice by any means. Here in New Mexico it is estimated that 40 percent of adult women and 37 percent of adult men are providing caregiving for someone. With the rate of growth for people age 80 plus expected to rise, the demand for family caregivers will only increase as well.

"People who provide care for family members often don't think that they are caregivers – that title is reserved for paid professionals – but they are. We want family caregivers to know there is support and resources out there that can help make this important work a little easier. They don't have to do this on their own," Williams said.

For more information on the presentation or to RSVP, please contact Cate Stetson at cbstetson@aol.com or call 505- 256-4911. The event is free but space is limited. Light refreshments will also be served.