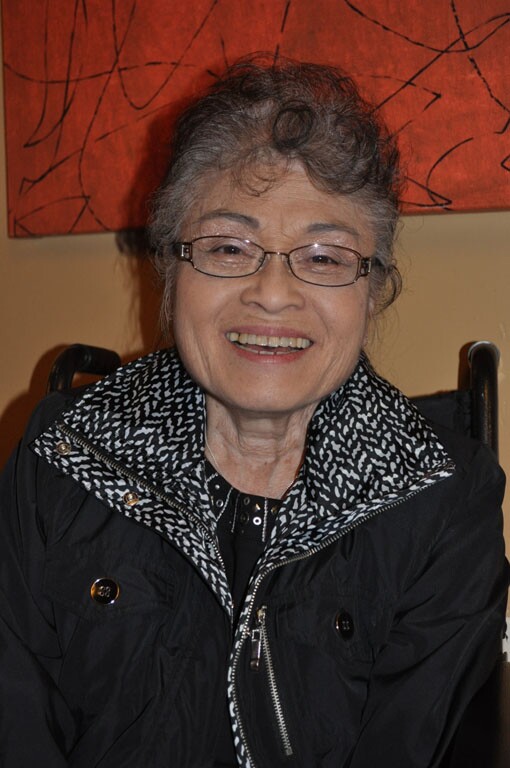 Dorothy "Dottie" Hu of Corrales is a force to be reckoned with. She doesn't just give of her time to others, she ensures that children are taken care of in the most desperate of times and encourages others who might be feeling forgotten or left out, to accompany her on her journey.
Because of her passion, drive and commitment, Hu was named the AARP New Mexico 2014 Andrus Award for Community Service recipient. Each yearAARP New Mexico seeks out nominations from the state's most outstanding volunteers – those individuals who best exemplify the role of its founder Dr. Ethel Percy Andrus, whose motto still guides the organization today – To Serve, Not to be Served. Hu's award was announced at a special banquet held in Albuquerque last week.
"Dottie LOVES her community (Sandoval County) in which she lives and is without a doubt making it a better place," said Nikki Holm, Senior Volunteer Program Coordinator for Sandoval County, who nominated Hu for the award. "She is truly a joy to work with and an inspiration to many."
On paper, Hu is simply the creator and coordinator for the Sandoval County Project Linus Chapter. Project Linus is a national organization that has chapters and a local presence across the country. Through the program, volunteers sew or knit a hand-made blanket that is given to children in times of crisis -- children who are removed from their homes for a number of reasons, hurt or injured, or perhaps even have lost their house to a fire. The thought is to provide children at these very worst of times, love and a sense of security in the warmth of their very own blanket – something they can hang onto.
"Upon meeting Dottie, you can tell immediately that this isn't just an activity to keep her busy, she really believes in making a difference and motivating people to get involved," said Beth Velasquez, AARP New Mexico Associate State Director for Communications, who coordinates the state award each year.
A friend of Hu's belonged to a Project Linus effort that was just starting at a local church. She's not sure why she agreed to go with her one day but instantly saw there was a need.
"These were the poorest areas with children that have nothing and I felt bad," Hu said. Before she even realized what was happening, Hu was off and running.
But it wasn't enough for Hu to just serve the people of Sandoval County – she has volunteers in Placitas, Bernalillo, Cuba, Jemez, and Pena Blanca. She has helped expand and leads the program in Santa Fe, Los Alamos, San Miguel and now Rio Arriba County as well. Since its inception in October of 2010, the Sandoval County Project Linus program has made 5,266 blankets.
"It takes a lot of traveling to cover five counties. But it's a good feeling – that's the plus. "We need more people to think of other people – especially the children," Hu said.
Essentially Hu coordinates a number of different sites, each with its own core of volunteers that make blankets for a number of service providers such as local hospitals, police and fire departments and other organizations.
But the program isn't just for the children, Dottie makes a point of seeking out retirees who may be homebound or not as engaged in their community as they used to be and persuades them to get involved in Project Linus so they have something to do that is meaningful.
"I get the seniors out of the house and into the centers," Hu said.
"It is Hu's abundance of spirit, her drive and determination to help those in need that makes her the recipient of the AARP New Mexico 2014 Andrus Award for Community Service," Velasquez said.
Four other individuals were also nominated for the award and will be honored for their nomination later this year. They include:

Dan and Cyndi Lee, of Pie Town, together create a team of emergency services for their community, donating countless hours of their time. For 43 years, Dan has been a volunteer firefighter and EMS technician. Dan has served as fire chief while Cyndi is the EMS director.
Gloria Pohl, of Estancia, has served as the Area Agency on Aging state advisor for seniors in Torrance County. She travels to the Round House during the Legislative Session and takes vital and important information back to the county's seniors so they can be aware of important issues that affect them. At the same time, she keeps the Agency and state aware of the needs and concerns of Torrance County's older population.
Phyllis Foster, of Estancia, serves as the advisor and coordinator for senior center services, helping with fund-raising, organizing social events and advocates for seniors, especially those that have no other means of support
(