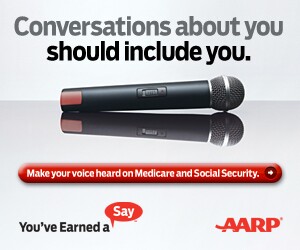 AARP New Mexico will continue its efforts to make your voice heard in the discussions surrounding the future of Medicare and Social Security through a series of Town Hall meetings being conducted around the state throughout the summer and continuing this fall.

"Politicians in Washington continue to look at cutting benefits for Social Security and Medicare as a means to reducing the deficit," said Gene Varela, AARP New Mexico State Director. "AARP believes that the people who have paid into these programs should have a say about their future."

"As a result, AARP will be continue its efforts to share information on what is being discussed by our lawmakers as well as other thought leaders and gather your thoughts and opinions on what you think should be done," Varela said.

"AARP is working for responsible solutions that keep the promises that have been made to current seniors, and keep the programs strong for our children and grandchildren. We want to prevent harmful cuts that will hurt seniors," he said.

As a result, AARP is asking New Mexicans across the state to join it for a series of town hall meetings to share their thoughts on how these programs should be shaped in the future.

So far meetings are set for:

Albuquerque -- May 28th, 10 a.m. to 11:30 a.m., Embassy Suites Hotel, 1000 Woodward Place NE.

Las Cruces -- May 30th, 2 p.m. to 4 p.m., Munson Senior Center, 975 Mesquite Street.

Espa ñola -- June 6th, 10 a.m. to 11:30 a.m., the Convento at the Plaza de Espanola, corner of SR30 and U.S. 84/285.

Las Cruces – June 12th, 9:30 a.m. to 11 a.m., Las Cruces Convention Center, 680 E. University Ave.

Taos – June 13th, 10 a.m. to 11:30 a.m., Taos Convention Center, 120 Civic Plaza

Seating is limited so to reserve your place please call 1-877-926-8300. Light refreshments will be served.

Continue to check here for additional meetings as they are scheduled or visit us on Facebook at Facebook.com/AARPNM.

Can't make a meeting and still want to share your thoughts? Visit www.earnedasay.org and leave your comments there.

For more information on the New Mexico meetings call Mike Donnelly or Beth Velasquez at 1-866-389-5636.