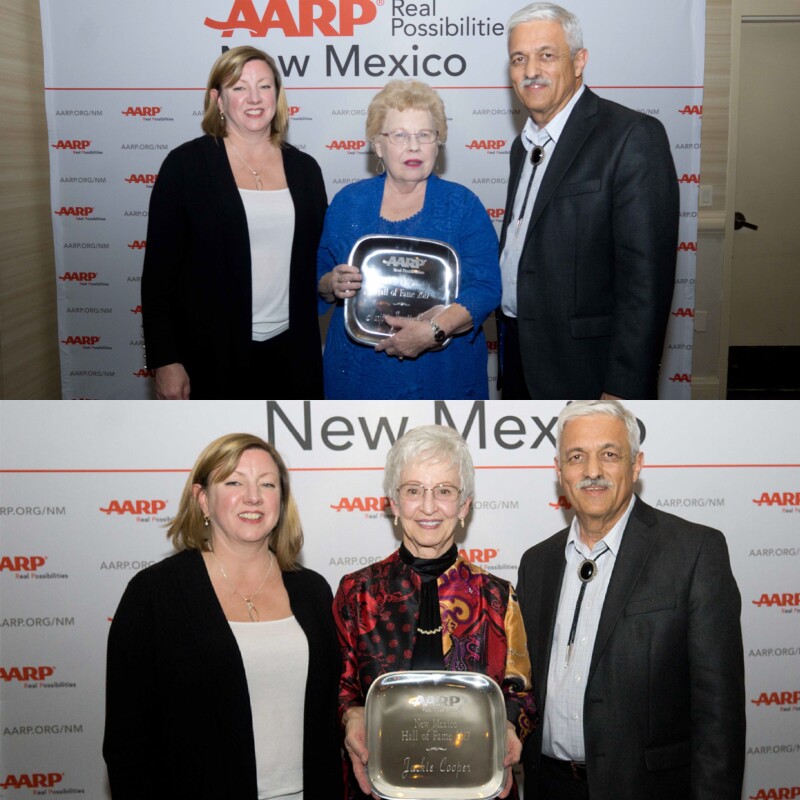 Two of AARP New Mexico's volunteers were recently honored for the lasting impact their work has had in benefiting New Mexico families. Jackie Cooper, of Santa Fe, and Jaretta Faust, of Carlsbad, were recently inducted into the AARP New Mexico Hall of Fame.
The Hall of Fame is the AARP New Mexico's highest honor recognizing an AARP volunteer's body of work that has had a significant impact on the state or national level, creating a legacy.
"These two individuals are very deserving of this award," said Gene Varela, AARP New Mexico State Director. "They have truly made strides in moving issues forward in their communities and the state that have benefited not only New Mexicans, age 50 plus, but for people of all ages."
Marjorie "Jaretta" Faust has served on AARP New Mexico's Executive Council for the past six years and also serves as president of the Carlsbad AARP Chapter.
"Through Jaretta's work, the Carlsbad AARP Chapter has become a vital part of the community, providing information and resources as well as conducting service projects such as clothing and food drives and collecting coupons for military families," Varela said. "In addition to that, Jaretta also has also been instrumental in Carlsbad becoming the first New Mexico city to be enrolled in AARP's Network of Age Friendly Cities."
AARP's age-friendly network encourages states, counties, cities, towns and rural areas to prepare for the rapid aging of the U.S. population. The network encourages communities to take action and pay increased attention to the environmental, economic, and social features that encourage greater age integration and diversity and create a community that supports residents from the cradle through retirement.
"The Chapter, under Jaretta's leadership, partnered with community leaders to champion the age friendly initiative, achieve age-friendly certification. This will ensure that Carlsbad will consider certain issues, such as affordable housing, reliable public transportation, and social and cultural amenities, among others, when conducting future planning, so that people can age in place -- that is a significant legacy," Varela said.
Faust has also moved significant issues forward, such as more resources for family caregivers, teaching people how to avoid scams and fraud, and protecting Social Security and Medicare, through her relationships with local and state officials and making sure they were aware of the issues and the impact these things have on people at the local level. She has also played a key role in advancing AARP's federal advocacy work by connecting with Members of Congress and engaging other in this advocacy.
"I am very humbled and honored really because of all these people out there that have done so much more than I have," Faust said of receiving the award. "I'm honored and pleased and very excited about it."
As AARP New Mexico's volunteer State President since 2012, Jackie Cooper has led AARP state volunteers and represented AARP with local, state and national elected officials. In addition, she chairs the AARP New Mexico Legislative Committee's Health Issues Team, which works on health related issues during each Legislative Session.
"She has been my volunteer partner for all five of those years," Varela said, " serving as the state's lead volunteer and main representative across the state at all types of events, activities and state functions."
"Jackie has been a tireless advocate at the Roundhouse testifying before committees, working on obtaining more resources for our family caregivers, studying issues on guardianship, and looking at palliative care, among others. Her passion and concern for people is evident in the work that she does. New Mexicans are lucky to have such a dynamic and vocal person working on their behalf,"
he said.
"As an advocate her ability to understand issues and effectively communicate AARP positions has made her an effective lobbyist with Members of Congress and the state Legislators," Varela said.
"I'm very honored to receive this award," Cooper said. "But none of this good work is done in isolation. It takes this marvelous group of volunteers New Mexico is privileged to have to create the impact we have had on our communities."

(Photo Caption, top: Carlsbad's Jaretta Faust, center, was inducted into AARP New Mexico's Hall of Fame. Also shown are Kristin Dillon, AARP Senior Vice President for States and Community Engagement, left, and Gene Varela, AARP New Mexico State Director.)
(Photo Caption, bottom: Jackie Cooper, center, of Santa Fe, and the AARP New Mexico State President, was also inducted into the AARP New Mexico Hall of Fame. Also shown are Kristin Dillon, AARP Senior Vice President for States and Community Engagement, left, and Gene Varela, AARP New Mexico State Director.)