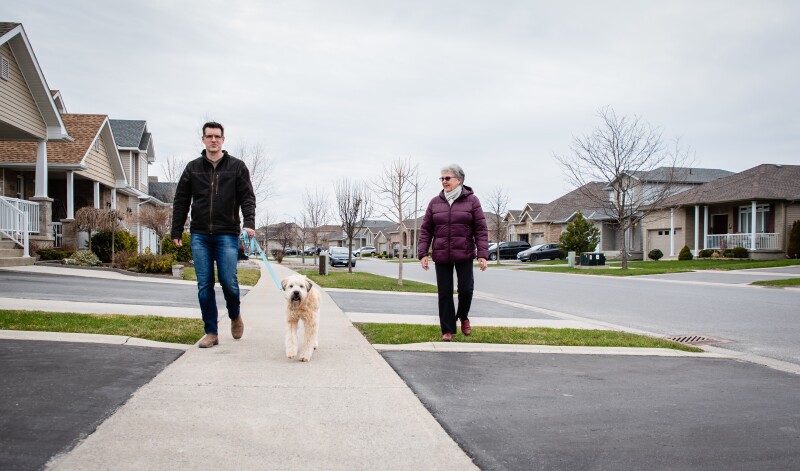 Bismarck has become the first city in North Dakota to join the AARP Network of Age-Friendly States and Communities.

Membership in the network shows that a community's elected leadership is committed to working with residents and advocates to make their town, city, county or even state a great place to live for older adults and people of ages. The work that happens within the Network is hands-on and locally determined and directed.

Nationwide, 542 communities representing more than 104 million residents have joined the AARP Network of Age-Friendly States and Communities, which is a program within the larger AARP Livable Communities initiative. Learn more at AARP.org/AgeFriendly and  AARP.org/Livable.

AARP staff and volunteers are working with community leaders throughout the nation to engage and mobilize communities, share expertise, and deliver technical assistance to the towns, cities, counties and states in the Network.

What's Next for Bismarck?
Bismarck's comprehensive plan – called Together 2045 – is Bismarck's enrollment into the Network and will be the roadmap working towards a more livable, age-friendly community. Learn more at www.bismarcknd.gov/Together2045.

Watch our most recent episode of All Things Advocacy with Bismarck Mayor Steve Bakken and Community Development Director Ben Ehreth here. You can find more information about the Network, Together 2045, and how Bismarck residents can become engaged by watching the video.

How You Can Help
Bismarck residents see firsthand their community and know what needs to be improved. Do you have special skills and expertise you want to share, or are you simply passionate about helping others or improving your community? We invite you to share your talents and make Bismarck a great place for all.

Your involvement can be as simple as sending an email to your friends, or by sharing social media posts. We will make sure to equip you with what you need. If you would like, you can do it all from the convenience and comfort of your home!

Here are examples of how you can become involved:

Write a letter to the editor in your local paper.
Send a message to Bismarck city officials on age-friendly issues.
Share a Bismarck-focused image or other post on Facebook or Twitter.
Appear in a promotional video or other form of media.
Talk to your friends, neighbors, or city officials by phone, email, or social media.
Attend or serve on relevant Bismarck committees (i.e. Bismarck Renaissance Zone Board, Planning and Zoning, etc.).
Complete Bismarck-focused surveys and recommend others do too.
Assist in presenting at or attending an event.
Participate in an AARP Bismarck local advocacy group.
Volunteer in your community.
No matter the activity, your role matters! Volunteers bring a wealth of insights and professional experience that can help local leaders improve the lives of people in their communities.

Go here to indicate how you'd like to be involved and we will follow-up with you directly. Or, call the AARP North Dakota state office toll-free at 866-554-5383, or email Alexis Betz at abetz@aarp.org,

Upcoming Events - How to Make Your Home a House for Life
Join us for this four-part series and learn how to live safely and comfortably by enabling where you live to be a "lifelong home." The series will provide you with steps you can take to ensure you can live safely and thrive no matter your age or life stage. We will cover technology upgrades and in-home services; home improvements or additions; and new construction techniques that allow you to age in place. Join us starting in July! You must pre-register for each of the programs separately.

Wednesday, July 14 - 11:30 a.m. – 12:30 p.m.
Staying Independent at Home
Learn how assistive technology and in-home services can keep people safe and
independent in their homes as long as possible.
Learn more and register here: https://aarp.cvent.com/Home7-14-21
Wednesday, August 11 - 11:30 a.m. – 12:30 p.m.
Accessory Dwelling Units
Learn about "granny flats" – small houses or apartments that exist on the same property as a single-family resident – and how they can benefit families.
Learn more and register here: https://aarp.cvent.com/ADU8-11-21
Wednesday, September 15 - 3:00 p.m. – 4:00 p.m.
HomeFit
Learn about simple modifications that can make a home safe and comfortable for older adults for years to come.
Learn more and register here: https://aarp.cvent.com/Fit9-15-21
Wednesday, October 13 - 11:30 a.m. – 12:30 p.m.
Universal Design
Learn about design options that can make your house a home for life whether it's new construction or retrofitting existing spaces.
Learn more and register here: https://aarp.cvent.com/UD10-13-21