En español | Who can get vaccinated now?

Adults 65 and older are the first priority, then those ages 16 to 64 who have two or more high-risk medical conditions; people living or working in group settings, such as group homes and treatment centers; and adults 65 and older (Phase 1B)
Residents and staff of nursing homes and assisted living communities, and healthcare workers (Phase 1A)
National Guard members and certain essential workers, such as grocery store employees and public transit workers (Phase 1C)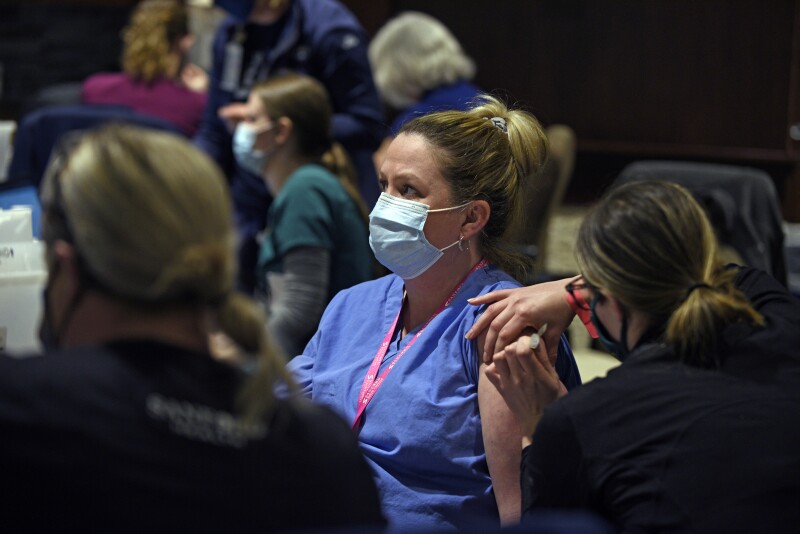 Where can I get vaccinated?

Doctor's offices, health centers, pharmacies and hospitals administering the vaccine can be found using North Dakota's COVID-19 Vaccine Locator. Data is updated daily based on vaccine inventory. Availability can be sorted based on priority group. Keep in mind that each location has different sign-up processes for appointments.
The state's department of health public hotline can provide assistance in finding a vaccine or other additional information at 866-207-2880.
Vaccine supplies are limited and are available only to those now eligible under the state's phased plan. Most vaccine sites require you to schedule an appointment online or by phone. Appointments can be very hard to get, as available time slots are booked quickly, and you may experience long wait times on the phone. If a time slot is not available, you may be put on the site's waiting list. Some people are signing up at multiple sites to increase their chances of getting an appointment. Once you have a confirmed appointment, public health officials ask that you don't schedule or confirm another with any other provider so that vaccine appointments stay open for others.
AARP recommends that you ask your doctor about the safety, effectiveness, benefits and risks of the coronavirus vaccine. Older adults, especially those with underlying medical conditions, are at increased risk for hospitalization and death from COVID-19.

What should I bring to my vaccination appointment?

Some vaccination sites ask for proof of identity or eligibility. Officials recommend that you bring a driver's license or other state-issued ID that shows your name, age and state residency, and your health insurance card, if you have one. You will not be charged, but the vaccine provider may bill your insurer a fee for administering the vaccine.

If you are eligible due to an underlying medical condition or comorbidity, you may need a note from your doctor or some other form of proof. If you are eligible on the basis of your work, bring proof of employment such as a pay stub, badge or letter from your employer.

The U.S. Centers for Disease Control and Prevention (CDC) says to wear a mask at your appointment.

Who will be eligible to get vaccinated next?

It's not clear when the vaccine will become broadly available to those ages 16 to 65.

AARP is fighting for older Americans to be prioritized in getting one of the COVID-19 vaccines because the science shows that older people are at higher risk of death from the coronavirus.

How will residents of nursing homes and other long-term care facilities get vaccinated?

Most residents and staff of long-term care facilities in North Dakota are being vaccinated through a federal program that contracted with CVS and Walgreens to administer the two-dose COVID-19 vaccines at free on-site clinics.

Nationally, almost all nursing homes, which were given first priority, have completed their vaccination clinics. Most assisted living and other long-term care facilities are conducting their final clinics. All the vaccination clinics are slated to wrap up by late March.

I've heard that some vaccines require a second shot.

The COVID-19 vaccines from Pfizer and Moderna require two doses. If you get one of these, you'll need a follow-up dose to be effectively immunized. The recommended second-shot date is three weeks after a first dose of the Pfizer vaccine and four weeks for Moderna's, but the CDC says an interval of up to six weeks is acceptable. You should get a card from your provider stating when and where to return for the second dose. The state says it will send reminders via text, emails and phone calls.  

Johnson & Johnson's vaccine requires just one shot.

It's not yet known how long immunity from a coronavirus vaccine lasts and whether it needs to be administered on a regular basis like a flu shot.

Do I have to pay for the vaccination?

You should not have any out-of-pocket cost for getting the vaccine. AARP fought to make sure the federal government is covering the cost of the vaccine itself.

Providers can recoup a fee for administering the shot, but not from consumers. They would be reimbursed by the patient's insurance company or the government (in the case of Medicare and Medicaid beneficiaries and the uninsured, for example).

Scammers are purporting to offer COVID vaccines and treatments and trying to charge for them. AARP's Fraud Watch Network is tracking the latest scams.

Should I still wear a mask after getting vaccinated?

Yes. Experts still need to learn more about the protection the vaccines provide under "real-world conditions," the CDC says. It could take your body a few weeks to build up immunity after the second dose.

The vaccine is just one tool that can help slow the spread of the coronavirus. The CDC says it could take months for the population to build up immunity and continues to recommend preventive measures such as face masks and social distancing.

In addition, it's not yet clear how effective the vaccines are against new, more contagious strains of the coronavirus initially identified in the United Kingdom, South Africa, Brazil and elsewhere, although they would still provide some protection.

WATCH: AARP's CEO on Fighting for Your COVID-19 Vaccination
This guide, originally published Jan. 21, was updated March 3 with new information on the Johnson & Johnson vaccine.


Also of Interest