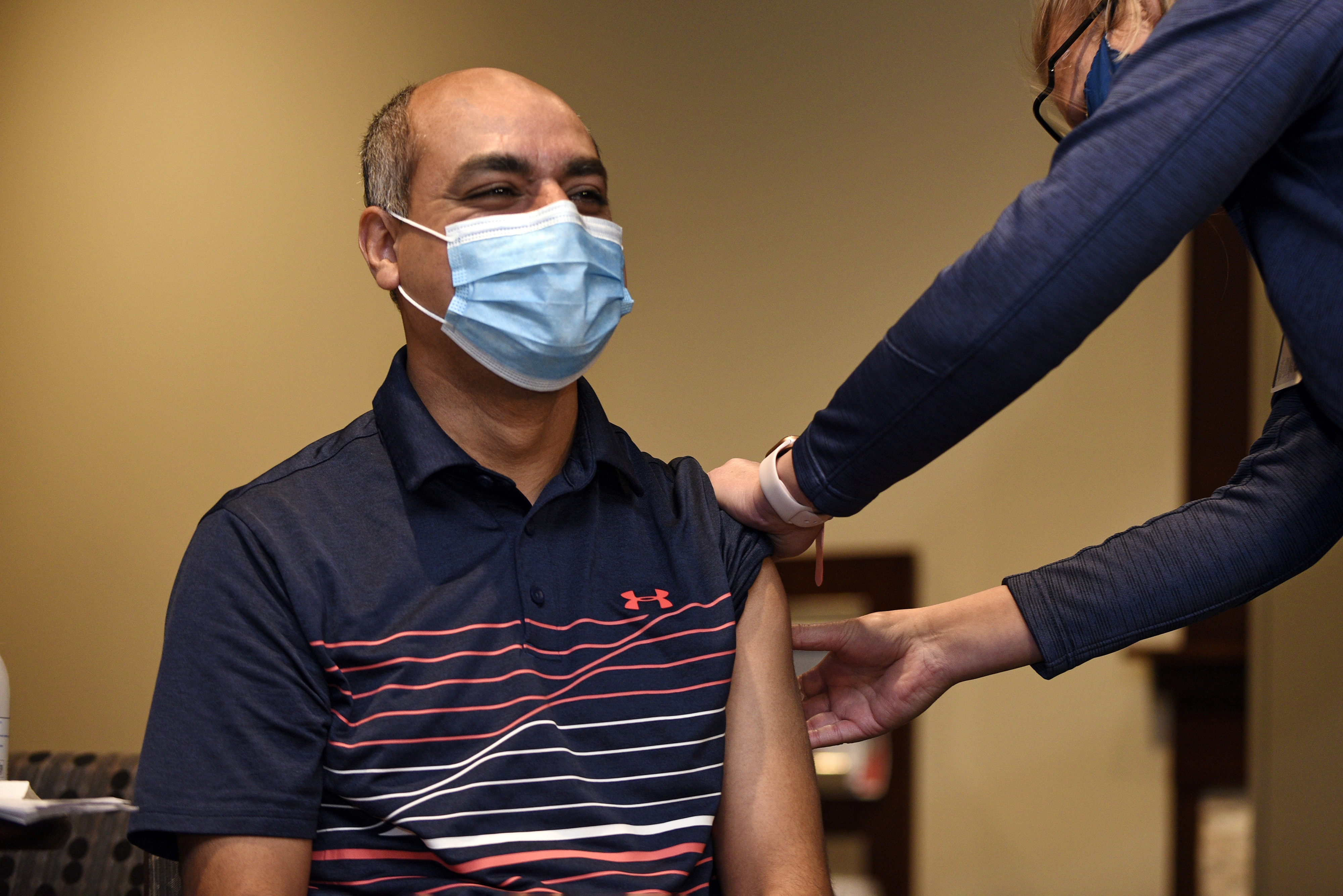 En español | Which vaccines are available and who can get them?
Pfizer and Moderna: Authorized for people 6 months and older. Pfizer and Moderna use mRNA technology, which prompts the body to make its own version of COVID-19's spike protein, a key part of the virus. Both drugmakers introduced updated bivalent vaccines to target the original strain of the coronavirus and omicron subvariants. The original vaccines, called monovalent vaccines, are no longer available.

Most unvaccinated people will need just one dose of the bivalent vaccine, instead of two doses of the original vaccine. Children under 6 may need a few shots of the bivalent vaccine, depending on their age and vaccination status, according to CDC recommendations.
Novavax: Authorized for people 12 and older. Novavax uses a more traditional vaccine technology, directly delivering a lab-made version of the COVID spike protein upon injection. Requires two shots spaced apart for full primary vaccination.
Johnson & Johnson (J&J): The J&J vaccine is no longer available in the U.S., according to the CDC. All doses of the vaccine, which was associated with a rare but serious blood clotting disorder, have expired.

Which booster shots are available and who can get them?
The Centers for Disease Control and Prevention (CDC) recommends getting an omicron-specific (bivalent) booster, which targets the original strain of the coronavirus as well as the BA.4 and BA.5 omicron subvariants. The original monovalent vaccines are no longer available.

Pfizer and Moderna boosters: People 6 and older should get one dose of the Pfizer or Moderna bivalent booster regardless of whether they previously completed their primary series. People 65 and older may get a second bivalent booster at least four months after their first bivalent vaccine dose. Doses for children younger than 6 will depend on their age, the vaccine and their vaccination history.

Novavax boosters: Adults 18 or older are authorized to get this booster at least six months after receiving their primary series if they have not yet gotten a COVID-19 booster, the CDC says. Novavax's monovalent booster is available for adults who cannot or will not get an mRNA vaccine or the omicron-specific booster.
Immunocompromised people: People with compromised immune systems can get a second bivalent booster two months after their first bivalent vaccine. Health care providers may administer additional doses as needed.
Can I mix and match boosters?
It's safe and effective to choose which vaccine you receive as a booster, either Pfizer or Moderna, regardless of which initial vaccines you received. The Novavax booster can only be used as a first booster shot; if you've gotten one or several COVID-19 boosters, you cannot receive a Novavax booster. If you are at least 18 and received one or two J&J vaccine doses, you are eligible for a Moderna or Pfizer bivalent vaccine at least two months after your last dose.



Where can I get a vaccine or booster?
Use the federal government's vaccine website Vaccines.gov to search for vaccination sites by zip code. Get the same information by texting your zip code to 438829 or by calling 800-232-0233. You can check with your primary physician's office to see if COVID-19 vaccinations are offered. If you are a veteran, the Department of Veterans Affairs offers COVID-19 vaccinations at VA facilities. Sign up online or call 800-827-1000 to make an appointment.
What should I bring to my vaccine or booster appointment?
Some vaccination sites ask for proof of identity or eligibility. Bring a driver's license or other state-issued ID that shows your name, age and state residency, along with your health insurance card, if you have one. You won't be charged for the initial vaccine series or a booster shot, but the vaccine provider may bill your insurer a fee for administering the vaccine. After your first shot, bring your vaccine card for subsequent shots.


How are vaccinations working in nursing homes and long-term care facilities?
The federal government allocates COVID-19 vaccines and boosters to pharmacies that are partnered with long-term care facilities to provide vaccinations, mainly on-site. Facilities that don't have a pharmacy partner are encouraged to work with local or state health departments — or the federal government, if need be — to provide vaccinations.


Do I have to pay for the vaccination?
You should not have any out-of-pocket cost for getting a vaccine or a booster. AARP fought to make sure the federal government covers the cost of the vaccine itself.

Scammers purport to offer COVID vaccines and treatments and try to charge for them. AARP's Fraud Watch Network is tracking the latest scams.


What should I do with my vaccine card?
You should get a small white card at your vaccination appointment with your name, birth date, name of the vaccine you received and the date it was administered.

You may need your vaccine card to schedule a booster shot. You may also need it for certain kinds of travel or other activities and may want to take a photo of it with your smartphone for your own records. Experts warn that posting a photo of your card to social media could make you vulnerable to identity theft.

If you've lost your vaccine card, call the site where you were vaccinated to request a new one or a copy of your vaccination record. You can also contact your state health department to request a replacement card or a copy of your record.


How protected am I post-vaccination?
All vaccines reduce the risk of COVID-19 infections and are highly effective at preventing severe illness and death from the disease. No vaccine is 100 percent effective, and breakthrough infections can occur post-vaccination.

This guide was updated on June 7, 2023, with new CDC recommendations.

Also of Interest: